You can't beat a bi-pod to steady your Talon, Condor, or Texan for hunting or target shooting! The tilt bipod provides a stable rest when shooting with optical sights. It may be mounted with the legs folding forward or back, and is quickly detachable using a coin-slotted screw.
Specs
Manufacturer

AirForce

Condition

New

Accessories Type

AIRFORCE ACCESSORIES

Warranty

1-year limited warranty

Weight

1.40
Reviews
Average Customer Review
4.7
4.5
10 Reviews
5.0
By TERRY
USA
February 8, 2021
Verified Purchase
If you get an Airforce you are going to need a bipod so just hit the button and order it with the gun, don't second guess it just do it and you will be happy.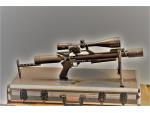 Pros
Quality construction, fit is perfect for the Airforce guns. I like that you have the ability to mount it over the top as it aids in rigidity seems the guns are top heavy so mounting it this way takes care of it.
Cons
I wouldn't change a thing with tis bipod.
5.0
By Michael
USA
January 21, 2020
Verified Purchase
Love the fit and weight of this Bipod
Pros
perfect compliment to the style and shape of the Airforce Condor. Easly installed in seconds with new additional attachments for the Airforce dovetail.
Cons
no cons when attached to the Airforce Condor
5.0
By Joseph
USA
June 21, 2019
Easy Install. Fit perfect on my AIRFORCE TEXAN CARBINE .357
5.0
By Jason
USA
February 20, 2019
I have both Texan SS in .35 & .45 cal. What a great air rifles I must say!!! Lots of power and accuracy. Then come this bipod that I can switch around those two whichever I use. Perfect match and balance. If you own an Airforce Texan ss then BUY this bipod. So convenient now I can change positions, just pick up the whole thing and walk.
Pros
Fast on and off. Stability. Light weight. Durable.
Cons
I have not find any as I take care of my toys more than me. Lol.
3.0
By Carlos
USA
October 29, 2018
Very sturdy but no instructions on usage. Could not get it to function and ended up breaking one of the legs off the first time I installed it. Very disappointed.
5.0
By David
USA
September 18, 2018
Read other reviews on this and never considered it , but this bipod is awesome! It hasn't failed to hold solid when tightened down or put to a 45 forward or backward. Fits 1mm/3/8 rail nicely.
Pros
Solid, proce, quality, leg angles.
Cons
None yet.
4.0
By Robert
USA
July 19, 2018
Nice quality, relatively small and light bipod, fitting the Airforce rifle well. It's nearly everything that can be expected from a bipod, with perhaps only the cant adjustment knob being of a different design so as not to interfere with the barrel before fully tighten, however it still manages to do a good job. Mine is mounted on the top barrel rail, and maintains a low profile, to avoid being seen in the scope.
Pros
USA built Fits the Airforce gun style well
Cons
A bit too expensive
5.0
By Buddy
June 26, 2017
Verified Purchase
Got this for my Condor ss, but it will also fit my future texan ss! Bipod is constructed of quality aluminum. It's very easy to adjust. I would recommend this bipod!
Pros
Strong secure leg locks. Glad they're not spring loaded
Cons
Adjustment lever is a little long
5.0
By Larry T
USA
April 10, 2012
The AirForce Bipod needed to be tightened to a greater degree to stay in place on the lower rail on my Talon SS than I expected. It is easiest to adjust the length of the legs when there is some weight from the rifle on the legs, (the legs are spring loaded). These work well for an Air Rifle with no or low recoil like the Talon SS. The AirForce Bipod is cost effective for what it is meant to do.
Pros
Light Weight
Cons
Nothing
Q&A
Question?
Login to ask someone who bought this product.
Is it compatible with the Airforce . 457 Texan LSS CF?
asked Brian from USA
will it fit the 0,457 LSS model ?
asked Michael from USA
Having trouble attaching bipod to my Texan lss
asked Bryson from USA
How do you attach to the texanss
asked Jeffrey from USA
How do you attach to the texanss
asked Jeffrey from USA
will this fit the Hatsan Bullboss?
asked Johnny
will this fit my Texan with the suppressor? thanks
asked Joel from USA
Will the airforce talon/condor bipod fit texan ss?
asked Alex
Will this fit a Benjamin marauder 22 ? Also how far did the bipod flags extend ?
asked James Hebner
Will this fit a Benjamin 392?
asked charles from USA
No it will not fit a Benjamin 392 . It is made for airguns with 11mm rails on the bottom of the gun . The airforce guns are the only ones I know of that this fits without modification to the rifle .
matthew from USA