Get high-quality ammo for your big bore air rifle. Made right here in the U.S.A.!
Seneca.308 Cal, 44 Grains, Round Ball, 100ct
.308 cal
44 grains
Round ball
100ct
Specs
Manufacturer

Seneca

Caliber

.30

Ammo Type

Round Balls

Ammo Weight

44 grains

Pellet Shape

Round ball

Pellet Quantity

100 ct
Reviews
Average Customer Review
2.5
2.5
4 Reviews
2.0
By Conan
USA
January 9, 2023
Verified Purchase
Unless someone can convince me that the irregularity in these spheres won't harm my gun, they will likely be dismissed as very expensive slingshot ammo. And I don't yet own a slingshot.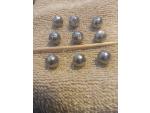 Pros
recently purchased a hatsan mod 130s vortex break barrel .30 cal rifle (from airgun depot in dec. '22) and purchased 4 different tins of available ammo, the seneca round balls were one of the choices, they weren't the cheapest but figured I'd take a chance since there were no reviews yet available.
Cons
I am not sure I want to use these in my brand new rifle, these balls all have a flat spot but with like a saucer shape form from the mold on the sphere, that wouldn't seem logical to put down a rifled barrel (see my pictures)
2.0
By Conan
USA
January 1, 2023
Verified Purchase
unless someone can point out why these wouldn't damage the rifle they will likely become slingshot ammo at best, and at 19.99 they weren't the least expensive of the four ammo's, a chance I took and perhaps lost on...
Pros
didn't know what to expect from these, especially with no previous reviews, I purchased mid December 2022 amidst the other 3 brands of .30 cal ammo available at time of purchase of Hatsan mod 130s
Cons
not sure I will risk using these balls in my new rifle, they have an obvious flat spot from the mold with an almost 'saucer shaped plate' to said flat spot, I would think this can't be good for any rifled barrel?
5.0
By Broak mike hawk
January 5, 2021
Pros
I ordered these and man were they good i shot Squirrels and groundhogs and deer
Cons
The only con is that you don't have these yet they're amazing
Q&A
Question?
Login to ask someone who bought this product.
Is there a velocity difference with these? Since there's no skirt do they shoot slower than other pellets?
asked Travis from USA
Would these fire out of the Hatsan Blitz? If so, would they fit in the rotary magazine for full-/semi-auto action or would they have to be fired individually? Thanks.
asked Chad from USA
I tried these with the hatsan blitz .30 and they jam the rifle and blow out the breech o-ring. I was hoping to make a hopper style magazine using these, but no dice.
Spencer from USA
can this fit in a 30 cal hatsan vortex break barrel ?
asked Mohamed from USA
Hiya, I'm a little confused about the correct weight of your balls, are these balls 44gr, or 65gr? The ad says 44 once and 65 twice, and I think it would be important to all shooters to know about their balls. Second, will these work in a Hatsan Carnivore PcP? By that I mean, will they function correctly in the magazine, and, are th balls a good fit in the average Carnivore barrel?
asked Jon from USA
Will it fit the hatsan 135 break barrel in 30 cal?
asked bruce kramer