For years airgunners have used air tanks to fill their favorite PCP airguns. To do so has required a trip to the scuba shop for a refill. That is no longer the case with the new Air Venturi PCP Airgun Compressor. Now you can save a trip and fill up your PCP right in the comfort of your own home. The AV Air Compressor only requires a standard 110v socket to plug in and you're ready to start filling. You won't have to worry either about the fill amount as this compressor will cover up to 4500 PSI.
Air Venturi 4500 psi Electric Air Compressor Features
Max fill pressure 4500 psi
Adjustable output pressure, up to 4500 psi
Automatic shut-off feature
Internally water-cooled
Digital Temperature gauge (reads in Celsius)
Uses 110V electrical outlet
Weight: 84 lbs
Dimensions: 18"L x 17"W x 17"H
Approximate Fill Times
90 cu-in. bottle from 0 to 3000 psi in 10 minutes
90 cu-in. bottle from 0 to 4500 psi in 15 minutes
74 cu-ft. tank from 0 to 3000 psi in 35 minutes
74 cu-ft. tank from 3000 to 4500 psi in 17 minutes
74 cu-ft. tank from 0 to 4500 psi in 52 minutes
88 cu-ft. scba tank from 3000 to 4500 psi in 20 minutes
It is recommended that this compressor be used to fill scuba tanks and other types of high volume devices used to charge your airgun. When filling air bottles, do not leave the compressor unattended! Do not use for breathing air!
Specs
Manufacturer

Air Venturi

Condition

New

Accessories Type

PRECHARGED GUN ACCESSORIES

Warranty

1-year limited warranty

Weight

76.00
Reviews
Average Customer Review
4.7
4.5
21 Reviews
3.0
By Mike
USA
January 24, 2021
Verified Purchase
Pros
This compressor is really easy to use, looks good and worked really well for 4 months. It is also very quiet.
Cons
Things I would change would be the fill gauge. Mine worked well for 4 months and then all the oil drained from the fill gauge. I tried to contact Air Venturi. You don't get to speak with anyone, you have to leave your name and number/ email address. Still haven't heard from them, been a week. I have done all the recommended maintenance and followed all directions. Since I do not own a hand pump I have no way to fill my guns. So I order another brand of compressor to try. Only 4 months of use and poor customer service make me question my purchase. I can except that maybe the fill gauge could just be one of those things that sometimes happens, but customer service to me is an indicator of the quality of the product you purchased.
5.0
By Mike
USA
December 30, 2020
Verified Purchase
This well built and heavy 80+ pounds. If you're an old man like me and plan to put it a bench you may need help.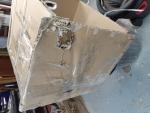 Pros
I like the easy of setup and simplicity of the controls. I've only filled two 100 cu in tanks so far and they took less than 15 minutes each.
Cons
The compressor was probably packaged securely when it left the warehouse buy when UPS delivered it's a wonder it survived. The package had been broken apart and then haphazardly taped back together. so that one side with a handle was on the side and the other they used for the bottom. When we set the package down according the what seemed like right side up the compressor was actually upside down. It's a testament to the construction of the compressor that the only damage was scratched and dinged up paint on the cover on the oil fill side. Shannon at AGD was made aware of this before I tried it, even though it wasn't their fault, in case there was mechanical damage. An offer was made to have it returned for exchange or refund but after finding out that the compressor functioned fine I declined the offer. The customer service was outstanding. Again, I'm sure this wasn't the fault of AGD and I have to say that they were very helpful concerning this issue!
5.0
By David
USA
November 16, 2020
Verified Purchase
WOW . . . just WOW. Easy setup (if you follow the instructions). Easy operation. Good documentation AND the use instructions are screenprinted on the top of the compressor right next to the controls. After the initial set up and first 10 minute prep run, I shut it down and made sure everything was tight, not leaking, etc. and after it cooled (as per the instructions) filled my rifle tanks. The 3000psi tank took a little over 3 minutes from 100% empty. The 3600psi carbon fiber tank took a little longer, but not much. Super easy to use and I feel confident that with proper use and maintenance it should perform excellently for quite a while. NOTE: BE SURE TO ORDER AT LEAST TWO (2) BOTTLES OF AIR VENTURI COMPRESSOR OIL. YOU WILL NEED ONE FOR INITIAL SETUP AND ONE FOR THE FIRST OIL CHANGE AFTER 25 HOURS/1 MONTH. YOU WILL ALSO NEED ABOUT 2 GALLONS OF DISTILLED WATER FOR THE COOLING SYSTEM.
Pros
Everything
Cons
Nothing
2.0
By Manar
USA
August 3, 2020
Verified Purchase
Pros
Fast
Cons
stopped holding pressure after 2 week , valve need to be replaced , very slow respond
5.0
By Paul A.
November 27, 2019
Great product One of the best air compressor for air rifles after
Pros
Very fast and powerful Worth the money
Cons
Little too heavy
5.0
By Franco
USA
May 25, 2019
Well build and well perform. Air freedom gives me a much enjoyable shooting experience.
This is a very well-built compressor. You're better off making the choice to just purchase this and leave all the headaches behind. I bought this compressor and a large tank with the very helpful advice from Doug in sales. Well worth the investment.
5.0
By David
USA
January 15, 2019
I am very happy with this compressor. It was taking me two hours of drive time to fill my tanks, and I wasn't even getting full fills. This compressor is a game changer. I now get full 4500 psi tank fills, and shoot as much as I want. They should come with a warning label though, as my pellet consumption has skyrocketed. Airgun Depot has me covered there as well though.
Pros
Quick, easy fills, and lots more shooting
Cons
A bit expensive, but buy once, cry once
5.0
By Brian
USA
December 30, 2018
I'm semi new to PCP air gunning but this year I helped a friend in need along with my elderly neighbor both with flooring projects. Friend was at the hospital for a month with a premie, neighbor installed 1/3 of his flooring wrong and had to remove and start over wasting hundreds. I couldn't let a friend get home with a newborn to an unfinished home and my defeated neighbor I could relate because I've made costly mistakes and just had to pitch in. Surprise they both got home to complete new finished floors and clean houses. I'd never accept a penny from either even if they were insulted by that. They both conspired together to hook me up a week before Christmas with several carbon fiber tanks, ammunition, a new Hatsan Bully 30 cal and boxes of other goodies but best of all this compressor. No more trips to the fire station or hand pumps. Better still my days at the range or in the field aren't limited By lack of air just not enough ammunition.
Pros
Packaging was awesome and dent free. Box is tough with rugged carry handles and tightly packed with ridged foam boards. I?ve read the bad reviews and it shouldn?t be put on AGD or A.V. because you?d have to dump this package off a moving truck to damage the contents. That?s all on the shipping company. Ease of use and essentials video made setting up a breeze. The short time from zero to 4500 to full on 88ci, 75cf and 98cf in the specs are dead on along with top off fill times. Wishing I bought this when it came out. The auto off feature is awesome. I?m never far from filling station at my house but it came in handy once. I?m usually right at my workbench while filling working on filling mags or cleaning barrels or tuning but this feature works if you need a bathroom or fridge break so no worries. 4+hrs of initial run time for my first fills with little or no breaks and a quick oil change, compressor never got near the temperature it said in the manual to shut down and trouble shoot. It was actually 20 degrees cooler than that temperature. Oil was cool enough to dip my hand in during the change. Awesome machine!
Cons
First I wish this had an hour meter. I?m keeping a log of runtime but what my friends paid for this great gift an hour meter is a short ask. Second I?m in the construction field and have bought several compressors, generators and other gas operated equipment and never did I have to run to the store to buy my first container of oil. Always less than a quart and an exact measured container of oil came standard in the box with inexpensive equipment to high end. So this was incredibly odd to me. Not really a complaint but others might find this helpful, I?ve always maintained my equipment, (notice I changed the oil after the first 4hr run) it?s expensive so the better you treat it the longer it lasts. My 3 job site compressors purchased in the mid 90?s lasted decades and are still running today because I do the required maintenance early and always kept them running out of the weather and in as much of a dust free area as possible. I set my new A.V. compressor up in a spare bedroom because my garage and basement are unheated and very dusty. If you are running this inside your house please make sure that you are in a well ventilated room with the door closed on a level floor. Don?t overfill the oil. Put the one third quart in run the 10min dry run check and add oil if necessary (another friend running his newly purchased compressor in basement watched a YouTube video and put a half quart into the machine, needless to say his home stunk for months). I vented my room with a fan pulling air out one window and another fan pulling in through another window because the oils burning off can really permeate the rest of your home/clothes/carpet/furniture and make people very unhappy. No foul odors here! The smell is hard to remove so run with open windows and fans if possible. I filled four tanks and 3 guns after the 10 minute dry run so I was running for about 4+hrs straight. Other than no hour meter and lack of oil in the box, nothing.
5.0
By James
USA
October 26, 2018
this item meets all my needs for charging for myself an customers , just started an air gun service for local shooters with pcp equiptment
Pros
ease of operation and setup, not much noise, availability of accesories
Cons
none at this time
Q&A
Question?
Login to ask someone who bought this product.
What is the amp draw under maximum load (ie; just before it shuts itself off)?
asked Marvin from USA
Does this unit have over heating protection, will compressor shut off when to hot then start again on it's own.
asked Ronald from USA
can i use 50/50 coolant in this compressor instead of just straight water?
asked Carl from USA
Anyone else having problems with the safety valve shooting at out an not building up pressure?
asked Michael from USA
Does this version have a cooling system that includes two radiators ?
asked Scrambler82 from USA
Does this include everything required to fill a Benjamin Marauder Hunter (hose, fittings ect)? I want to get started in the world of PCP air guns. Thanks
asked Mike from USA
Does this have a filter on it to remove moisture on the output side of the compressor?
asked Ronald from USA
i own the compressor and on it's third/fourth hour of use it fails at 3000 psi. One year warranty? Okay how do i get it fixed?
asked Rudy from USA
where can one buy parts?
asked Carl from USA
What accessories are needed once this compressor arrives? Oil ? connectors?
asked John R from USA
Can I buy Air Venturi $1299.99 for monthly payments?
asked Mariusz Stobnicki
What is the major difference between this model and the portable one other than filling of scuba tanks
asked Frozen-eyes
In what country is the compressor produced?
asked Sgt Dik Klepper
what kind of cooling system does it have
asked david from USA
What kind of connectors or adapters are needed to make make this work with a scuba tank? Does the scuba tank need a particular type of connector? What type of connectors and/or regulators are needed to make a scuba tank work with my Crosman / Benjamin Marauders? Thank you!
asked Larry from USA
Is a water separator required, or filter?
asked Dave
does this come with an air dryer/filter?
asked Ken
we have an air dryer at our shop. How hard would it be to run this inline pulling air from a compressor?
asked Jacob D
What is the CFM of this machine?
asked angelica
IS THIS MADE IN THE US? /
asked Tom Fitzpatrick
Does it have a desiccant filter to keep moisture out of our tanks?
asked Michael from USA
Where's discount on compressor? JULY-75 doesn't work. Thanks
asked Tom
can anyone tell me what the cfh is on this compressor?
asked Jeff from USA
What is the operating temp for this pump
asked Barney from USA
Does the compressor have a water separator on it.
asked glen from USA
Can it fill scuba tanks or just rifles?
asked Hector
Does the high pressure side of the compressor use seals for the piston?
asked Kedoga
What type connections on the ends of the hose? i.e. Both female quick connect. 300 Din and one female quick connect, etc. Similarly what is the connection on the compressor itself.
asked tom
[email protected] Is it safe to fill straight to your air rifle with this compressor? Thanks, Mickey Hunkin
asked Mickey Hunkin
Do You Need The Tank Or Can You Directly Fill Gun? What Fittings Come With It?
asked Edwin from USA
[email protected] hi i like the best equipment and thier are alot of options out thier all i want to do is fill up and shoot i do not want to pull maintence work on this machine ive seen alot of compressors fron over seas less expensive and it seem that if i buy not much after they get my $ i find somthing less exp. and im screwed ok how is it working for u thx michael but i do not know u u could be a machine my tele 360 216 9073 thx
asked michael reinberg
Can u fill ur gun directly with this or is it just for filling the tanks
asked Noah
How long to fill a Guppy tank?
asked Bertman
How long to fill the big fiber tank
asked peter
How long does it take to fill to 4500 psi?
asked Ryan
where is it made? does it have a drier fillter
asked brooks
Did they design this to sell in America........with a gauge that reads in C°?
asked Jonathan from USA
What is the amp draw under maximum load (ie; just before it shuts itself off)?
asked Jonathan from USA
I am a certified diver and an air gunner. I do not recommend you advise anyone to file SCUBA tanks with this compressor unless they do not intend it to be used for driving! As SCUBA air MOST be filtered and scrubbed of any moisture, oils and particulates for breathable air. You may be setting yourself up for a LAW SUIT JUST A NOTE ! Regards Steve Grant aka Sgrunt
asked Steven from USA
How long does it take to fill a 500 CC reservoir to 4500#?
asked Roger from USA
it says usable for scuba tanks Then it says do not breath this air Whats the real story Is it clean or not? JL
asked john lally sr
Will this fill starting with tank at ambient pressure?
asked Roger from USA
How many amps does this compressor draw? How many filters does the compressor have to dry the air?
asked Randall from USA
How long does this take to fill a carbon fiber Air Venturi tank?
asked Edward from USA
Does the price include shipping?
asked Jerry Sornberger
DO YA LIKE IT ?
asked Rodney from USA
how long does it take to fill a 90cu in tank
asked dave thiel