Seneca .358 Cal, 190 Grains, Flat Point, 100ct
.358 cal
190 grains
Flat point
50 ct
Load these heavy grained Flat Point pellets for incredible hunting power. Impressive accuracy and power out of the AirForce Texan .357 and made in the U.S.A.
Specs
Manufacturer

Seneca

Caliber

.357

Ammo Type

Slugs

Ammo Weight

190 grains

Pellet Shape

Wadcutter

Pellet Quantity

50 ct
Reviews
Average Customer Review
3.0
3.0
2 Reviews
5.0
By David
USA
September 7, 2020
Verified Purchase
IDK why, but my.357 Texan carbine loves this pellet. I'm getting crazy FPS, and Velocity,but it's nuts. (They again, my gun is modded)Just ran out today. I'm waiting on some ammo from mr. hollow point to see how his does. But this is a definite go to.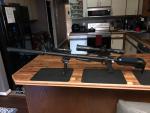 Pros
Hard hitting and accurate
Cons
I wish I could have more
1.0
By Carl
USA
March 7, 2018
I just found out that these pellets are just a little bit to big to work properly in the magazine of the Benjamin Bulldog.. If there was a shot try for the bulldog these would be great shooting ..Do not attempt to use them in the magazine.
Q&A
Question?
Login to ask someone who bought this product.
This slug works prefect in the Benjamin Bulldog. Shoots more accurately than any other I've tryed and fits in clip just right.
asked Gavin from USA
Living in California, lead is outlawed for hunting, if these .358 flat nose are great for hunting but are lead base, what would an alternative to this be for my Texan SS?
asked Jimmany from USA
Airgun hunting is exempt from the no-lead law but you are limited on what you can hunt.
Carina from USA
To find lead-free airgun slugs you will have to search the web. There are a number of custom slug makers on the web, They should be able to help you.
Mark from USA
do these fit in the .357 seneca recluse
asked Alexis from USA
Do you used them one at a time in the chamber is so do they work good.
asked Jesus Garcia
will these fit into a magazine for a hatsan hercules
asked tony from USA