No need to swing by the SCUBA shop or bother the Fire Department, create future back problems via handpumps, and huge carbon fiber tanks are a thing of the past with the Nomad 4500 PSI Portable Compressor from Air Venturi. The Nomad can either be powered via a standard 110V wall outlet when you're at home or out in the field with a generator, but when you want to hit the wide open range, the Nomad's name will start to make sense. The Nomad can be connected to a standard car battery for fast fills on the run. In as little as 9 minutes, the Nomad can take your average 250cc PCP cylinder from 0-3,000 PSI! The compressor features and automatic shut-off, so no need to sit and watch the gauge and the fill house has an integrated dry pack, bleed valve and is capped off with a foster female quick disconnect.
Approximate fill times:
Benjamin Marauder Pistol (65cc): 0-3000 psi in approx. 3 min
Diana Stormrider (100cc): 0-3000 psi in approx. 3:45min
Air Arms S510 Xtra FAC (231cc): 1450-2900 psi in approx. 5:30 min
Ataman M2R Carbine Ultra Compact (130cc): 0-4350 psi in approx. 8 min
Evanix Rainstorm (250cc): 0 - 3000 psi in approx. 9 min
AirForce Texan (490cc): 0-3000 psi in approx. 17 min
Air Venturi Nomad II Portable Compressor Features
Adjustable auto-shutoff
Pressures up to 4500 psi
Integrated LED lights on underside of the unit for low light use
Capable of running off of a 110V or 220V outlet or 12V car battery
Power supply for electrical outlet use is built into the unit
Compressor includes carrying handle
Fan-Cooled
External Lubrication Port (Use Silicone Lubricant only)
Jumper Cables included
Hose w/ integrated moisture catch and female QD fittings
Noise level while running is 92 dB.
Dimensions: 10.6" L x 8" W x 7.9"
Weight: 19.6 lbs
Ships with travel bag for easy transportation
Please Note: The Nomad II is recommended for filling PCP guns only and is not to be used for breathing air.
Specs
Manufacturer

Air Venturi

Condition

New

Accessories Type

PCP PUMPS

Warranty

1-year limited warranty
Reviews
Average Customer Review
4.0
4.0
25 Reviews
5.0
By John
USA
June 24, 2020
Verified Purchase
I have a review on this compressor on the Western Mass PCP Rifle Club YouTube channel @westernmasspcp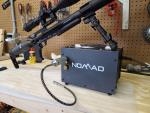 Pros
Great little compressor! This thing is very compact and easy to carry around. This compressor fills my 580cc bottle in under 3 minutes! That pretty good considering the Benjamin Recharge fills that same tank in about 1.5 minutes. Highly recommend this compressor.
Cons
If possible It would be nice if the compressor could be sent with a small bottle of compressor oil so the end user could use it as soon as they receive the order.
4.0
By Claude
USA
March 6, 2020
New replacement compressor has operated flawlessly for 40 fills on my 3 pcp rifles. Too bad the first compressor failed. I would have rated the Nomad II with 5 stars instead of 4. I rate Air Gun Depot 5 stars.
Pros
A very compact, moderately quiet, operates on both 120 volts AC and 12 volts DC, easy to use with a good operation manual, plus a very nice carry case.
Cons
My first compressor failed half-way thru the fifth fill on my Condor SS. I followed the operation manual and used 100% silicon RWS Air Chamber Lube. I contacted Air Gun Depot and they sent me a pre-paid shipping label, I shipped the unit back and within 6 days had a new replacement compressor. Talk about a first class company, customer service was out standing, will continue to deal with this company for my air gun needs.
2.0
By David
January 5, 2020
After 15 months it stopped working compressor connecting rod broke I did all routine maintenance as directed and it still didn't hold up Other than the cheap quality components it did work well for the 15 months
1.0
By JRO
December 24, 2019
Verified Purchase
It's illogical to buy this if you only can fill the rifle tank and not other tanks. I bought this and mentioned to sales that I was happy that I can use this without having to fill tanks again and they didn't say anything to me! That is upsetting
Pros
Can fill rifle tank.
Cons
Cannot fill other tanks that are bigger such as 100cu 4500PSI
1.0
By Jeffrey m.
November 20, 2019
Verified Purchase
The price of the compressor and the reviews made me think I was getting a good product but in fact I received a new compressor with a quality control tag on it and right next to the tag was a defective part. The transparent window that keeps dirt out of the digital readout was loose in the compressor. Returned for exchange to get a new one cause if that was broken who knows what else is broken inside. Got my new one and the same part on it is broken. Called in and they told me to glue it back on. Got to love it when they tell you to fix your brand new $700 dollar product.
Pros
None
Cons
They don?t take the time to check the product thoroughly and make sure it?s good to go and put together with quality care
1.0
By Earle
USA
September 16, 2019
Bought this a few years ago back. I only used it about twice a month for just over a year. I plugged it in and it finally seized up on me and broke the connecting rod. Since it was just pass a-year-old the warranty expired. I did some research and found a new compressor to purchase. A Yong Heng 4500 PSI for only $275. I have well over a 100 fill ups and no problem and easy to find parts if needed, very fast fill up as well. Air Gun Depot should carry these.
Pros
None.
Cons
Can?t find parts and way to expensive. Need to plug in and out of the socket to turn off completely.
5.0
By Dave K.
September 14, 2019
The build quality and ease of use are exceptional. Compact, relatively light and quiet with quick setup / breakdown. Yes, there are plenty of cheaper compressors on the market but most require water cooling, are heavy, noisy, and lack auto shutoff. Only negatives are longer fill times and shorter runtimes. Not an issue for the casual user at all.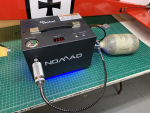 Pros
Amazing build quality Easy to use Compact & light No water cooling necessary Really, really cool
Cons
Not the fastest filler Not meant for large volume fills Limited run time between cool off shutdowns
4.0
By Sam
USA
September 12, 2019
Verified Purchase
I love this thing. It only takes 3 to 5 minutes to top off my Hatsans. It's not too loud. (I use it in the living room) It doesn't leak anything. The'res no odor. I've only used it a few times, it worked flawlessly. Time will tell. It looks cool too, with its carbon fiber look and lights & switches specially the blue led's underneath. It has the look and feel of overall quality. It' light and easy to carry. I love this thing. 5 stars if it would fill a bottle.
5.0
By Boots G.
August 26, 2019
If you got a Toyota even better.
5.0
By Ralph
USA
July 24, 2019
Verified Purchase
Love the Nomad II because it fills my 3,000 psi bottles in about six minutes, and despite the price, it's less expensive than a lifetime of buying CO2. I encourage anyone who wants to shoot more to invest in one of these compressors.
Q&A
Question?
Login to ask someone who bought this product.
If this unit draws 20-22 amps when running on a 120-volt house circuit, then this unit should only be plugged in to a 30 amp circuit... that doesn't make sense !
asked Scrambler82 from USA
could it be used to fill say a small tank such as a 100 cu in tank? or no?
asked Tommy from USA
In short 5-10 min bursts
Mark from USA
Was wondering if this would fill my 66cuft charging tank and how long to fill 580cc Blitz? Thanks
asked Lance from USA
The Nomad is not for filling large CF tanks. It will fill your 580 cc gun in about 20-30 min.
Mark from USA
How many amps at 110VAC does the unit pull at 250 bar?
asked Marvin from USA