This is the exact same rifle set-up that Eric Blandford used in his IraqVeteran8888 field review of the AirForce Texan. In his own words, this set-up is diabolical! You'll get the .457 caliber AirForce Texan, the extra Picatinny/Weaver rails, the awesome Hawke Sidewinder 30 SF 4-16x50 (10x Half Mil IR Reticle) Rifle Scope, a locking bi-pod, and a 100 cu in carbon fiber tank that fills to 4,500 psi allowing for multiple refills of your new AirForce Texan, but small enough to take into the field on your first deer hunt with the AirForce Texan. This combo is exclusive to Airgun Depot, and the savings of getting this exclusive combo totals over $200! This exclusive kit includes: Premium Hawke Sidewinder 30 SF IR 4-16x50 & UTG Rings ($580 value), Air Venturi 100 cu in Carbon Fiber Air Tank & Fill Station ($399.99 value), Bipod with locking legs ($34.99 value), Three Picatinny Rail Adapters: x2 for scope, x1 for bi-pod ($119.99 value).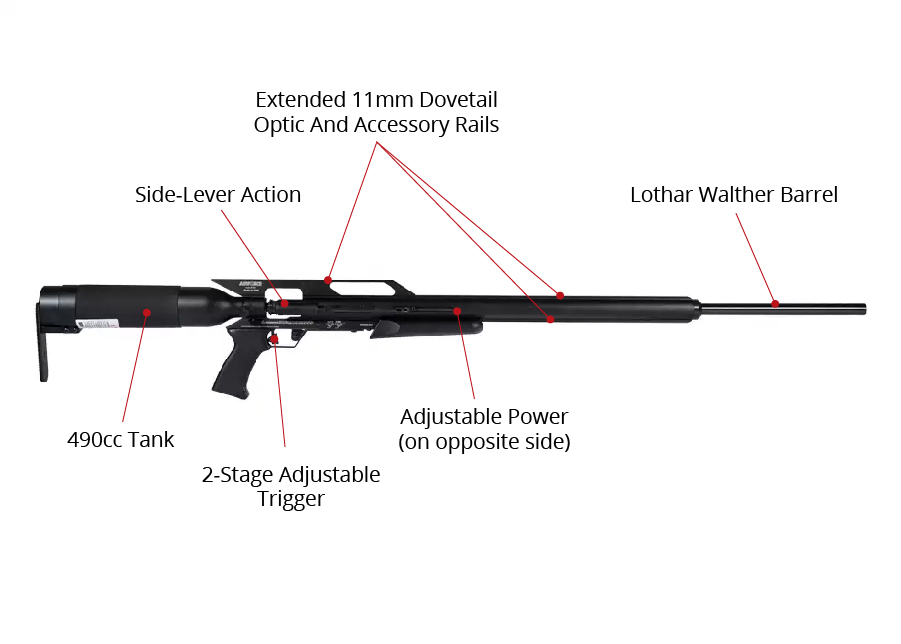 AirForce Texan IraqVeteran8888 Combo Features:
Pre-charged pneumatic
Single-shot
Sidelever
11mm dovetail
34" barrel
2-stage trigger (adj. for position only)
2.06-lb. trigger-pull
Automatic safety
Textured grip
490cc tank
Pressure-relief device
3000 psi (200 bar) max fill pressure
Adjustable power
Extended optics rail
7.65 lbs. (without scope & mount)
No baffles/is not silenced
13.875" to 15" length of pull
Buttplate can be rotated right and left for some cast-on and cast-off adjust-ability
Made in USA
Specs
Manufacturer

AirForce

Caliber

.457

Velocity

1000 fps

Condition

New

Ammo Type

Pellets

Action

Sidelever

Barrel Style

Rifled

Fire Mode

Single-shot

Gun Weight

0.00

Overall Length

0.00

Barrel Length

0.00

Loudness

5-High

Magazine Capacity

0

Mechanism

Pre-charged pneumatic

Rail

Yes

Safety

Automatic

Front Sights

none

Rear Sights

none

Shots per Fill

0

Trigger Adjustability

Two-stage adjustable

Trigger Action

0

Use

0

Warranty

Lifetime limited warranty
Reviews
Average Customer Review
5.0
5.0
8 Reviews
5.0
By Percell
USA
October 23, 2019
It Is The Most Powerful Air Rifle I Have Ever Shoot. Awesome!!!
Pros
You Can Shoot This Rifle With A Sroud Or With Out.
Cons
I Wish The Big Bored .45Cal. & .35Cal.306 Cal. Could Fire At Lease 3 Rounds?🤔
5.0
By Douglas E
USA
November 6, 2018
I already have a Texan SS and am quite happy with it. Got the Texan Iraq veteran setup to use deer hunting. Just add pellets and you have everything needed to spend a morning or afternoon hunting. Mounting the scope was a slight challenge as you must mount the rails first; they came without instructions. Excellent scope, easy to zero and a joy to use. Quite pleased with the first 100 yards result of 1 inch three shot group. Ergonomics,similar to the Texan SS, take a little while to get use to. This is a heavy rifle, while I notice almost no recoil, it is loud. Very loud! The weight and lack of an adequate carrying method make it cumbersome and tiring to use for anything but stationary hunting. Overall I am very pleased with this rifle. I'll use it for hunting from a stand and add it to my collection if nice bench rest guns.
Pros
accurate ease of operation
Cons
loud
5.0
By Steven
USA
September 10, 2018
All I can say is wow. This thing shoots a 150gr pellet very consistent. I have not shot any other pellets or bullets from it. The 150 hits hard. I am not sure how much energy at 100 yards but it will make a loud ping when hitting 1/4 inch plate steel. I am waiting for my 300 gr lead cast bullets to arrive to test them out. 3 shot group with 150gr pellet from huntersupply.com 1.5 inch at 100 yards.
Pros
Hard hitting. Accurate.
Cons
Loud but I fixed this with a short shroud from huntersupply.
5.0
By Douglas
USA
January 31, 2018
this gun is amazing! I've owned airguns before, but this thing is a beast! every time I fire this gun im still stunned over the recoil! this from an air gun! putting a 340gr round downrange at 100 yards (the farthest ive shot this gun to date) and being able to shoot 1" groups is truly stunning.
Pros
trigger is nice and has a distinctive break. solid, even for beefier fingers, im a big guy and have no problem. did think that with the tank as the stock the ergonomics would be a bit weird, not the case here. its a comfortable fit and a joy to shoot.
Cons
if I can find anything to fault this gun on, and not really a fault, think its more for safety, is that safety on the gun is a bit stiff and takes a good push with your finger to put into the firing position. but do you really want a safety that can move all that easily?
5.0
By Kenneth
USA
January 11, 2017
This thing is great i love it and its great because you can make your own ammo
Pros
Make own ammo light very easy to use lots of room for accessories
Cons
Does not have a stock on it just a pistol grip but still good just wish it was like a traditional gun
5.0
By Lloyd
USA
December 9, 2016
5.0
By Marilyn
USA
August 7, 2016
My wife Bought this for me. I was skeptical at first, having never shot an air rifle over .177...Boy was I surprised! This thing is bad to the bone. I got the IraqVeteran8888 combo kit in .45 cal. It is accurate, has a kick, and has a wicked punch even out to 100 yards! So far this Beast likes the 265 to 305gr. .457 lead rounds best, but it will throw a 405gr round out to 50 to 75 yards with enough force to drop a large Deer..EASY It is Loud, but hey, that comes with the power this baby has..I ordered a shroud from RLAir gun supply for 168.00 with tax..Fits perfect and makes a BIG difference In suppressing the sound and actually Improves accuracy a little too..Can"t wait for more mods come out!!!
Pros
I love everything about this rifle!!!!!
Cons
Waiting for the Mods to come to market.
5.0
By Daniel
USA
December 18, 2015
Very good gun but you need to be patient and spend some time at the range. Shoots 457 round balls very well. I never tried to shoot more than 75 yards. i also had very good results with 255 grain hollow points and 280 grain hollow points that i ordered from mr. Hollow point . I killed a doe during gun season at 47 yards with a 255 grain hollow point the gun definitely did its job. You must hold this gun steady to shoot accurately it does want to recoil up the better you can hold it the better your accuracy has been my experience.
Pros
in missouri this gun is legal for all deer seasons including muzzle loader and doesn't need to be cleaned like a muzzleloader.
Cons
Gun is heavy and long and you need a scuba tank to fill
Q&A
Question?
Login to ask someone who bought this product.
It will put a deer down
asked Angelo from USA
In the upper description it says 4500 PSI fillable tank but in the lower specs it only says 3000 can you specify
asked NavyVeteran1987
What's the range of this weapon. And fps is accurate. Planning a moose hunt in Montana this fall and would like to know limitations of this type or if you had something better in mind . Don't want to worry about a moose wounded and charging me. And the silencer has what noise can I expect from the report of the rifle. My name is Skye I live in Jersey so shipping is a issue with state laws. How can we ship legally (608)819-3410 Thankfully you should have all the answer's.
asked Skye Compfort
dont go to a gun fight with a knife. Moose will get realy mad unless you make a perfect shot.
Harold from USA
Can I order this with a silencer or is there a silencer that I can add to it?
asked Mark
Was Can you get a suppressor for this air rifle. I was in a Iraq I don't shoot guns because of the noise it bring back memories, I miss shooting so bad
asked Jeffery D Hibberts
Does this set come with everything I need to start shooting? If not what else is needed? I know I need ammo and I have to fill the tank but is any other filter, cleaning kits, connectors, hoses?
asked Thomas W Stanford
where can you get the tanks filled since a regular air compressor will not work and how long does the tank last until it has to be replaced because of the stress of being filled and emptied?
asked Duane
Can you get a Suppressor for this rifle
asked Joe
Do I need a licence for this weapon. Can I buy it and have it shipped to the republic of Ireland without any customs issues
asked Robert Quigley
What is the best ammo by weight for general hunting of small game to larger predators?
asked Mario
What type of case does this come with?
asked Shane
could you send the guns to China mainland?
asked Titan
Am I reding this right? Twenty two dollars for 50 cast lead pellets? Oh SNAP!!!!!!!
asked snapo
Can the carbon fibre tank be filled with the airforce hand pump? will Hornady .457 lead balls shoot with any accuracy in this rifle?
asked john
The carbon fiber tank, u will need to get filled at a scuba tank place..u cant pump them up..the Hornaday .457 swaged black powder round balls shoot well..i am shooting mine out too 100 yards and hitting inside a 4" circle with the Iraqi8888 set up i bought here, everytime! But, the 265 gr. To 305 gr. R the best for dropping a Deer, Big pig..this thing will drop an elk at 50 ..60 yards with a heart shot no problemo!!!
Marilyn from USA
no it can be filled with TU JEFA!!!
NAÑEZ (tu jefa)
Yes to the round balls and yes to the handpump, you can fill this tank with hand pump but do it over a weeks time so not to over heat the pump. Regards vermont airgunner
Daniel from USA
no you can not fill the carbon fiber tank with the hand pump
Daniel from USA
457 round balls will shoot very well
Daniel from USA
YES , BUT BE PUMPING WHILE LOL
DAN
I have the same question about the tank and yes you could shoot lead balls, conical, or cast anything .45
.
Don't know about the ammo part of your question but yes, usually the tanks CAN be filled up with a hand pump. Take awhile and lot of work but CAN. Even if you're physically capable to do it in one go, you need to rest the pump frequently so you don't have to rebuild it (seals and such) every tank fillup. It gets hot and needs to be cooled down frequently (I think every 40 pumps or so) but given enough time yes.
Jerry