Airgun writer Tom Gaylord did some velocity testing of the Texan. See a chart of his findings in the supplementary images. The AirForce Texan delivers more power than any other production air rifle: .45-caliber bullets leave the muzzle at 1000 fps (up to 500+ ft-lbs. of energy). Load, cock, aim, squeeze and deliver jaw-dropping power. An entire world of hunting opportunities has just opened up to you!
Is there a 3000 fps pellet gun?
At this time, there isn't a pellet gun that shoots projectiles at 3000 fps, however, the AirForce Texan comes as close as a pellet gun can get. The Texan shoots .45 caliber pellets at 1000 fps from a 3000 psi pre-charged pneumatic tank. It's a favorite among airgun hunters.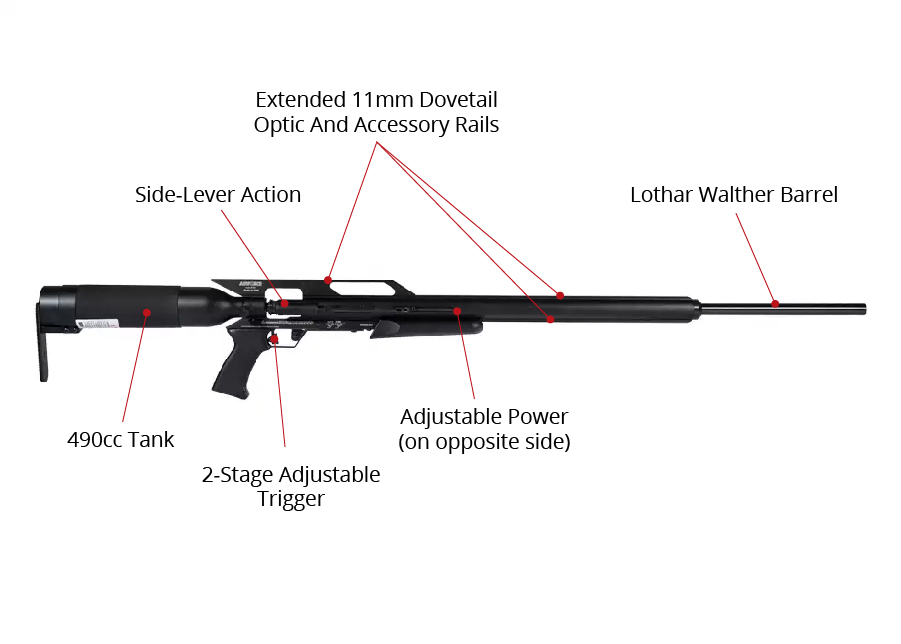 Airforce Texan Air Rifle Features
Precharged pneumatic
Single-shot
Sidelever
11mm dovetail
34" barrel
2-stage trigger (adj. for position only)
2.06-lb. trigger-pull
Automatic safety
Textured grip
490cc tank
Pressure-relief device
3000 psi (200 bar) max fill pressure
Adjustable power
Extended optics rail
7.65 lbs. (without scope & mount)
No baffles/is not silenced
13.875" to 15" length of pull
Buttplate can be rotated right and left for some cast-on and cast-off adjustability
Made in USA
AirForce Airguns recommends using only lead projectiles.
Does not include the scope, rings and bipod shown in some of the images.
Specs
Manufacturer

AirForce

Caliber

.457

Velocity

1040 fps

Condition

New

Ammo Type

Pellets

Action

Sidelever

Barrel Style

Rifled

Fire Mode

Single-shot

Gun Weight

7.65

Overall Length

48.00

Barrel Length

34.00

Loudness

5-High

Magazine Capacity

1

Mechanism

Pre-charged pneumatic

Rail

11mm dovetail

Safety

Automatic

Front Sights

none

Rear Sights

none

Shots per Fill

12

Trigger Adjustability

Two-stage non-adjustable

Trigger Action

0

Use

Hunting

Warranty

Lifetime limited warranty
Reviews
Average Customer Review
4.7
4.5
28 Reviews
5.0
By Benny
USA
January 5, 2023
I have let some close friends shoot my pellet gun, absolutely blows them away! I call it a pellet gun teasingly
Pros
Hard hitting weapon! Absolutely amazed by the power this gun produce.
Cons
I did have an issue with the air tank right off the get go. Sent back to Airforce, that cost me 60 dollars to ship, but, Airforce fixed it, and no issues whatsoever now. One of my most favorite rifles bar none!! I have no regrets buying this rifle.
5.0
By Darnell
USA
January 29, 2022
Verified Purchase
Been shooting my pitbull 357 and wow this thing is a beast.Went through both my sand boxes which are 16 inches deep each wow Im am amazed an airgun can be this bad. Love it cant to shoot more.Adde my donnie fl to it and what a big big difference.Thanks Donnie what an amazing suppressor you make Thanks Happy Shooting everyone
Pros
Love the power
Cons
Havent had it long enough
4.0
By Darnell
USA
January 27, 2022
Verified Purchase
Just recieved mine today and finally shot it three times.When i got through there were slivers of lead loading port is that normal.Shot 388grn Nsp ammo
Pros
Power
Cons
Add a longer forearm grip and the buttstock
5.0
By Bill
USA
November 16, 2021
I have hunted three seasons. This year the buck I shot ended up jumping twenty feet, died almost instantly. The shot was through-and-through. Pellet was Hunters Supply 45 Caliber 279 grain Flat Point. Dead-on accurate. Rifle power was more than ample, roughly 2,450 PSI. I have found this rifle to be accurate with light-weight pellets, about 180 gr, up to heavy 400 gr. Learning PSI and adjusting for pellet drop isn't difficult. Next up, trying 340 gr cast from Lee 2-Cavity Bullet Mold 457-340-F 45-70 Government (457 Diameter) 340 Grain Flat Nose.
Pros
Accuracy, power, balance.
Cons
Not many significant points. Nothing is ever perfect. The performance outweighed any minor issues.
5.0
By Franklin
USA
January 22, 2021
There are many aftermarket mods and accessories available from third party online vendors. Many vendors supply ammo designed specifically for the Texan as well. The customizable Texan platform may well become the AR of the airgun world.
Pros
Shooting my Texan is the most fun I've had with my clothes on. Other than seals and O rings, there isn't a single bit of plastic in this thing, just precision crafted steel and aluminum. Its accuracy and repeatability is just phenomenal. When shot from the bench with a bipod, it can drive tacks at 100+ yards. Customer service is solid as well and they stand behind their lifetime warranty. The pressure gauge on my .457 Texan recently developed a slow leak after 4 years. I spoke with Rachel at Airforce and had a replacement gauge two days later, free of charge. It's the little things.
Cons
When kitted out with a scope, suppressor, bipod, etc, it can get a bit long, unwieldy and front heavy. You're not going to easily carry it through underbrush. The loading tray dimension limits the bullets that can be loaded to about one inch in length (with the TX-1 valve). I don't know if the new TX-2 valve allows for more clearance, but the general consensus is that the new valve favors heavier bullet weights, which might not fit the loading tray.
5.0
By Phillip
USA
November 14, 2020
I wrote a comment about Airforce air gums I need to add Received the repaired air tank the same day I wrote the statement. Had no Idea it was shipped back. Sorry Airforce for the comment.
Pros
Apology for past comment
Cons
None
1.0
By Phillip
November 14, 2020
Beware Air Force guns corporate. Had a problem with air tank. I was given a return doc sent it back and was told it would be repaired or replace. It has been at least a month and a half and no tank return and have just been blown of off when ask about it.
Pros
Best 50 cal out there.
Cons
None
5.0
By Jimmy
USA
June 13, 2020
Mine dings targets at 900 yards , with a 109 dollar sight , at night , target size 2 by 2 circle , 5 out of five , recorded on phone , put the flash light on target , hold steady , she will do the rest . My friend has a 8 year old son that followed these instructions , nailed a 900 yard shot using the round ball , first shot .
Pros
Hits hard and accurate
Cons
Loud
5.0
By fred f.
January 25, 2020
Is this considered a fire arm?
5.0
By Alan
USA
December 21, 2019
I WAITED A LONG TIME FOR AF TO BRING OUT THE 257. i JUST PURCHASED THIS GUN AND ALTHOUGH I'VE SHOT IT I HAVEN'T BEEN ABLE TO GET OUTDOORS TO A RANGE. WINTER WEATHER AND BACK SURGERY HAVE PUT ME BEHIND FOR A GOOD WHILE. I OWNED A 457 TEXZAN WHICH I SOLD TO ONE OF MY SONS FOR DEER IN WISCONSIN. THE SIDECOCKER DESIGN IS SUPERIOR TO ANYTHING THEY HAVE MADE BEFORE. I'M LOOKING FORWARD TO SOME COYOTE AND HOG HUNTING IN THE FUTURE.
Q&A
Question?
Login to ask someone who bought this product.
I am looking at the .30 cal round, does anyone currently have one and is it accurate @ 100 yds? Also how do I go about purchasing a suppressor for the rifle?
asked kevin from USA
what's better the .457 or the .50 for hunting
asked Ryan from USA
Does the Texan come with a pump or a compressor?
asked Ryan from USA
You will need to purchase an HPA source.
Adam from USA
I hunt in CA... technically I don't think I'm allowed to take any game with a non-centerfire projectile. BUT, I'm not saying I won't be hunting Coyote and other non-game animals with this... IF I were to do something like this... to be MORE legal... are there any non-lead ammo options? Will it take standard .452 bullets (as long as I keep the weight in the generally accepted weight range)?
asked Christopher from USA
Minimal airgun species allowed by California Fish and Game. Yotes are about the biggest species allowed with air rifle. As far California lead hunting ammo ban,,, it does not apply to airguns. These airguns do not shoot jacketed, nor do they shoot hard cast lead alloys. When casting your own lead slugs you want to use pure lead with just barely enough antinomy to help whet the lead and help it pour. Use 98% pure lead to cast soft bullets and size your bullets to within .001" of actual true bore diameter. You must slug the barrel and measure with a micrometer to find your absolute true barrel diameter. The tool is a micrometer and not a dial caliper or even a digital caliper, you need to measure with a micrometer and you need to size your soft lead bullets within a thou + Otherwise bullets will drag down in the barrel.
BRIAN from USA
I believe the lead ammo ban in CA only applies to firearms and not air rifles. Lead is the best thing to use. Jacketed bullets will strip the rifling out of air gun barrels
Jacob from USA
i have alot of 45 cal .452 dia bullet molds will they work in my 45 cal texas air rifle
asked gary from USA
Does this 45 caliber have the new tx2 vile
asked Thomas from USA
About 2 get this rifle in the .50 Cal but i need to know the EXACT SIZE of rounds i need to fit this (.50, .510 ) . Thank you
asked Tony from USA
Most accurate hunting is Mr Hollowpoint out of my gun.I also shoot neilson sp and they are great in 388grn hollowpoints
Darnell from USA
i shoot neilson speciality .But Mr Hollowpoints are the best Good shooting
Darnell from USA
what kind of sling can be made to work with the airforce texan ?
asked Eric from USA
Can i use 25 cal pellets instead of bullets Because .257 ammo is not imported but we do have .250 cal ammo wil that work
asked Rudolf from USA
It will shoot, but it will shoot poorly! Buy a proper .25 barrel or cast your own .257 ammo
BRIAN from USA
I have the TA Texan 45 cal. And am looking for a suppressor, I am all so looking for the carbon fiber tank to replace the aluminum one it came with. If you could tell a cost for those it would be much appreciated.
asked Michael from USA
Have two Donnie fls and they are around 250$ Hes a great person to do business with.Probably fixing to buy another I Have the 357 and 50 cal good luck
Darnell from USA
Donnie fl suppressor
Darnell from USA
The CF tank for the Texan is AGD-A9219 $389.95. We do not carry suppressors, Look at Donny FL on-line.
Mark from USA
Does this model texan come with the 510 caliber Lothar-Walther barrel, the recently released TX2 valve system?
asked Stephen from USA
The TX2 valve is only available in the 45 cal Texan.
Mark from USA
Can I shoot the 50 cal Air Bolt out of the 50 cal Texan?
asked William from USA
I'm torn between getting an AirForce Texan in one of the big bore calibers (.357 would be my choice) or the FX Impact in .35. Comparing the pros and cons of each. Both great PCPs. Help me spend my hard-earned money. Why should I buy the AFT besides being patriotic and buying US made (I'm in Dallas)
asked BERNARDO from USA
The AF Texan is a very good hunting gun. The FX Impact is a really good target gun and also hunts well. The FX trigger is much better. They both shoot very well out to 120-150 yards.
Mark from USA
Are barrels interchangeable?
asked Norman Thompson
No where can I find any reference to this airguns shooting range ? Would someone help me out on this please ? I would have at least expected AirgunDepot to provide some pertinent info on this critical information ! Thanks !
asked James from USA
Can someone provide what thread size DonnyFL Emperor suppressor compatible with gun or direct link to compatible suppressors, thank you
asked Sami Jawad
Can this shoot .308?
asked Jason Reinhardt
They sell air rifle pellets. I was wonding if I could use reloading bullets and use those instead of special ording them from the website.
asked Michael
I assume, since this is listed as pre-order, that any answer has to be from AirForce or a reviewer, so, how many shots are usable from one charged tank? Thanks for the time to answer.
asked William from USA
Youtube says 4-6 good shots thats why i would buy the tank combo
Wyatt from USA
Depending on weight of bullet, 405 grain gets 2 good shots. 200 grain up to 6 shots between fills.
Thadeous
We have not got the full specs sheet as of this time but we should be getting that information soon. We are working very closely with AirForce on the release of this new rifle and are hoping to get a test model soon.
Scott from USA