The exclusive Airgun Depot AirForce Texan LSS Hunter Combo includes everything you need to take your LSS into the field. The new AirForce Texan LSS features a new 34? moderated barrel that can throw rounds downrange at velocities up to 1100 fps and capable of delivering 600 ft. lbs. of energy (depending on caliber), making it the ideal rifle for hunting a wide range of game. The kit includes the rifle, a Hawke Vantage 4-12x50 scope, an Air Venturi 100 cu-in carbon fiber tank, and a UTG Recon 360 bi-pod (w/weaver to dovetail adapter). This exclusive kit provides massive savings and versatility!
AirForce Texan LSS Hunter Combo Features:
Velocity: Up to 1100 FPS
Pressure relief device
Max Fill Pressure: 3000 psi/200 bar
Energy: up to 600 foot-pounds
Adjustable power
490cc air tank
Two-stage, adjustable trigger
Safety: automatic on cocking
Lothar Walther barrel
Low-effort, sidelever cocking
Kit includes: Rifle, Hawke Scope, Carbon Fiber tank, and UTG Bi-pod
Please note: This kit now includes the Air Venturi 100 cu-in Carbon Fiber Tank
Specs
Manufacturer

AirForce

Caliber

.45

Velocity

1040 fps

Condition

New

Ammo Type

Pellets

Action

Sidelever

Barrel Style

Lothar Walther

Fire Mode

Single-shot

Gun Weight

10.00

Overall Length

54.00

Barrel Length

34.00

Loudness

4-Medium-High

Magazine Capacity

1

Mechanism

Pre-charged pneumatic

Rail

11mm dovetail

Safety

Automatic

Front Sights

none

Rear Sights

none

Shots per Fill

0

Trigger Adjustability

Two-stage adjustable

Trigger Action

Double-Action

Use

Small game hunting/target practice

Warranty

Lifetime limited warranty
Reviews
Average Customer Review
5.0
5.0
2 Reviews
5.0
By Bob
USA
June 28, 2020
Verified Purchase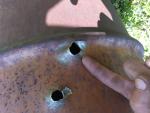 Pros
Can't believe how powerful this gun is! Easy set up with in a hour. Spot on accurate. Definitely recommend this gun set up. I placed two steel barrels in a line and a board hoping to find my fired 200 gain projectile but it passed through both barrels and a board at 50 yards. Crazy for a air rifle.
Cons
Only thing I dislike is the adapter piece for the bi pod set up seems to wiggle a little bit
5.0
By Clarence
USA
February 19, 2020
Verified Purchase
Pros
This combo is the cat's meow!!! Easy to get everything setup and putting rounds down range in less than a hour. The customer service at Airgun depot is A1!!!!!
Cons
Nothing
Q&A
Question?
Login to ask someone who bought this product.
I've been patiently waiting for this combo and the date keeps getting further away every day . Wish I had a definite answer .
asked Jacob from USA
Thank you Mark for answering my question . Cant wait to get my hands on it . I have already made my order .
Jacob from USA
The current in-stock date is mid to late Aug.
Mark from USA
What setting do you set it at shooting a Neilsen 350 grain hollow point
asked Jacob from USA
Thank you Mark
Jacob from USA
That is the shooters choice. It is a balancing act between shot velocity and shot count.
Mark from USA
Newbie here, how do you fill the tank to 4500 psi?
asked Teddy from USA
You fill the tank from a 4500 PSI compressor.A 4500 PSI hand pump. A paintball or dive shop that goes to 4500 PSI
Mark from USA
Is the .30 caliber listed actually the .308?
asked Lynn from USA
The 30 cal pellets will work in a .308 barrel.
Mark from USA
Does it come with pellets
asked Mark from USA
Approximately how many full pressure fills can you normally get out of a fully charged Carbon fiber tank?
asked Dan from USA
Does the package include the carbon fiber tank, as the shoulder-stock tank. Or is it the older model tank that won't hold as much pressure? Thanks.
asked Michael from USA
The LSS hunter combo comes with the steel air tank on the gun.
Mark from USA
Can this rifle be charged with nitrogen or co2?
asked Mathew from USA
Nitrogen can be used. CO2: no Too weak to be effective.
Mark from USA
Is the air tank that it comes with fillable? How can i refill it?
asked Mohamed from United Arab Emirates
Both the carbon fiber air tank and the bottle on the gun are filled with compressed air . The air source has to be at 4500 PSI.
Mark from USA
Which grain would you recommend which has the highest FPS and accuracy in the .30 Caliber?
asked Mohamed from United Arab Emirates
We do not have that information. Try the airgun forums. Airgun Nation,Airgun Warriors,Gateway to Airguns.
Mark from USA
It states in the use section small game hunting/target practice I live in Ohio where our Deer are very good size will this Rifle perform with a quick and clean kill in 45 cal?
asked Rick from USA
The Texan LSS is an excellent large game hunting gun.
Mark from USA
Loudness says 2 on this page but 4 on other texan LSS pages. Curious which is correct.
asked Odin from USA
the loudness level is a 4.
Mark from USA
CAN A EXTRA TANK PLUG INTO THE RIFLE VERSES REFILING AFTER SO MANY SHOTS
asked CHRIS from USA
Yes. airtanks can be swapped on the Texan.
Mark from USA
How is the scope that comes with the rifle? What kind is it exactly? Thanks in advance!!
asked Robert from USA
Hawke Vantage 4-12x50 scope.
Mark from USA
Do they make a hand pump for recharging ?
asked J.x from USA
Yes, you can use a hand pump to fill the tank. It will be very hard and take a long time to do.
Mark from USA