ASG Vertical Front Grip With Spring Loaded Bipod
Full metal w/ hard coat anodizing
Ergonomic design with contoured finger grooves
Non-slip, heat-resistant rubberized sides
Easy-access release button for fast deployment
Smooth folding action restores the bipod legs
Impact resistant
Weight carrying legs for reliable performance
Textured, all-terrain bipod feet for stable performance
Rapid transition from a solid grip to rugged bipod
Bipod offers great handling & solid hand support
Quick-detach lever lock mounting base
Fits on all Weaver/Picatinny rails
5.1" grip height, extends to 8" when bipod is deployed
Fiberglass/Aluminum material
12.15 oz
Specs
Manufacturer

ASG

Condition

New

Accessories Type

SHOOTING NEEDS and ACCESSORIES

Warranty

90-day limited warranty

Weight

0.59
Reviews
Average Customer Review
4.9
5.0
7 Reviews
5.0
By Andrew
July 21, 2020
Verified Purchase
hopefully the bipod legs stand the test of time. a lil shaky
Pros
seems to be pretty good. solid large grip for my large hands
Cons
nothing for the price
It's hard to imagine that I only paid a small amount of money that I did for this Heavy duty Device When it's absolutely perfect for I need a non slip heavy duty 4 Grip At turns into A by pod at the push of a button You really have to see a quality to believe Made from heavy duty composites Not cheap plastics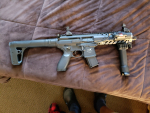 Pros
High quality Heavy duty and inexpensive
Cons
None
5.0
By Ken
December 4, 2018
Easy to mount and the spring loaded Bipod is sweet when you need the shot to count !
5.0
By Travis S
USA
December 8, 2017
I love this vertical grip! The quality, price and effectiveness all surprised me.
Pros
It's light weight and built nicely. The spring loaded bipod was like a extra Christmas gift.
Cons
I found no cons.
4.0
By John
USA
November 30, 2017
Great fun product, good for quick setup in the field but not great as a match bipod. Easy to install and quick to deploy the stand, I use it with my Puncher Breaker and the handle makes carrying the gun a pleasure.
Pros
Inexpensive ready to install on gun and a lot of fun
Cons
Not very steady as a bipod
Q&A
Question?
Login to ask someone who bought this product.
would this fit on the bottom of my crossman r1
asked josh from USA
would this work on a fwb p70 rifle?
asked Larry from USA
Would this work on a crossbow?
asked Donald from USA
Will it fit on the Umarex Gauntlet?
asked Luis A from USA
how much does this weigh
asked Rob