Made in the United States, this lightweight aluminum brake uses escaping air to help tame muzzle rise and felt recoil. Internal muzzle stop allows precise installation for maximum effect. Makes a convenient cocking handle, too. Machined from aluminum, black anodized finish. Attaches quickly to the barrel with two lock screws. Measures .880" diameter and 4.5" long. Fits barrels with .579" diameter muzzles (Beeman Gold Series rifles) and others; measure diameter before ordering.
Specs
Manufacturer

Air Venturi

Condition

New

Accessories Type

SHOOTING NEEDS and ACCESSORIES

Warranty

1-year limited warranty

Weight

0.50
Reviews
Average Customer Review
4.3
4.5
3 Reviews
3.0
By Ian
USA
January 14, 2020
Verified Purchase
4 stars because there were several noticeable machine marks/chips on the holes of the brake. Pretty sloppy machining. The bluing is nicely done and extremely close to the color and depth of the R series rifle (R7 in this case). Because of the chips I may wrap the brake in Gunskins. Keep in mind this brake will not fit Beeman R series rifles with the .588 diameter barrel, but I drilled out the hole on my lathe with a 16mm drill bit (.6299") and it fits perfectly. You can buy the larger Crow Magnum brake at Air Gun Depot that will fit, but I like the look of this one way more. To get this one to fit an R series rifle, you need to use a 16mm / .6299" drill bit because when you remove the front sight, there are 2 'ears' at the 1 and 11 o'clock position on the barrel where the dovetail was cut. Each ear of the dovetail to the opposite underside of the barrel is .607", so if you run the math you need .630" / 16mm hole to clear these 2 raised 'ears' at the 1 and 11 o'clock position as the barrel is geometrically egg shaped at the muzzle. 2 layers of electrical tape on the barrel and the brake fits super snug.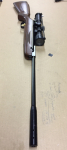 Pros
looks great. seems a wee bit quieter. easier to cock - barrel is now longer and the brake is easier to hold than having your hand on the barrel behind the front sight.
Cons
machining sub-par - several nicks from unopened packaging. need to modify the inside diameter to make it fit Beeman R series rifles...easy with a lathe and a 16mm / .630 drill bit.
5.0
By Rod
USA
July 11, 2016
Fits a vintage airgun barrel perfectly and because it adds a few extra inches to the length of the barrel it serves perfectly as a cocking aid, as well.
Pros
Perfect fit and finish.
Cons
None
Q&A
Question?
Login to ask someone who bought this product.
When putting the muzzle brake on , how far does it slide on the barrel before it stops.
asked Paul from USA
Will this muzzle brake fit my Crosman P1322. Do I need a longer barrel. Any recommendations ?
asked Paul from USA
Even if I put a 12 or 14 inch barrel ?
Paul from USA
No. The pump is hinged right at the barrel end.
Mark from USA
Will this brake fit the Beeman QB Chief?
asked Paul from USA
will this fit on a remington air express?
asked William from USA
Will this fit my dual caliber? (After removing the front sight?) It measures .568 on my junk caliper.
asked R. from USA
Will this product fit on the GSG 92 Co2 airgun?
asked MACEO