A winning combination of quality features, performance and price point, the Beeman Chief is a worthy addition to the budget friendly PCPs that are taking the airgun industry by storm. The Chief is modeled after the classical styling of bolt-action hunting rifles, with its handsome hardwood stock embossed with a yellow-hued Beeman logo. With added attention where it counts, the Chief has an adjustable 2-stage trigger that's ready for your fine tuning. For sighting, shooters can choose between the included fiber-optic sights, or mount their optics to the 11mm rail. With the Chief, you don't need to be a bodybuilder to fill the 2000cc cylinder, as a standard handpump will fill it in no time. Load up a round and send it flying at 1000 fps (in .177). According to Beeman, this PCP can shoot up to 50 rounds in .177 or 35 in .22. Curious about getting into PCP airguns, without breaking the bank? Pick up the Chief for a gun that will please with its performance and its price!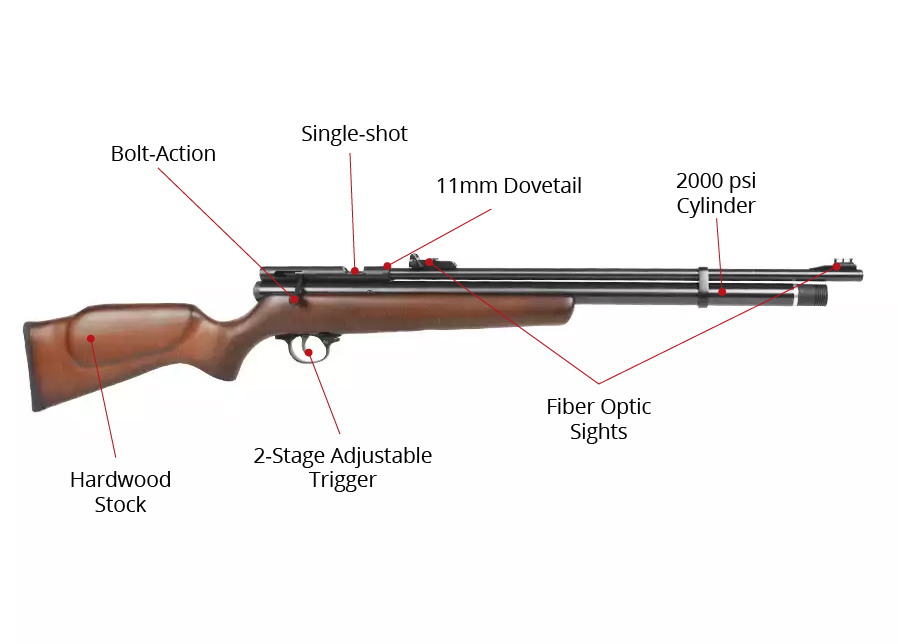 Beeman QB Chief PCP Air Rifle Features
PCP
Bolt-action
Single-shot
Manual safety
2-stage adjustable trigger
Hardwood Stock
Fiber-optic front and rear sights
11mm dovetail
Rifled barrel
2,000 psi fill pressure
Up to 50 shots per fill in .177 / 35 shots in .22 caliber
Includes Air Venturi MK4 Hand Pump
Specs
Manufacturer

Beeman

Caliber

.177

Velocity

1000 fps

Condition

New

Ammo Type

Pellets

Action

Bolt-action

Barrel Style

Rifled

Fire Mode

Single-shot

Gun Weight

6.80

Overall Length

39.00

Barrel Length

21.50

Loudness

4-Medium-High

Mechanism

Pre-charged pneumatic

Rail

11mm dovetail

Safety

Manual

Front Sights

Fiber Optic

Rear Sights

Fiber Optic

Shots per Fill

1

Trigger Adjustability

Two-stage adjustable

Trigger Action

0

Use

Small game hunting/target practice

Warranty

1-year limited warranty
Reviews
Average Customer Review
4.5
4.5
2 Reviews
5.0
By Dean
USA
November 13, 2019
Verified Purchase
I haven't got to shoot this gun as much as my first PCP the Seneca Aspen but I was surprisingly impressed and very happy with how quick I was able to get this gun sighted in. I mounted a 4-16 X 40 scope, with side parallax adjustment, which I was sure of because I had used it on the Aspen. The batteries for my laser bore sight were dead so I took a chance. I garbed one of my favorite pellets (10.65 gr. H&N Baracuda) and from 50 feet shooting at a 5.5 X 5.5 inch target and I was on the paper. After about 12 shots sighting in I changed to a fresh target and to the 10.65 gr. Baracuda Match pellet. The next ten shots awed me. When shooting for accuracy I only shoot 2 pellets at the same point on the target. The next 5 two shot groups were all inside a pellet diameter off the mark and the second, follow up, shot hole joined with the previous shot. I thought shot #6 missed the target but after a closer look I could see it was what I can call a one holder.
Pros
Good looking. Not to hard to pump (pressure) up for this old man. 20 good shots between 1000 and 2000 psi.
Cons
The trigger is too heavy for me. When I am squeezing off a shot I can hear a tinging sound and sometimes a grinding sound in my right ear before the gun goes off. Sometimes I have to stop and restart the shot because trigger got too heavy. I don't mind a little slop in a trigger before finding the point of business but after that, a deep breath, an exhel, a "little" more pressure and the gun needs to go off. That's how you know you are in control.
4.0
By Matt
USA
November 12, 2017
Out of my 3 PCP rifles the Chief in 22 caliber is my go to PCP. I'm stacking it up against my M-Rod, DISCO and has-been MROD-Air Varmint all in 22 caliber which the problems over rode all the good aspects it. The Chief is by far the better looking due to stock and bluing. Accuracy for all 3 PCP were very similar. M-Rod did have the best trigger, For my taste the trigger on the M-Rod has not been adjusted from factory settings. Other 2 needed their share of tinkering to get them to my liking.Weight wise the M-Rod was the heaviest by 2-4 lbs. DISCO was the cheapest looking in all departments. There was nothing that made it really stand apart from the rest.
Pros
Trigger on M-Rod was best. Varmint was lightest. Chief was handsomest over all. Best combo in all departments. All has good accuracy out to 35 yards due to the nature of them being PCP's.
Cons
Both DISCO and Chief had and still have a problem where the bolt pops up when shot. Varmint had a real problem with seals needing replacing about 2 months of use. Not to mention the very poor alignment hole between transfer port and air tubing. Could not resolve the air leak due the alignment problem.
Q&A
Question?
Login to ask someone who bought this product.