The Crosman QR-Mag will significantly cut down the time you spend reloading magazines! This quick reload (QR) magazine has a 300 rd reservoir with a built in speed loader that quickly refills the 25 spring fed rounds as soon as you run out! It is compatible with all DPMS SBR's, the Bushmaster MPW, and R1 Full Auto.
Crosman QR-Mag Features:
Spring fed magazine capacity 25 BB's
Reservoir capacity 300 BB's
Built-in speed loader reloads in seconds
Holds two CO2 cartridges
Compatible with DPMS models, Bushmaster MPW, and R1
Specs
Manufacturer

Crosman

Condition

New

Accessories Type

MAGAZINES, CLIPS & RELOADERS

Warranty

1-year limited warranty

Weight

0.75

Caliber

.177
Reviews
Average Customer Review
2.6
2.5
11 Reviews
1.0
By Christopher
USA
August 19, 2021
Verified Purchase
Pros
None
Cons
Never rolls 25 rounds and bolt pin brakes within a few light uses. Don't recommend to anyone. Not for $60
Pros
Im glad i read these reviews i was about to order 4 or 6 of these. Whew disaster averted. Thank you all for your information
1.0
By Matt
USA
June 24, 2021
Verified Purchase
Don't waste your money just buy the the standard magazine instead.
Pros
None really
Cons
I shake this thing like I'm making a mixed drink and I can only get 10 bbs in the magazine at a time. It has a viewer but I can't see the bbs so I can't tell how many Rounds are in the magazine. Spend a lot of time fiddling around trying to get it loaded but I never get more than 10 or 15 shots at a time and I still end up having to take it out of the gun and shake it. Plus it cost at least $10 more than a standard magazine. Not worth the extra money just a big hassle.
1.0
By Christopher
USA
March 13, 2021
Verified Purchase
I just received my R1 and all other accessories. COPPERHEAD 4.5mm bb 40 cylinders of c02 oil, and this piece of garbage which cost $60!!!! I'll be notifying Airgundepot tomorrow to see how to return. I don't think I even want to try another one because it seems this is a common issue with this mag. I'd also like to mention which I find odd is the my Supposedly new Mag came with 2 Co2 cartridges installed already which leads me to believe this is a USED mag they sent me. Honestly not to pleased. This was my first time using AGD for my Airgun needs. I normally use PyramidAir.
Pros
Honestly, I haven't found any..
Cons
This mag never loads more than 15 to 19 rds!!!! If I sit and fiddle fart around with it for 15 minutes + I may get lucky and load 24 rds.
5.0
By David A.
USA
February 11, 2021
Verified Purchase
I used silicone spray on it, on my BB's and gun but the material that is on the outside of the magazine developed white streaks from the drips of silicone spray residue on the surface. Don't recommend silicone spray.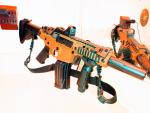 Pros
I like that you only have to load the 300 BB reservoir and might get a completely empty magazine per CO2 load of two cylinders. Looks cool ??
Cons
Only thing I wish if there was some way of reducing the weight of the magazine it ways a ton even without a full load.
1.0
By Johnny
January 31, 2021
not happy
Pros
I've ordered 2 of these nether have worked would like them to be replaced
Cons
Not happy
4.0
By David A.
USA
January 13, 2021
Verified Purchase
I couldn't wait to get it and apparently it traveled across country by pony express because it took forever. Now I have it and first thing I did with it as douse it with silicone spray inside the reservoir, in the co2 cartridge area, and in the witness holes where you see the BB's line up and the first thing I noticed is that the finish on or the material that the magazine is made of DOESN'T LIKE SILICONE SPRAY ! it left streaks of white residue on various spot's and I hope I can use gun oil to eliminate them. My first use of the magazine loaded I believe 25 BB's and fired them without stopping. I removed the magazine and shook and tilted the magazine in every direction to load a full 25 again and I had to check through the little witness holes to see if it was fully loaded and as stated in my cons it either loads fully or you get something and just shoot what it has or you try and fill those holes on the side of the magazine to 25 which takes time and wastes co2. But I got it.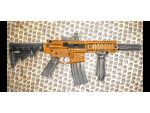 Pros
It holds a lot of BB's in reservoir and its easy to load the reservoir.
Cons
It's really hit and miss on fully loading 25 BB's in magazine for shooting.
2.0
By michael
USA
December 23, 2020
Verified Purchase
I am one of the people that likes and uses the original magazines and the speed loader. I have no problem using it. I am sending this magazine back to Crosman for an exchange, mabe the replacement will work correctly.
Pros
I like the capacity of this magazine and the shot count. It gets more shots out of the Co2 cartridges.
Cons
I would change the slide stop pin. This magazine does not stop the bolt when empty, allowing the gun to dry-fire, wasting C02.
5.0
By William
December 15, 2020
Verified Purchase
Although the magazine is significantly wider than the one that comes with the gun, it is only about 3/4 inch longer. In my opinion, this doesn't make the gun look "wonky." From the side, it's virtually indistinguishable from the original.
Pros
1. Reservoir holds 300, which is more BBs than the two CO2 cartridges can shoot. You'll run out of pressure before you run out of BBs. 2. Magazine can be reloaded with BBs and speed reloaded without taking it out of the gun. 3. Internal speed loader makes reloading 25 BBs even faster than the original magazine. 4. Sliding cover for reloading BBs provides a large enough opening, to pour them into the magazine.
Cons
1. Sliding cover for reloading BBs is very fragile while it's open. If you break it, the magazine will be unable to retain BBs. So, take extra caution handling the magazine while the sliding cover is open.
5.0
By Erwin
USA
September 4, 2020
Verified Purchase
This thing helps make the experience a lot more enjoyable. Everyone wants to do some spraying with these guns, but not so great with 25 rounds gone in a second. With a QR mag and a cheap pinty green dot laser, you can get 4 to 6 nice bursts right on a milk jug from 30-40 feet away blasting from the hip, and 5-10 seconds later be doing it again. And again. And again. Etc. Noice!
Pros
Five stars based on comparison to constantly loading and changing out the regular (25 shot) mags. Agree that the valving seems to get more out of the CO tanks. I found that as the tanks go empty after about 5-6 25-round fills, the gun will stop firing after maybe a half dozen or a dozen shots, but if you manually use the bolt charging handle to cycle the bolt again you can keep getting these short bursts out until the CO is pretty much completely spent. As for reloading more shots each time you've used up 25, Just hold the gun so barrel is toward the ground, shake it back and forth a little, and we had no problem consistently getting the next 25 rounds ready. We got about 180-200 rounds out for each pair of CO cylinders by milking the last 20-40 shots out in the manner described. WAY better than having to constantly load magazines! Also a drop of gun oil or light machine oil or similar on the tip of each cylinder makes a big difference in getting every shot you can from your CO
Cons
If I had to gig it on something, then having this big wonky magazine in the gun looks a little... Well, wonky, -compared to the way these guns mimic the look of a real M4 with the normal realistic 25-round mag in. Easy compromise is slap a regular mag in when you're showing it off and use this when you're out to do some serious spraying. Not really a big deal on the larger scale of things.
Q&A
Question?
Login to ask someone who bought this product.
is this item good reviews looks bad
asked Gerry from USA
how do you know if all the bbs are ready to fire and how many mags(or every 25 rounds) can it shoot with 2 co2 canisters before it runs out
asked irak from USA
What dose this magazine do different from the other magazine that Crosman makes?
asked Treyvin from USA
Capacity: 25 rounds (in the spring feeder), 300 rounds (in the reservoir) Built-in speedloader for fast reloads Holds 2 CO2 cartridges Compatible with select Full Auto Crosman models, including the Bushmaster MPW. Crosman R1, and DPMS SBR
Mark from USA