This FX Digital Chronograph Display lets you see the speed of each shot right away because you can mount it under the scope on your FX Impact or to the side Picatinny accessory rail on other air rifles. Besides fps, it also shows you the battery life and the shots remaining in the magazine. It does all this by connecting to the FX Radar Chronograph using Bluetooth while still letting you control the functions through the smartphone app, and its internal battery charges with a USB-C cord.
FX Digital Chronograph Display Features:
Works with FX Radar Chronograph
Connects via Bluetooth
Works with FX Impact and air rifles with side Picatinny accessory rail
Specs
Manufacturer

FX Airguns

Condition

New

Accessories Type

Chronographs

Warranty

1-year limited warranty

Weight

0.50
Reviews
Average Customer Review
5.0
5.0
1 Review
5.0
By Michael
USA
April 27, 2023
Verified Purchase
The FX chronograph display is by far my favorite item I have on my gun. Very easy to navigate within the settings and pairing with the FX Chronograph is a breeze. Just simply turn them on and they will connect/ pair together. As far as options for different settings you can choose Velocity Unit, Range Unit, Pellet Weight, & Mag Size. (Velocity Unit: FPS, KMPH, Joules, MPH, MPS, & FT lbs) (Pellet Weight/Mag Size: Enter your appropriate weight & Mag Size you are using)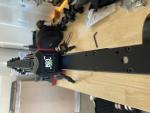 Pros
Easy setup, multiple settings options, rechargeable.
Cons
N/A
Q&A
Question?
Login to ask someone who bought this product.
Will this work on an AirForce Texan LSS? With an adapter for the side rail, with the shroud/suppressor built on?
asked Matthew from USA
As long as you get the adapters to have a Picatinny rail.
Adam from USA
What is the maximum speed this can read ?
asked Victor from USA
1300 FPS he said in the Video
David from USA