Heavy, exceptionally accurate hunting pellet for long ranges. Advanced development of Baracuda design with best aerodynamic properties for maximum impact, high penetration and controlled deformation of pellet with tight shot groups.
Caliber: .177
Grain: 10.49
Head Size: 4.50mm*
Quantity: 400
Nose: Hollowpoint
Use: Hunting, ranges over 50 yards
Specs
Manufacturer

Haendler & Natermann

Caliber

.177

Ammo Type

Pellets

Ammo Weight

10.49 grains

Pellet Shape

Hollowpoint

Pellet Quantity

400 ct
Reviews
Average Customer Review
4.5
4.5
23 Reviews
4.0
By Theodore
USA
March 13, 2023
Stay safe have fun and keep air gunning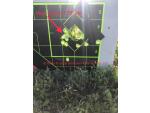 Pros
Well made, no burs from manufacturing, very little if any damaged skirts, 25yds very accurate, 50yds opened up a bit but still great accuracy, H&N typically has nice products. I will provide a picture here. 20 Shots at 50yds 1.75in ctc for main group. A couple flyers probably wind and trigger pull. Not too bad for a Gamo Swarmm Maximm Gen2 .177 with a 4x12x44 Scope
Cons
Nothing much to say here.
3.0
By John
USA
November 23, 2019
I have a FX Streamline .177 cal. rifle I have been using the 10.34 gr. round nose pellet, and they are dead on I can put 10 roundsds at 10 yds. in the same hole with no problem. I then bought the same pellet, weight wise,but in the hollow point, at 10 yds. I had a 1" spread from the center of the target, so no, for this rifle in that class, I don't recommend them at all, stay with the same weight, but in round nose,and you'll do just fine.
Pros
well made pellet
Cons
not as good as the round nose one's
4.0
By Kurt
USA
January 2, 2019
When this pellet is paired with the Umarex Octane .177, the results can be very upsetting to small animal life. This pellet hits very hard when fired from this rifle from twenty yards and less. Hits with authority, yet my studies have found the JSB Diabolo Heavy Ultra shock has just a bit more knock down power, while being just as accurate. How accurate? I have hit the white bottle cap on a 16 oz bottle of water that was standing up rite from 15 yards away. I was also standing, and using the factory open sights. This is a good round that will require you to put in the work with good shot placement. I have seen a number of pigeons take off after being hit from inside of 25 yards.
Pros
Comes 400 to a tin. They seem to work better after I cleaned them with Ajax dish washing soap. My Umarex Octane in .177 likes them. I will buy these again and again.
Cons
I have seen pigeons fly off after being hit with this round at distances inside of 25 yards.
5.0
By scott
USA
January 7, 2018
Love these pellets in my mod 95, Shoots about 870 fps and hits very hard 1/2 inch groups at 20 yards Watch out squirrels!
Pros
Nice tight fit very uniform.
Cons
None
5.0
By Joel
USA
August 7, 2017
I shot a squirrel a few weeks ago with a pellet that claims to be a high penetration. I hit the squirrel under the eye and the pellet went through the other side. Only thing is the squirrel didn't die. He hit the floor and to my awful surprise, the squirrel started to run in circles until I could put a follow up shot on him. Then I got the H&N Hollow points. A few days later I shot another squirrel with the same under the eye shot placement. Not only did it kill the squirrel in one shot, but there was NO over penetration. The other side of the squirrel was completely clean. And this shot like the first was at a distance of less then 20 feet and shot from a .177 gamo big cat. The stopping power of these pellets can't be overstated. It's a must have for any hunter.
Pros
High energy transference and awesome stopping power. Great grouping under a dime size
Cons
None
I have been looking at different pellets for my .177 rifle and this one has hit the mark. It is consistent and gets the job done. I would recommend this product to others.
4.0
By Kerry H.
January 17, 2017
I purchased these pellets for the purpose of squirrel hunting. I have been impressed with the accuracy. I shoot a Gamo biocat with 1250 fps and was having problems with a good pattern beyond 15 yrds. These heavier pellets are just what the Dr. ordered. I have been able to group very good out to 40 yrds and have been able to harvest several squirrels beyond 30 with these pellets. The only reason I did not rate 5 stars was because even though I only go for head shots I have had to dispatch another round on several of the bushytails. When skinning them I have recovered several pellets and they did not mushroom the way I anticipated the hollow point design to. As a matter of fact I probably could have shot them again as there was no noticeable deformation. All that being said I will be buying these again because they are the most accurate of the 7 brands that I have used.
Pros
Accuracy and consistency.
Cons
No expansion
5.0
By Erik
USA
November 7, 2016
These are great little pellets.
Pros
Works great in Umarex Octane .177.
Cons
Nothing
4.0
By Ali V.
June 27, 2016
Good pellets. Solid impact when you hit what you aim at. Good at long distances
Pros
Solid impact
Cons
None
Well formed, snug fit in Remington, hard hitting on rabbit and wood target.
Pros
Came extremely well packaged
Q&A
Question?
Login to ask someone who bought this product.
will it work in a pistol?
asked Kelley from USA
Which .177 pellet is best in a gamo coyote whisper fusion. Grain wise
asked Curtis from USA
please, can somebody give dimentions on this pellet? skirt size, head size and length?
asked frisco kid