Heavy, exceptionally accurate hunting pellet for long ranges. Deep, crossshaped hollow tip for tremendous shock effect and rapid energy transfer. Best aerodynamic properties for high accuracy. These unique hollowpoints are ideally suited for hunting. Use with magnum air rifles. The mushrooming head delivers a shocking blow on impact.
Caliber: .22
Grain: 18.52
Quantity: 200
Nose: Hollowpoint
Use: Hunting, Ranges Over 50 Yards
Specs
Manufacturer

Haendler & Natermann

Caliber

.22

Ammo Type

Pellets

Ammo Weight

18.52 grains

Pellet Shape

Hollowpoint

Pellet Quantity

200 ct
Reviews
Average Customer Review
4.7
4.5
59 Reviews
5.0
By Bogdan
USA
November 14, 2020
Verified Purchase
Pros
Very Accurate
Cons
None
5.0
By Mario
March 19, 2020
This pellet is accurate out of my Umarex Octane Elite .22. The Chronograph results are the star of the show. Low 798.1 Hi 805.6 Average 801.3 Extreme Spread 7.49 Standard Deviation 2.44 with 26 foot pounds energy. This explains why there are no unexplained fliers when shooting groups, very consistent, other pellets have Standard Deviations around 100 FPS which cause all sorts of shenanigans which include other H&N pellets.
Pros
The color of the packaging. The pellet looks like a Phillips screw head.
Cons
Nothing
5.0
By Manuel
USA
February 13, 2020
I shoot these from my Diana Stormrider. At 25 yards I shoot quarter size groups with them. At 50 yards I can hit a 2 inch target and at 75 yards I can hit a 3 inch target. So over all these are great pellets plus they do expand on harder targets, I shot a 18oz can of crushed tomatoes at 50 yards it blew right threw and mage a hole come out 3 times larger than the pellet. So definitely a good shooter.
Pros
everything
Cons
none
5.0
By Dave
July 13, 2019
Verified Purchase
These pellets work great in my 22 Bullboss. I usually shoot the 18 gr. JSB at 940 fps and these H&N match them shot for shot. They pretty much stack at 25 and give me 5/8 groups at 50. The best part is I don't have to adjust the point of impact between the two. They make taking care of my woodchuck problem around my garden a snap. I can set up on one take a lung shot and they move 5 feet tops. With the JSB they would have enough gas to run under my shed to expire....not a fan of that in the summer heat. I was curious how the terminal performance was so I retrevived one from a 20 yard shot.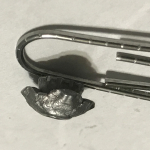 Pros
High quality well sorted pellets Notched center delivers full expansion Accurate as any high quality domed pellet
Cons
None
5.0
By Alan
USA
February 25, 2019
great accurate pellets
Pros
good mushrooming
Cons
none
3.0
By Jay
USA
January 24, 2019
Visually, the pellets all seem dimensionally uniform. The skirt of this pellet is thicker than other pellet types by H&N. Over all the pellet seems to be well made and engineered for its intended purpose. During my trial of these pellets I found that the pressure required to seat the pellet into the chamber of my RWS48 varied from pellet to pellet, some slipped into the chamber easily, while others required a firm pressure to get them to seat in the chamber. This caused me to shoot numerous groups to be sure that I was seating each pellet consistently in the chamber. As to grouping: at a measured 25 yards, my best group was about 1" and my worst about 3". While doing my best to keep things consistent, in my best effort to gain accuracy, I was unable to repeat, with these pellets, what others define as a greatly accurate pellet, as such I would recommend trying them in your airgun, but mine doesn't seem to care for them.
Pros
Screw top tin.
5.0
By Verdell
USA
December 7, 2018
This is a very hard hitting and accurate pellet that has no problem taking down its prey. It is well made and carries a good wallop on its prey. I think it is better than the Hunter pellet with the little extra weight.
Pros
Accurate, and well made with a perfect size and weight
Nice stopping power for small caliber pellet
5.0
By Daniel
USA
March 1, 2018
Pellets are uniform and shoot well through my single shot pcp pellet carbine. I have not noted a problems.
Pros
Work well I'm my .22 PCP
Q&A
Question?
Login to ask someone who bought this product.
Do they fit in gamo swarm maxxim gen 2 22 magazine?
asked Max from USA
What is the advantage of using a much heavier pellet? How does it affect speed?
asked Steve
It will definitely affect the speed but it will carry more energy to the target. For hunting more energy is better and the expansion of this pellet helps aiding in that transfer.
Deven from USA
Bought these from Amazon , heading on description indicated 19.09 grain and when i received 3 tins of these they were 18.52 grain , i find that these are not as consistent in accuracy . has any one else had this problem?
asked Calvin from USA
are they lead? or alloy?
asked nick
Cost shipping for Brazil.
asked Paulo from USA
Paulo, The shipping cost depends on the weight of your order. This can be calculated with the shipping calculator found on our website. Sincerely, Airgun Depot Customer Care
Steve from USA