Hammerli Pneuma Elite 10 Air Rifle Review
This is a Community Review of the Hammerli Pneuma Elite 10 air rifle by Steve Scialli. He also provided a supplemental test to see how well this gun performs are greater distances. The author of the following review are in no way affiliated with Airgun Depot. The views expressed below are personal opinion only.
Overall Reviewer Rating




Accuracy
Ergonomics
Quietness
Power
Trigger
Hatsan Arms Company is very good at creating entertaining ways to fling lead, and the Hammerli Pneuma Elite 10 is among them. It's not a new rifle, but like any worthy predecessor it has spent the last five years forging its name in people's hearts and perhaps history books alike. Enjoying stardom around the World, and sold in a dozen markets overseas as the Hatsan AT-44, this chassis is currently available in several PCP repeater variations... a clever pump action, a lighter synthetic non-thumbhole stock, or with a gorgeous Turkish walnut. Calibers can be had in .177, .22, and even in .25. But if it's a thumbhole stock carbine you're after, or just want an original copy before they are gone, look no further than the Hammerli Pneuma Elite 10.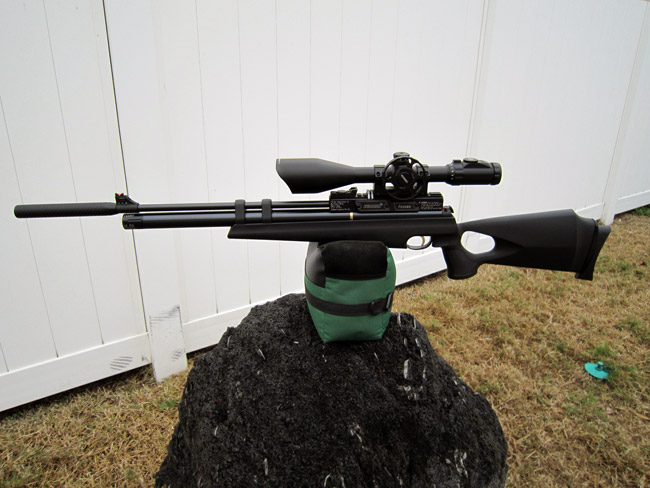 Sleek, black, and form fitting, the Pneuma .177 was built for speed. Releasing gobs of air with each shot, the Pneuma moves lead with considerable authority. Eight grain pellets easily go supersonic and taut their attitude with an indicative "crack" as they break the sound barrier. There is more than enough power on tap here to zip through squirrels or to reach out and touch small game at distances out to 50 yards and beyond. I tracked 7.9 grain lead pellets at up to 1,163 fps with the Pneuma, placing it firmly in the high velocity category. So if it is speed and power you seek, the Pneuma will deliver. All this power comes with a consequence though... noise. The Pneuma is not for the faint of heart. Its boisterous "pow" followed by the "crack" of the sound barrier may put both query and neighbor on alert. On the flip side, I found the report to add to the overall character of the Pneuma and support this rifle's wickedness... in other words, the "pow" adds to the personality and makes it sound formidable.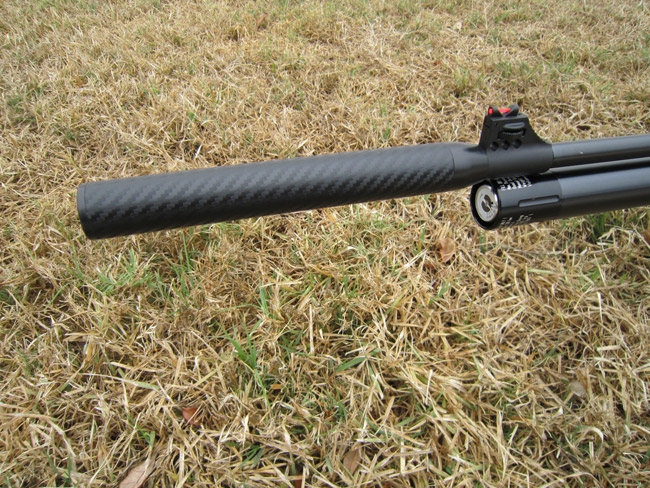 If it is quiet shooting you seek, for less than $100, TKO Airguns can provide you with a very well engineered brake that will tame the Pneuma's bark to a mere snort. The worthy accessory simply threads onto the Pneuma's 1/2 inch UNF threaded muzzle, which resides under the barrel cap. Hatsan clairvoyantly designed the Pneuma to accept muzzle accessories, so feel free to experiment. Another nifty accessory used to improve accuracy and appearance is Hatsan's Air Stripper. This neat little device strips air away from the muzzle of the Pneuma as the rifle is fired, reducing air turbulence around the pellet, therefor increasing pellet stability. Air Strippers are tunable and can be purchased for the Pneuma and other Hatsan's at Airgun Depot for less than $30. The result is improved accuracy and aggressive looks, to compliment all that brawn.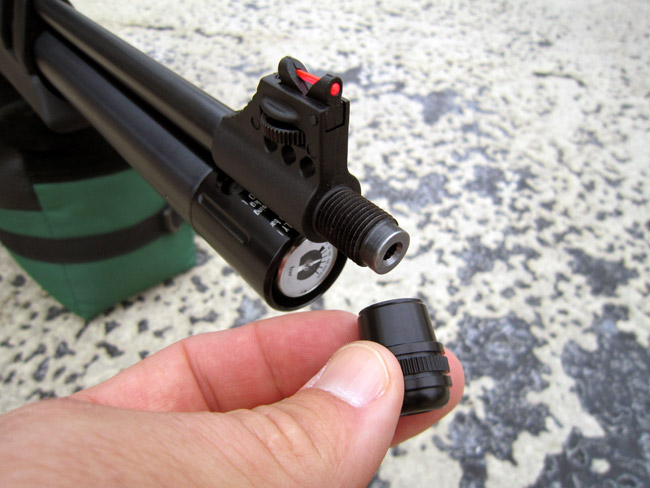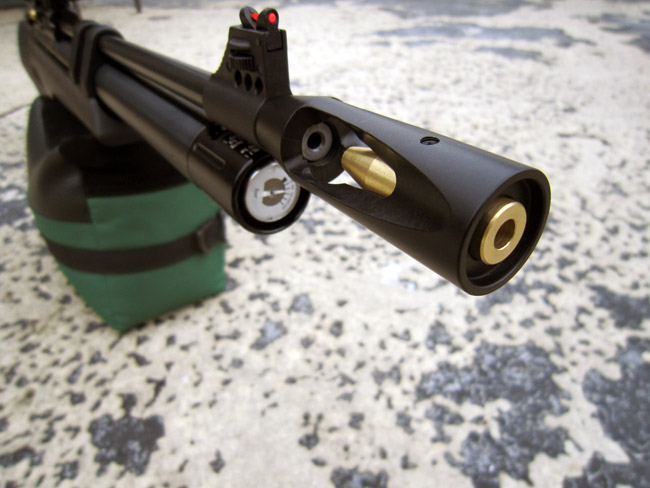 It's not all muscle with the Pneuma though. It certainly has its refinements too. Trigger, action, recharging, and magazine all seem to have a finer precision about them. The gold plated two-stage Quatro Trigger is adjustable and breaks predictably and cleanly with no second stage creep... although it would be even better if it were a few pounds lighter. Cycling the magazine with the side lever action is convenient, satisfying, and takes minimal force. The included 10 round rotary magazines load easily and were deep enough to house most of the 42 pellets I tested through them... a few of the exceptions being the Predator Polymag and Skenco Ultramag. Filling the Pneuma is straight forward but not as well thought out as the rest of the rifle. The removable dust plug requires some sort of poking tool to push it out of the air cylinder, making for an extra step upon fill up... and mine indexed to an inconvenient place; both minor nuisances. To recharge the Pneuma, simply insert the fill probe in the air cylinder and fill to no more than 200 Bar or 2,900 PSI using a hand pump or high pressure air tank, and as long as I used a little silicone oil on the fill probe, it slid easily in & out of the air cylinder.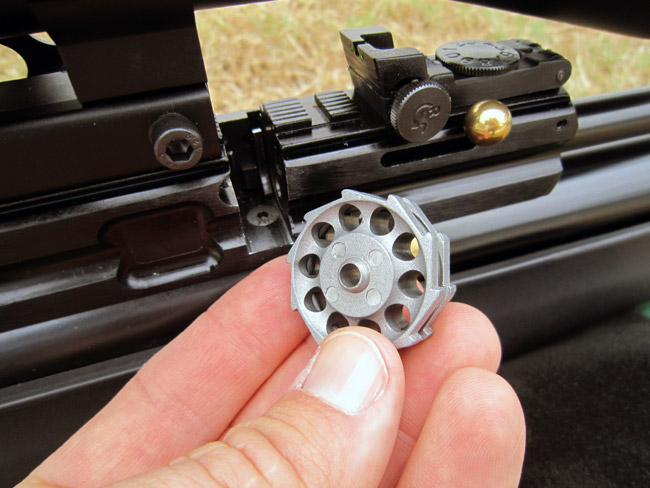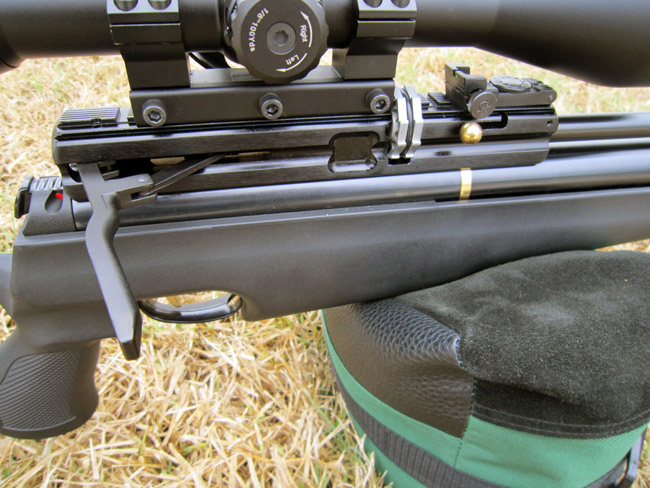 So what's it like to shoulder the Pneuma? It's great! The shorter profile, thumbhole stock, and adjustable butt plate all contribute to one heck of a nice fitting carbine. I found the synthetic stock to be of good quality with minimal flashing along the seams and to be made from a nice grabby material... not too plastic like. Atop the receiver lies a scope mount that is said to accept either 11mm or weaver style mounts, although I wasn't able to get any of the Leapers UTG brand weaver mounts to fit it. For the purpose of the test, a UTG 4-16x56 AO scope was used, along with a UTG 11mm to weaver adaptor mount. If you like open sights, feel free to indulge... the ones on the Pneuma are very good.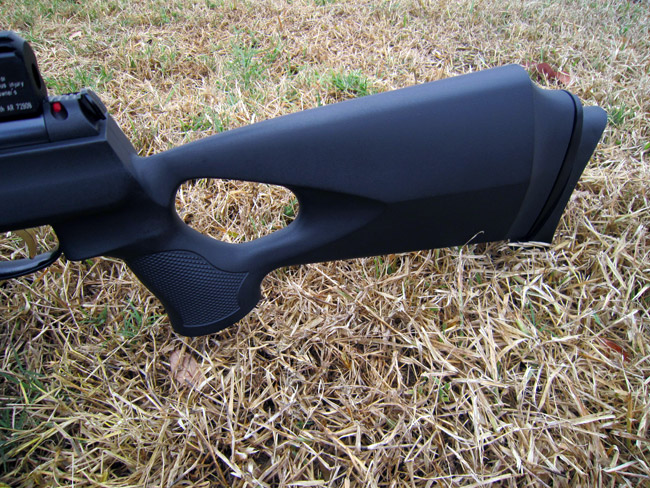 Shooting the Pneuma is where it's at though. Hard hitting and accurate, the Pneuma .177 is capable of stacking pellets at 25 yards... even at very high velocity. I didn't have the best luck with softer skirted pellets, and I'm guessing this was due to the tremendous power which deformed the skirts a bit. Nonetheless, with most types of pellets, groups remained less than 3/4" at 75 feet. Of the 42 types of pellets I ran through the Pneuma, the better performers were the JSB Monster 13.43 gr, JSB Heavy 10.34 gr, Skenco Big Boy Heavy Weight 13.0 gr, Skenco Newboy Senior 15.8 gr, and Skenco Ultrashock 9.57 gr. The harder and heavier Crosman Premier Domed 10.5 gr and Eunjin 16 gr, shot the tightest and usually produced one hole groups at will when fitted with any of the three muzzle attachments.
Sighting in the Pneuma at 25 yards... Crosman Premier Domed 10.5 gr, group of 5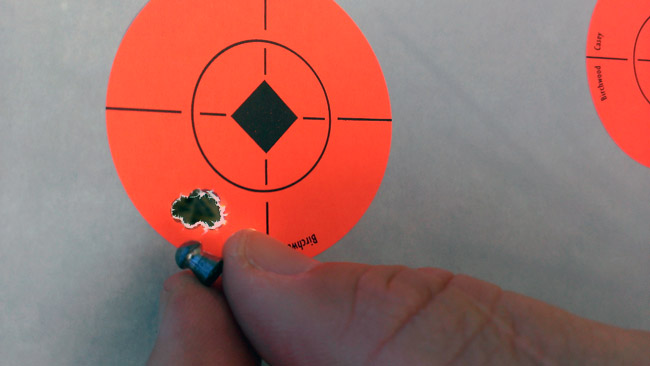 Group of 5, Crosman Premier Dome 10.5 grain, 25 yards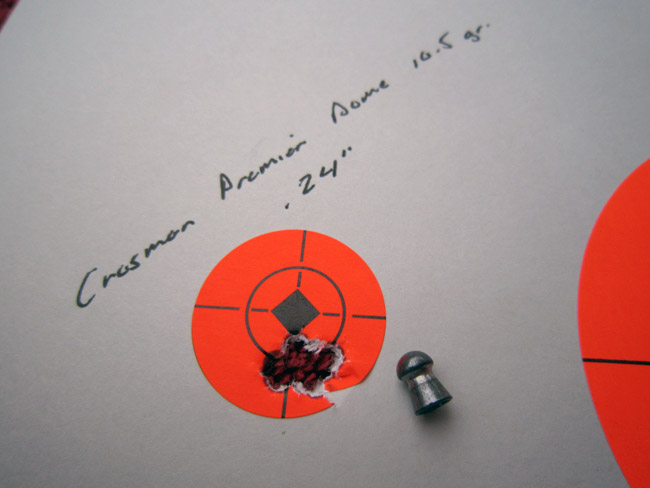 Group of 5, Eunjin 16 grain, 25 yards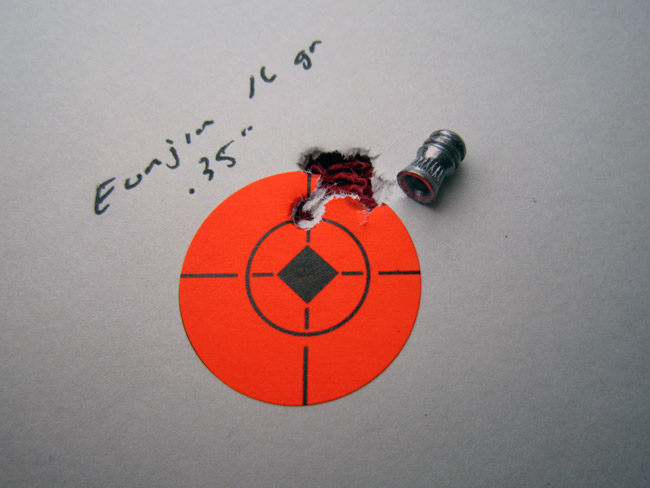 The Pneuma in .177 is capable of 40 good shots before the point of impact begins to drop off, with lighter pellets holding out longer before succumbing to gravity. With these lighter 7.9 grain pellets, velocities worked their way down to the 800 fps range, even as the shot count approached 50. As for you power buffs, there is plenty to go around. Muzzle energy and velocity is outrageous at over 30 foot pounds... even in .177. Just have a look at these shot charts tested from 200 Bar.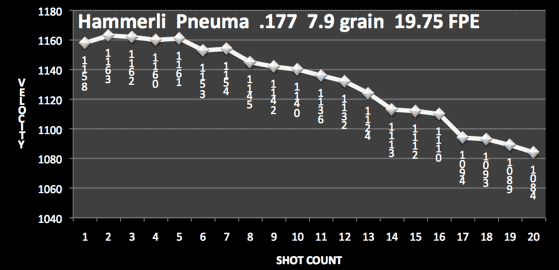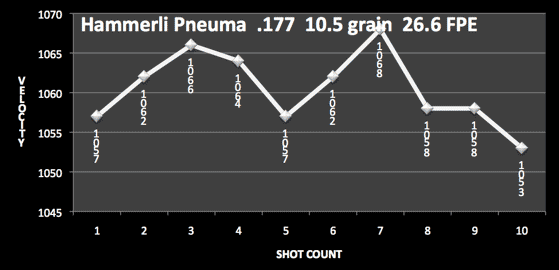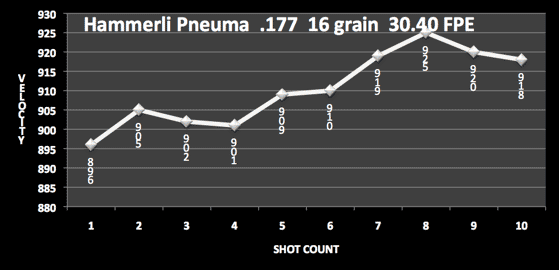 So what does all this mean? It means that the Pneuma comes shooting ultra hot in .177. I would have liked to see the heavier 10.5 grain pellets shooting in the 900-950 fps range for greater long range accuracy. This Pneuma Elite 10 was so powerful in .177 that it took a monstrous 16 grain Eunjin pellet to pull velocities down into the 900's, suggesting that the bore that would likely make the most sense is the .22. Those pellet weights are most common in the 15-24 grain sizes, and should do a better job of taming this lion, not to mention would likely fly straighter over longer distances and be a more effective hunter. That all being said, this Pneuma did perform admirably with the more cost effective .177 Crosman Premier Domes in 10.5 gr ... you decide. The Pneuma has certainly made its mark on the national airgun community over the years. Most would agree that Hatsan has a winning platform on its hands here... one that has proven itself a worthy contender. At less than $350, I don't know of another PCP repeater that offers this much power, accuracy, and shot count. Couple that with the ability to accessorize and you have a real flexible platform that is hard to out-value. The clock is ticking for the Hammerli Pneuma, so if you prefer a thumbhole stock or want to save $100 over the successor/U.S. marketed AT-44, it's time to move forward and treat yourself. I did. Steve Scialli
April 3, 2013
Helpful Links:
Update: Steve did further testing of the Hatsan AT-P1 to see how well the gun performs at greater distances. What do you think?