The copper coating on Excite Coppa-Spitskugel pointed pellets makes them 20% harder than uncoated pellets. There will also be less pellet deformation and less lead fouling in your airgun's barrel.
.22 caliber
16.05 grains
Pointed
Copper-coated
200 pellets
Specs
Manufacturer

Haendler & Natermann

Caliber

.22

Ammo Type

Pellets

Ammo Weight

16.05 grains

Pellet Shape

Pointed

Pellet Quantity

200 ct
Reviews
Average Customer Review
5.0
5.0
2 Reviews
5.0
By PHILIP
USA
January 24, 2023
Verified Purchase
These pellets claim more piercing power (less/no mushrooming?) compared to a same weight all-lead pellet (that mushrooms) With 12fpe at the muzzle and above average penetration, be cognizant of the effectiveness of your backstop in the back yard. Besides the penetrating performance of this round, the copper completely encapsulates the lead core which prevents lead fouling in the bore as well as the formation of lead dust at the muzzle, all the while keeping your hands clean as you load. As for hunting I would trust it for humane head shots on all small game up to 30 yards away.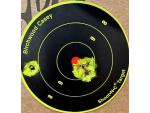 Pros
Relative lightweight (16.05 gr) the 20% harder copper plating helps prevent deformation of the pellet skirt. One-hole accurate out of my P-Rod, rested at 15 yards. Not inexpensive for the quality and accuracy delivered, but the results are well worth the price.
Cons
Nothing. It is perfect as is.
5.0
By Posey
USA
December 13, 2018
These .22 pellets have proven as effective and consistent as the most expensive ammo available here. I've tried 8 different pellets in my Gauntlet and Gammo Swarm Maxxim. These are hard to beat.
Q&A
Question?
Login to ask someone who bought this product.
How effective are they for hunting
asked Daniel from USA
how are they for hunting?
asked william from USA