Use for plinking and hunting, these H&N Hornet pellets have controlled expansion due to their hollow head. The brass insert improves its aerodynamics.
H&N Hornet Features
9.57 grains
225 ct
Hollow head with brass tip insert
Improves aerodynamic
Specs
Manufacturer

Haendler & Natermann

Caliber

.177

Ammo Type

Pellets

Ammo Weight

9.57 grains

Pellet Shape

Pointed

Pellet Quantity

225 ct
Reviews
Average Customer Review
5.0
5.0
4 Reviews
5.0
By David
USA
May 24, 2023
Verified Purchase
In spite of its' light weight, this has the best piercing power of any .177 I've used so far. These fly straight, and can pierce iguana skin at 20-30 yards. For those dealing with infestation here in South Florida you'll appreciate what that means. If you're tired of other rounds bouncing off the target, I highly recommend this pellet!
Pros
Great piercing power, flies straight in spite of the light weight.
Cons
I thought this was a bit pricey, but all things considered, I'd buy it again.
5.0
By Darcy
January 15, 2023
Verified Purchase
I found it interesting that the heavier the pellet used, the less apparent the damage. All the lighter, sound breaking pellets appeared to cause far more impact damage. Keep in mind, however, this initial testing and comparing was only shooting at 25 yards. And, yes, I know I spelled Crosman wrong in the picture :)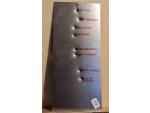 Pros
GAMO Magnum (Gen3 ) owners - So far, of some 14 different types/makes of .177 pellets, these have proven to have the BEST PENETRATION of any. These pellets went clean through a .65mm sheet of steel at 25 yards and embedded into a second sheet behind it. Two other pellets also broke through the metal but not as fully: Crosman "Fast Flight" pellets, and JSB Match "Diabolo" pellets. I have not had a chance yet to test their acurracy/consistency at any ranges yet, but combined with this Magnum Rifle they pack a piercing punch!
Cons
Only that they will not fit comfortably in the 10-round magazine, and must be loaded manually.
5.0
By Lamonte
USA
June 25, 2021
Man,, you can do severe damage with these monsters even at 350-450 fps with ease. Most people test the hornets on hard objects but I recommend things like raw meat, clay and dough. Their made for hunting not destruction but however,,, if you feel the need to shoot hard objects I'd recommend coconuts, drywall and soft wood..
Pros
Nothing crafty about these
Cons
Shouldn't test on hard objects,,,not what their made for
5.0
By Greg
USA
June 27, 2020
Definitely worth the extra price.
Pros
Excellent !!! High penetration with 700 FPS Beretta CX-4 Storm rifle. Tight grouping , within 3 inch diameter circle , at 25 feet distance with laser mounted on gun. Embeds completely into 3/4" plywood. Goes completely through both sides of the tin they come in. No misfires or jams. Great pellets , great gun and very satisfied !!!
Cons
None.
Q&A
Question?
Login to ask someone who bought this product.
Will this work with the Beretta PX4 Storm and can it be used to shoot cans?
asked Christopher from USA
Will these work in Sig Sauer M17
asked Timothy from USA
Will they work with a baretta 92fs?
asked Michael from USA
Will these work with my Beretta Order #10913019?
asked Gwyn from USA
Do they fit an m 92 fs beretta
asked Tyson from Canada
Will these work in a Gamo PT-85 ?
asked Jimmy from USA
Compatible for my Gamo P 430 pistol?
asked James from USA
No, too long for any pellet gun with slide-in 16 clip but the h&n terminator pointed hollow points are just as effective and perfect for the gamo p430. I recommend getting the crosman 357 vigilante for longer pointed pellets if you're into pistols, I rank it #1
Lamonte from USA
Will they work in a crosman 1077
asked Christopher from USA
Will these work in a Dan Wesson 715? Thanks
asked Anthony from USA
Will they work with Crosman f4
asked Mark from USA
does it work with AGD-43088323?
asked Kenny from USA
Remington 777sb compatible? New to air guns and such
asked James from USA
The title says, "H&N Hornet .177 Cal, 8.80 gr - 225 ct" and under the specs on this pellet it shows it's 10.03 grains? Which one is it? Something is not correct on either the description or the Specs. page.
asked Mr. Pat from USA
Will these work fo a sig Sauer MPX?
asked Jodi from USA
No . They are too long for the magazine.
Mark from USA
Will they work in the Umarex Gauntlet. 177?
asked Christopher from USA
You will have to single load. They are probably too long for the magazine.
Mark from USA
do these pellets work in a crosman vigilante
asked alan from USA
No .They are too long to fit in the magazine.
Mark from USA
Can I use these in a P320 air pistol?
asked Shane from USA
Will these work in a sig P320
asked David