JSB has earned a reputation as making some of the finest pellets in the world. They're consistent in size, shape and weight. All those things contribute to increased accuracy. And isn't that the No. 1 thing you're interested in? Developed in cooperation with top hunting airgun manufacturers, the JSB Diabolo Exact .30 caliber pellet is carefully designed, precisely produced and quality controlled so that the result is a very accurate pellet. 44.75 grains results in the perfect balance for the pellet.

.30 cal 44.75 grains Domed 150 pellets
Specs
Manufacturer

JSB

Caliber

.30

Ammo Type

Pellets

Ammo Weight

44.75 grains

Pellet Shape

Domed/Round nose

Pellet Quantity

150 ct
Reviews
Average Customer Review
4.9
5.0
38 Reviews
5.0
By Steve
USA
March 20, 2023
Verified Purchase
Ordered two tins of pellets, each tin came enclosed in this thick EVA type foam, that was wrapped in shrink wrap, and then placed in a heavy shipping box. SIMPLY AWESOME PACKAGING! Ordered some previously from the place with a smile on the boxes, and each tin came in the standard thin plastic envelope, and each of the tins were damaged; along with the pellets inside. Skip the other place and place your orders here!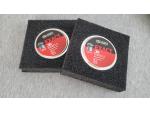 Pros
Great pellets, with exceptional accuracy.
Cons
Availability, but that isn't Air Gun Depot's fault.
5.0
By Dennis
February 7, 2023
Verified Purchase
5.0
By George
March 28, 2022
Verified Purchase
JSB seems to be doing and excellent job producing all kinds of pellets and slugs. I waited till I had at least three types and brands to test these out of the FX-M3. FX 44.5 gr slug printed a group at .255 including a flyer 4 shots measured 0.009". Hatsan Vortex 48.6 gr opened up to .646" for a comparison. JSB's had fairly clean skirts, and the Hatsan's had some bent and had lot of flashing hanging on. One suggestion I would make is building a mini ball type slug like the 58cal used in muzzle loader and the old 5mm Sheraden air rifle. For a lack of a better term let's call it a micro ball. Solid head, more aerodynamic, short ogive with a cutting shoulder, makes nice clean holes in your paper. This has a solid head for penetration on larger critters and a hollow base to keep the weight down and velocity up. I know you can sell all you make right now, but someday in the future please!
Pros
Dead nuts accurate first try. 5 shot one hole group 0.197" out of my FX-M3 at 30 yrds. followed by a second group the same size!
Cons
Had to wait over a month to get some.
5.0
By Ted
December 26, 2019
You can't go wrong with JSB's , even if your gun is finicky it will shoot these the best. Not only are they great paper punchers it's all I use on our annual outing to Montana for ground Squirrel shooting. Very consistent in weight and concentricity. Wish they came in a larger volume container but it seems to work for them. I have shot these out to 126yds with great success on ground squirrels.
Pros
Very consistent weight
Cons
Would like a bigger package (300)
4.0
By Richard
USA
December 26, 2019
this is my first .30 air gun and these pellets seem very good so far fly straight and hit hard thanks air gun depo
5.0
By Richard
USA
December 22, 2019
I will be buying more of these
Pros
consistent
Cons
not enough
5.0
By Alfred
USA
December 21, 2019
Accurate and hard hitting in my Hercules bully
Pros
Accurate
Cons
None
5.0
By Michael
USA
December 4, 2019
Consistent hard hitting pellet, holds nice groups. Works well with the Fx impact
Pros
Does the jobless made for
Cons
None
5.0
By Verdell
USA
December 1, 2019
This is another great JSB product. Excellent accuracy and really hits hard. Great for small game hunting and can be used for some pesting.
Pros
Accurate and hits hard
3.0
By Joe1
September 10, 2019
The pellets are a good but the price is way too high for 150 pellets you should get 500 count tin s as there is no shortage of lead !! Also how hard would it be too make a screw on lid !!
Cons
Over priced and no screw on lids .
Q&A
Question?
Login to ask someone who bought this product.
Will these fit .308 cal big bore air rifles (Quackenbush)?
asked James from USA
Will these fit a hatsan flash carnivore .30 caliber air rifle. I bought some from another company and they sent me 1000 pellets all the wrong size after they told me they would fit and there website even says it fits my model but not a single one would go in... please let me know ive had mine for two months and can't even shoot it cuz i don't wanna buy the wrong size again! Help?
asked Joe from USA
They will fit.
Mark from USA
Is this bigger than a .22 caliber? Do they still make a .50 caliber air gun so that you can kill a deer with an air gun & if so who makes them?
asked Charles
Yes it is bigger it goes like this 22,25,30,45,357,50. There are PCP air guns to match them all. Small game 25 and under. then depending on the weight and size you need to match your caliber.
Earl Laird