MkII pellet has a skirt diameter that is only 6.5mm- making the pellet work a little more reliably in some rotary magazines.
.25 caliber
33.95 grains
Round nose
300 pellets
Specs
Manufacturer

JSB

Caliber

.25

Ammo Type

Pellets

Ammo Weight

33.95 grains

Pellet Shape

Domed/Round nose

Pellet Quantity

300 ct
Reviews
Average Customer Review
4.9
5.0
57 Reviews
5.0
By Logan
September 2, 2023
Verified Purchase
I've tried lots of pellets but these continue to be the most accurate in my guns
Pros
Jsb are the most accurate pellet i have shot ...
Cons
Nothing
Every rifle and barrell is different so various projectiles have to be tried until you find that perfect match.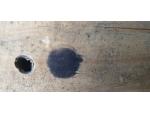 Pros
Having tried many pellets through both my FX rifles 'wildcat mk3bt .25 and typhoon .22. Both favour the exact king heavies. I had them reccomended to me by another rifleman. Of course I had to try other brands and styles but none of the others gave the consistant accuracy I demand.
Cons
Would be better if they were in 500 per tin and cheaper..lol
4.0
By James
May 1, 2023
Verified Purchase
I shoot hole in hole groups with this pellet. It could be the gun. But. I do know that the pellets are excellent.
Pros
These shoot well out of my Gen 1 Umarex Guantlet .25 cal. I would not spend a lot of money trying to find a pellet that does. If you watch reviews on the gun. These work well with it.
Cons
I don't have a con.
5.0
By Charlie
USA
August 2, 2021
Pros
Very accurate out of my Uragan King 25. 61ft lbs at 900fps
Cons
Have had tins damaged in shipping.
2.0
By Richard
USA
March 1, 2021
Pros
Seem to shoot better than regular 33.95G. But put calipers on both and didn't see any difference.
Cons
Bought two 300 count tins of MK11 after a Long wait. They were just wrapped in paper and thrown in a box. 1 tin severely damaged. Went through all pellets 15% unshootable. Another 12% damaged enough for bad Flyers. Not acceptable for me.I won't be buying anymore pellets from airgundepot until they learn how to protect the delicate tins and pellets. It's like they came from a Ebay seller and not a big airgun company.
5.0
By Terry
USA
October 22, 2020
my Bullboss loves them. if your gun is new it my take a 100 rounds or so to tune in , then clean your barrel & go at it.
Pros
consistent accuracy , hard hitting .
Cons
nothing
5.0
By Marvin
USA
September 6, 2020
You need to be shooting a high powered PCP to get the best out of them.
Pros
On point, these things shoot very well out of my SLK 19, 25 cal that's all I shoot.
Cons
nothing
5.0
By Roman
USA
May 30, 2020
I'm a first time buyer. I was really nervous about what kind of condition they would arrive in. This place also has the best price on them as well. When I got them(which it took them a while to actually ship them, but once they were in the mail I got them fast.) they were all in great shape. I didn't see any of them in a messed up shape. Fit well in my gauntlet mag. Getting my hand pump Wednesday so I'll be layin them down range before to long.
Pros
Great shape out of the box. Heavy little suckers.
Cons
None.
4.0
By Siyu
USA
May 28, 2020
best pellet for high power pcp now, but maybe slug will instead it!
Pros
Very accurate in my Cricket and Impact MKII
Cons
weight variable too much that make you sort job hard to do!
5.0
By Todd
USA
March 7, 2020
The skirts are much thicker which makes them less prone to being bent up as much
Pros
I have using the 25.39 in both my MkI and my new MkII with the new power plenum. Then I decided to step it up a bit by getting the JSB MK II Heavies. Wow do these hit extremely hard! I took advantage of a great Deal and purchased 32 tins at one time. These are just as accurate as the 25.39's at 50 yards. But at 100 yards and Beyond they are doing great at 1" MOA @ 100 Yds. the sound of the impact when hitting an animal or an object has a very nice "SMACK" to it I appreciate the sales team making this huge purchase more financially possible by giving a Military Discount. Be sure to ask for Ruth when placing your order, She is extremely knowledgeable and helpful with any questions that you ask her.
Cons
The biggest thing is you take a hit of loosing 50 Rounds per tin as the Qty is 300 rounds rather than 350 per tin (The JSB 25.39's) Which in turn make a tin of Heavies more expensive due to the fact that your loosing 50 rounds per tin. ( I am sure that you get my point by now) Also I was told that the new tins were suppose to have a twist off lid now, That is not the case......At least not with the 32 tins that I received. It would be much easier to buy in bulk if the price was lower. After all it is just lead.......maybe offer a 500 ct tin for the same price as the 350 ct tin? Maybe you don't need such an extreme profit margin? Then also you would be getting more sales as apposed to your competition? Just a though
Q&A
Question?
Login to ask someone who bought this product.
I own the Hatsan bt65.25 and wondering which of the jsbs people prefer more. The 25.39 or the 33.95. I did tune the hammer spring and my air superiority regulater is on the way. Have only had a chance to shoot the 25.39s and am chronying over 1000 fps two clips & just under a 1000 3rd clip. Any suggestions or is it just something I'll have to see which ones my gun prefers?
asked Mark from USA