JSB Hades .22 Caliber Pellet Features
.22 Caliber
15.89 Grain Weight
5.50mm
250 Count
Specs
Manufacturer

JSB

Caliber

.22

Ammo Type

Pellets

Ammo Weight

15.89 grains

Pellet Shape

Hollowpoint

Pellet Quantity

250 ct
Reviews
Average Customer Review
5.0
5.0
6 Reviews
5.0
By Trevor
USA
August 24, 2021
Two photos of the expansion. One is shot from the gamo magnum and the other from the crosman shockwave.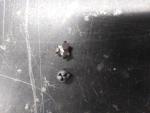 Pros
If your gun likes them they're awesome pellets. Very accurate in my gamo magnum but didn't group well with my crosman shockwave. The hades pellets definitely expand especially with a powerful air rifle.
5.0
By Craig
January 18, 2021
Verified Purchase
Pros
These Diabolo pellets are accurate and deadly. They are easy to load into the magazine of my air rifle and I can tell by touch which way they are pointing. I think they are inexpensive for being so effective, but that is a matter of choice.
5.0
By Jason
USA
January 23, 2020
Verified Purchase
Nice pellets.Haven't shot them yet. No where to shoot. Thanks for the shipment. I will try to let you know when i find a place to shoot. Overall a good looking pellet
5.0
By Joseph
USA
January 21, 2020
Verified Purchase
Shoot great and expand great in every one of my guns. I want them for every caliber
5.0
By Verdell
USA
December 1, 2019
Another great JSB product. This Hades is one of the best pellets I have used in my .22 cal guns. It works good in my break barrel and my pcp rifles. It is very accurate and mushrooms good when it hits the target.
Pros
Accurate, well made, hard hitting
5.0
By Tim
May 1, 2019
Verified Purchase
They shoot to almost the same point of aim as the jumbo and same group size. They are devastating on starlings
Q&A
Question?
Login to ask someone who bought this product.
will it take down a racoon?
asked william from USA
yes definitely
carter from USA