No need to carry two cases when one will do. Holds two handguns with up to 8" barrels. Padlock tabs keep your guns secure from those who shouldn't have access.
Pistol case
Holds 2 pistols/revolvers with up to 8" barrels
Easy-open snap latches
2 padlock tabs
15"x12"x3.6" exterior dimensions
14"x10"x3.3" interior dimensions
Eggcrate foam
Molded handle
Black
Specs
Manufacturer

MTM Case Gard

Condition

New

Accessories Type

CASES: RIFLE, PISTOL and BOW

Warranty

5-year limited warranty
Reviews
Average Customer Review
5.0
5.0
4 Reviews
5.0
By Marc
March 18, 2023
Verified Purchase
This case will fit your new Hudson jet two with a can of pellets And the stock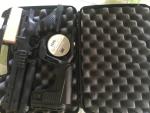 Pros
This was a very well-made carrying case. I am very happy with the accoutrements as in the foam padding and locking mechanisms. Though it was a little small for the pellet gun of our choice, I was able to fit All of the accessories and of course the gun itself
Cons
I might have embossed the padlock holes with metal sleeves and pad encapsulating the holes for a more positive lock
5.0
By Dylan
USA
February 4, 2020
Ive had this to store my airguns for a year and its still durable.
Pros
Holes for Locking up
5.0
By Fert Keith
USA
December 15, 2018
5.0
By Joe
USA
August 23, 2017
These cases easily accommodate 2 air pistols and they're nicely padded as well. The construction is solid and the price is very reasonable.
Pros
Great design, well made
Cons
None
Q&A
Question?
Login to ask someone who bought this product.