The Omega compressors have a reputation for high performance at competitive prices. The new Omega Trail Charger has many features in common with its bigger brothers. The Omega Trail Charger is designed as a portable machine that can run off of a 110V wall outlet with included inverter or a 12V car battery. The Trail Charger is water cooled this is a vital feature for long service life. The filling of a rifle or pistol is hassle free with an auto shut off that the user sets at the desired pressure. This eliminates the user from having to watch the fill pressure gauge as the compressor does its job. The Omega Trail Charger is capable of filling directly to a gun or a bottle. The run time to fill a 190cc cylinder from 1800psi to 3300psi is a swift 2:30 minutes. The Trail Charger filled a 480cc carbon bottle from 1800psi to 3500psi in a mere 8:30 minutes. The duty cycle of the machine is 30 minutes run / 20 minutes cool. This allows for filling of larger tanks as long as the unit is allowed to cool. We tested the Trail Charger on a empty 18cf tank and it filled from 0 to 4500 in only 90 minutes of run time. Larger tanks can be filled as well, although this is not the primary function of this small portable compressor. Included features are a water site-glass, a grease pot for internal lubrication, burst disc, bleed valve to remove moisture, breaker switch, cables for car battery use, inverter for home or office, carry handles and rubber feet. The Omega Trail Charger is the gold standard in portable filling systems.
Omega Trail Charger Features
Light Weight, Compact Size and Portable
Max fill 4500 psi
Fills Bottles and Air Guns
Water and Air Cooled
Conveniently Stores the Cables
Easily Adjust Pressure Shutoff
Manual Moisture Bleed
Specs
Manufacturer

OMEGA

Condition

New

Accessories Type

PRECHARGED GUN ACCESSORIES

Warranty

2-year limited warranty
Reviews
Average Customer Review
5.0
5.0
2 Reviews
5.0
By James
USA
August 8, 2019
Verified Purchase
The fitting on the hose wouldn't lock on my synthetic .30 cal Crown had to replace it with a smaller outside diameter works great Airgun Depot Is now aware of it. The compressor wors great fast and quiet, I could watch tv and hear what was going on. Airgun Depot will do everything the can to fix any problems. great company.
5.0
By Adan
USA
April 18, 2019
Verified Purchase
I did a good deal of shopping around before taking the plunge on this. There were not any videos available at the time so I put my trust on the Omega reputation. Very pleased with the overall performance and relatively quiet operation of this 4 stage pump. Have used it off 12 VDc and with the included inverter which is dual voltage 110-115/220-230 with the flip of a switch. Would definitely purchase again.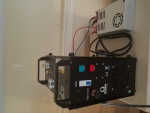 Pros
Quality design, lightweight, easy maintenance.
Q&A
Question?
Login to ask someone who bought this product.