One of the world's best and well loved hunting pellets just got sized up! Introducing the Predator Polymag in .30 caliber. Suited for a quickly expanding big bore size that more and more pre-charged pneumatics air guns are being sized in. The Polymag features a hollow head design with a sharp polymer tip. The result is a high degree of accuracy added to penetration and expansion. Penetration and expansion you only find with the Predator Polymag .30 cal.


Specs
Manufacturer

Predator International

Caliber

.30

Ammo Type

Pellets

Ammo Weight

44.75 grains

Pellet Shape

-1

Pellet Quantity

100 ct
Reviews
Average Customer Review
5.0
5.0
20 Reviews
5.0
By Mitchell
USA
October 17, 2019
Verified Purchase
VERY ACCURATE WITH MY HATSAN 130S.
Pros
VERY ACCURATE
Cons
NONE
5.0
By Kurt
USA
October 12, 2019
Verified Purchase
I use these in a Hatsan .30 and they hit with a thump. Accurate out to where I intend to shoot.
Pros
A very fine pellet from very fine people. I say buy it and try it.
Cons
None
5.0
By William
USA
July 9, 2019
Verified Purchase
Very hard hiting great for hunting with my herc .30 only problem is a little long
Pros
Great for hunting
Cons
Little long
5.0
By Todd
USA
March 6, 2019
Verified Purchase
Shoots very Accurate out of my R5 Matador.30 Standard out to 75 yards...Total devastation as well...
Pros
Hits hard Literally blows a huge whole in crows...
Cons
None
5.0
By Guillermo
USA
March 5, 2019
Verified Purchase
I've tried a few other pellets in my Hatsan 130 and theses by far have given me the best groups and consistent results at several ranges. I plan on hunting with this rifle so accurate pellets are a must.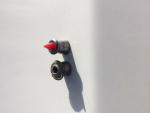 Pros
Well made and very consistent pellets, no damaged skirts.
Cons
I need more per tin, of course.
5.0
By Gerry
USA
December 11, 2018
Verified Purchase
Clip enough of the tip off (nail clippers, scissors,etc.) and they'll fit in your rotary mags! Works in my BT65 .30 & .25 & DOES NOT affect accuracy. Works great in my FX Royale 500 too. Have found no appreciable difference with a shorter tip! Great, accurate hunting pellet.
Pros
Impact, accuracy & terminal velocity!
Cons
No screw on lid. Only 100/tin.
4.0
By Jen-Yen
USA
November 20, 2018
Verified Purchase
First off all, I only give 4.5 stars for the reason that it is merely 100 count.......for such good killer pellet, I want more per tin!!! Talk about the performance, I did not use it for hunting, so I cannot provide data. But for target shooting, I can tell you it is very good yet somewhat disappointing. I do not know is it my air rifle to blame or this pellet...or the target I shot to..... I made a review video on YouTube and you are well come to take a look. (look for: Shooting power of Hatsan Carnivore .30 caliber V.S Floppy disk) If punctures wholes through 4 floppy disk and punched additional 3 floppy disks within 6 yards is considered impressive for an air rifle, than this is the right pellet for your choice. I do not know what to expect....because I thought it should puncture wholes through the entire box of floppy disk in that distance....especially the muzzle energy is calculated as about 79 ft/lb.
Pros
Very powerful, provide big time damage power
Cons
Only 100 counts for this price...I expect 200 counts or 350 counts and sold for less than $12. Because JSB Exact is 350 counts for about $15~$18.
5.0
By Jerry S.
September 25, 2018
Verified Purchase
Checked out reviews for pellets for my air rifle. These seemed to get the nod with accuracy. I'd have to agree...great clusters at 30 yards.
5.0
By Bobby
USA
August 30, 2018
Verified Purchase
I bought 4 tin of these pellets for my Hatsan 135 . 30 cal they fit very nice and tight in the chamber .they are very accurate .penetration is great .they hit like a hammer .for the money they shoot as good as JSB .A great hunting pellet as well .At fifty yards it will shoot through a half inch piece of plywood .this is a all around great pellet for the money. the only thing i did not like was the top on the tin it falls of to easy. BUY YOUR would like to see this pellet in a 35 gr PELLETS AND AIR GUN FORM AIR GUN DEPOT THEY ARE GREAT COMPANY
Pros
they hit like a hammer .and work well on pest control
Cons
the top of the tin need to snap on better
5.0
By Michael
USA
March 13, 2018
I used them on pests and they went down humanely with one shot
Pros
They seem well made and have great knock down power
Cons
None as far as the .30 al. goes, but the tip was a little tight in the Hatsan magazine
Q&A
Question?
Login to ask someone who bought this product.