RWS Meisterkugeln premium quality lead pellets offer match grade accuracy and precision for competition and training. Perfect for sighting in and general target shooting. High performance finish. 250 count tin.
Specs
Manufacturer

RWS

Caliber

.22

Ammo Type

Pellets

Ammo Weight

14 grains

Pellet Shape

Wadcutter

Pellet Quantity

250 ct
Reviews
Average Customer Review
4.6
4.5
31 Reviews
5.0
By Dave
USA
August 20, 2023
Verified Purchase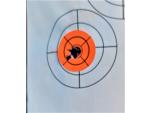 Pros
When you want only the best target pellet for rifles shooting lower velocities then consider these pellets. I have tried a lot of pellets in my Umarex M850 with a Walther barrel .22 cal rifle and no other pellet shot with the consistency of this pellet. I can always rely on this pellet when critical target shooting is needed. They cost more than other "like" pellets but worth the extra money.
Cons
Nothing
2.0
By normanhondo
April 25, 2019
Along with the pellets I ordered an air gun. I'll let you know about the pellets when I receive the air gun.
5.0
By Daniel
USA
November 20, 2018
Out of the three brands of RWS's most expensive "professional line" pellets. The Meisterkugeln 14gr. Was the best for my benjamin marauder at 45 ft.All 5 shots inside .5 in. dia.
Pros
Pellets are made well very few flyers.
Cons
They are a little pricey
5.0
By Richard
USA
November 17, 2018
I shoot air guns to "Plink" and have fun. These pellets hit cans hard and it is fun to watch them roll and jump after being hit. I have tried many others and these are the best I have found for Plinking.
4.0
By Frederick
USA
May 19, 2018
lost some accuracy greater than 20yds but they worked fine,the pellets are uniform and load well
4.0
By Angry F.
February 14, 2017
Shooting this pellet out of my .22 nitro at 10 to 15 yards they hold a pattern quite well. I was shooting shot strands under 1 in up to 12yrds. Had a couple flyers at 15yrds and 18yrds. Beyond the 18yr mark is where they tend to loose some of that wanted accuracy. At 20yrds I couldn't keep them under 1.75" groups with the occasional flyer. At 30yrds...forget it, 2"+ groups :( They are really well made however, one of the only tins I shot that the skirts seemed to be perfect.
Pros
Good plinking pellet for short ranges. Very well made
Cons
Long range accuracy gets lost over 18yrds
5.0
By dogface
January 29, 2017
i have 2 Weihrauch rifles and 1 RWS rifle. i found these pellets to be the most accurate out of the several brands I've tried. at 25 yards i get 1/2 inch groups. one weihrauch and the RWS have aimpoints on them. the other weihrauch has a leupold 2-7 scope. highly recommend. shipping from air gun depot only took 2 days.
Pros
accuracy
Cons
none
5.0
By Genaro
USA
November 3, 2016
Will recommend. Fun to shoot
These pellets very in weight a little, so not a hole in hole pellet for me
Pros
Good prise
This is a very good shooting pellet, very consistent
Pros
Good prise, good pellet
Q&A
Question?
Login to ask someone who bought this product.
is this the most accurate RWS pellet for 22 cal?
asked Thomas