Definitive Guide to

Umarex AirSaber
The introduction of arrow guns has changed the airgun and hunting landscapes. You now have more options to pursue your favorite prey and more techniques to learn for increased challenge. Air Archery combines two great methods into one easy-to-use package, airguns and arrows.
Order an Umarex AirSaber
Detailed Review
Umarex USA came out swinging back in 2020 with their new line of Air Archery Arrow Airguns. They released the Air Javelin, a CO2-powered arrow target, and small game hunting airgun, and their Air Saber PCP. The PCP-powered Air Saber shoots full-sized arrows, which can be equipped with standard archery broadheads. Totalling 376 grains, including a 100-grain field tip or broad head, these arrows deliver unprecedented lethality on any game. Today we'll focus on the Air Saber and Air Saber Elite x2. These airguns share a lot of similarities. As we go through this guide, we'll point out the distinctions as they come up.
Basic Anatomy
The Umarex Air Saber PCP Air Archery Arrow Airguns feature a metal receiver, air tube, and trigger. Essentially all the critical components are metal, look well-made, and operate smoothly. The stock is a composite material that feels like a decent-quality synthetic firearm stock. The Air Saber sports a thumbhole stock, whereas the Air Saber Elite X2 is set in a more traditional Montecarlo stock. Both stocks are ambidextrous and come with a tri-rail configuration on the forestock for accessories such as lights, lasers, or a bipod. Both airguns feel very good when shooting from the bench or from a stand. When it comes to weight, the Air Saber comes in slightly lighter at under 8 pounds, whereas the Air Saber Elite X2 comes in at around 8.725 pounds.
Setup and Operation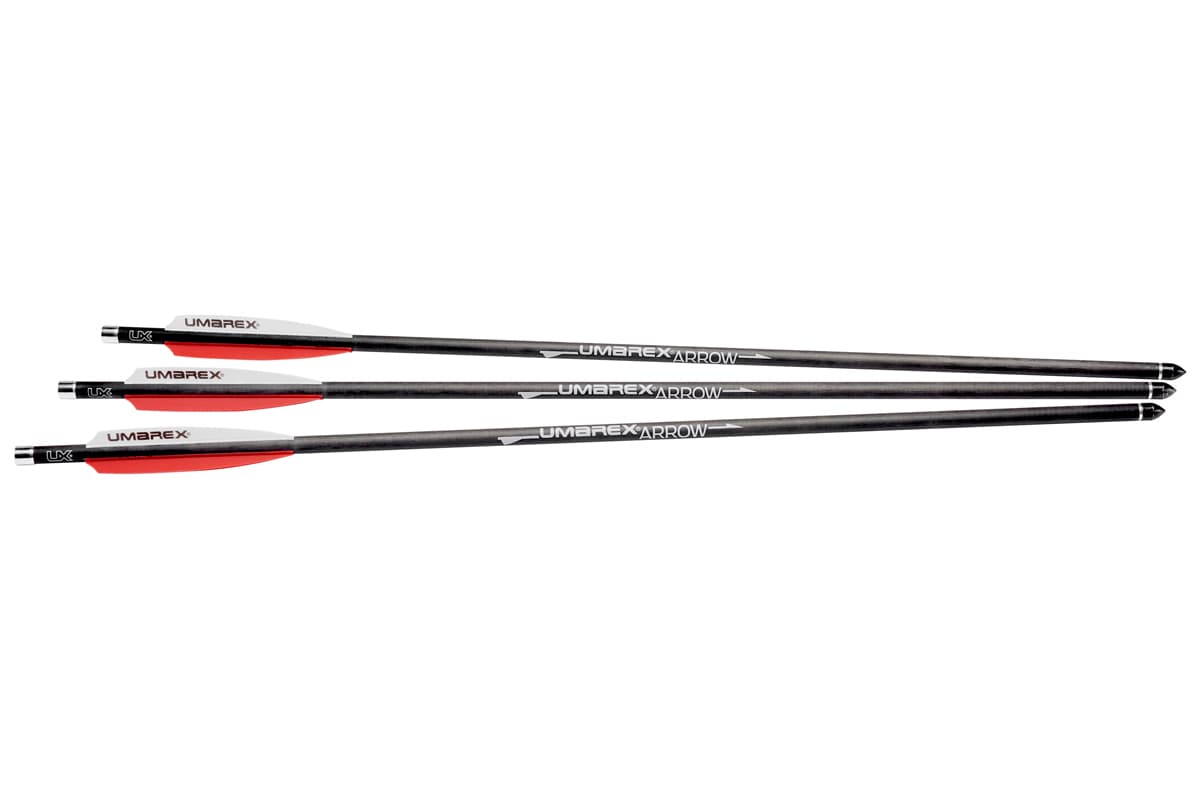 The biggest differences between the Air Saber and the Air Saber Elite become more apparent when we start to look at setup and operation. Both Air Saber PCPs fire the same proprietary "Straight Flight" (more on those later) full-length carbon fiber arrows from a tube located in the "barrel." We put the barrel in quotes because it's more of a shroud than anything else. It protects the firing tube and the arrow. The primary difference here is that the X2 has two firing tubes protected by an oversized oval shroud vs. the single tube on the standard Saber.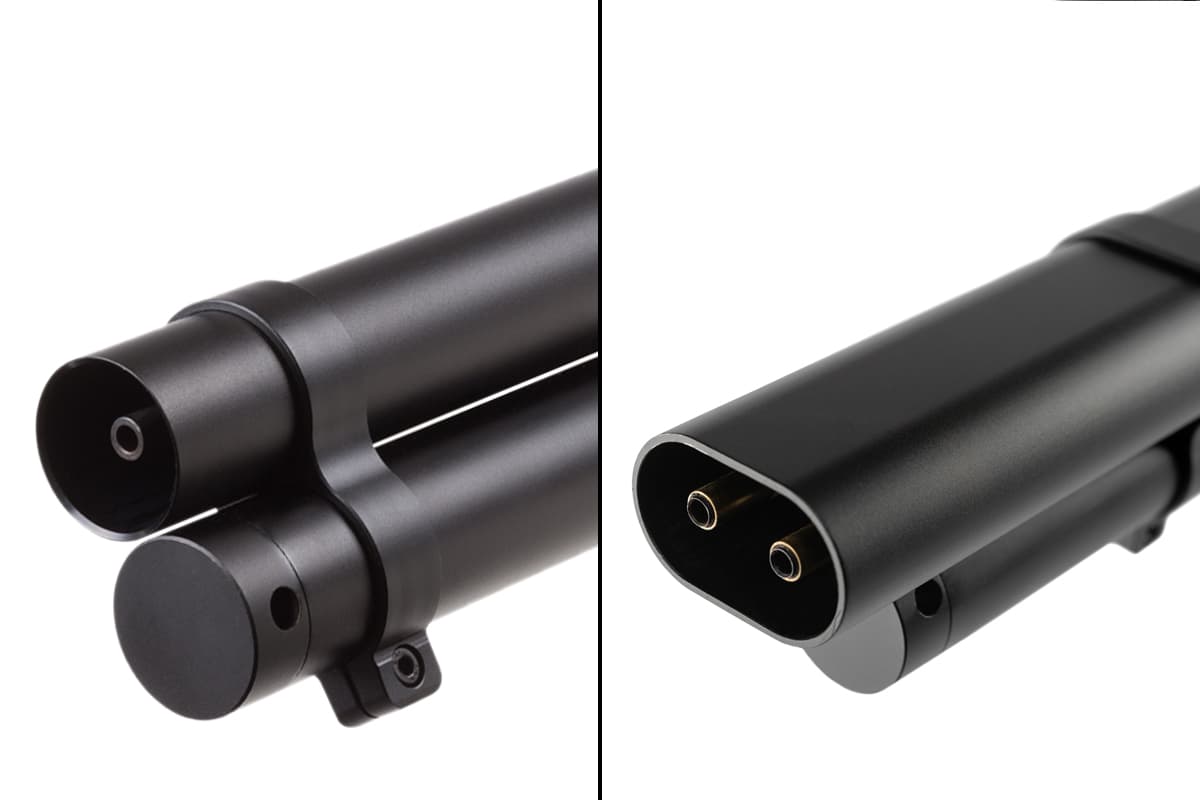 They also differ in max fill pressure; however, the shot count remains similar between the two. The Air Saber's air cylinder can be filled up to 3650 PSI. The Air Saber Elite X2 can take up to 4000 psi. The shot count is about 25 shots pushing a maximum of 450 FPS on either platform. Neither airgun is regulated, so shooters should expect the first couple of shots to be the most powerful, with subsequent shots decreasing gradually.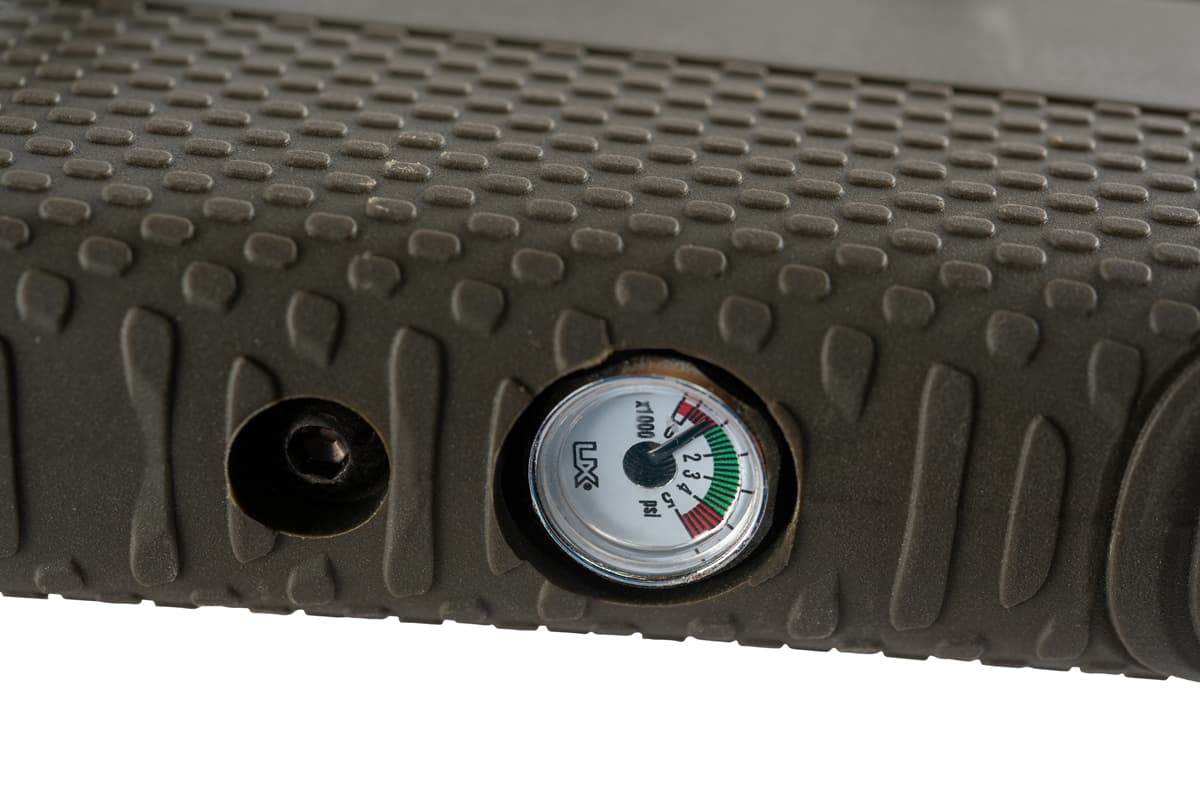 Given that both airguns are designed for hunting large game, it's going to be that first shot that matters most and where you'll get the most power. Both models are filled via a fill probe at the front of the air cylinder. We recommend using a portable compressor like the Air Venturi Nomad III for its compact size, portability, and reliability in the field. You can fill either with an HPA hand pump, but it will take a lot of work.
Umarex chose to change the cocking system when they moved to the X2. It makes good sense, as the rear bolt on the Air Saber does not provide any mechanical advantage when cocking. The side lever on the X2 does, which makes it much easier to cock.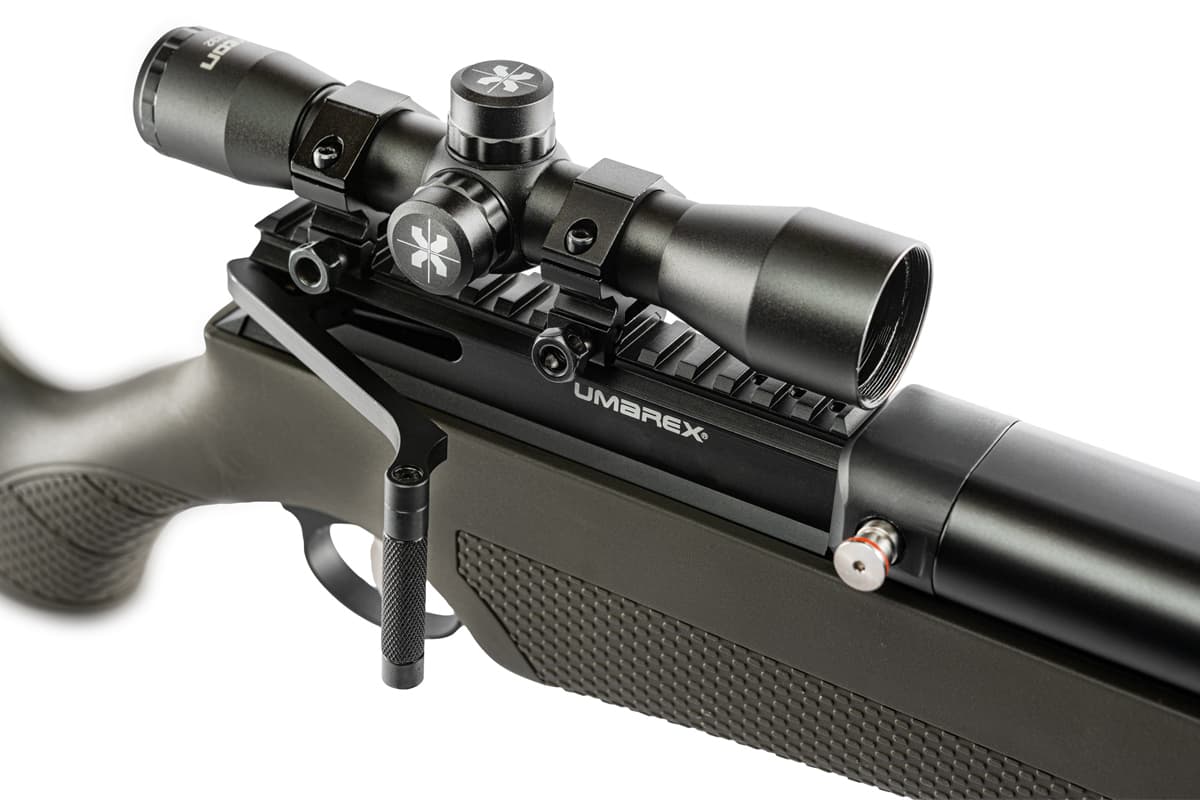 Both are equipped with a slotted scope rail for weaver or Picatinny scope mounts. They also come with an Umarex 4x32 archery scope that's calibrated for the weight of the arrow and the velocity of the Air Saber platform.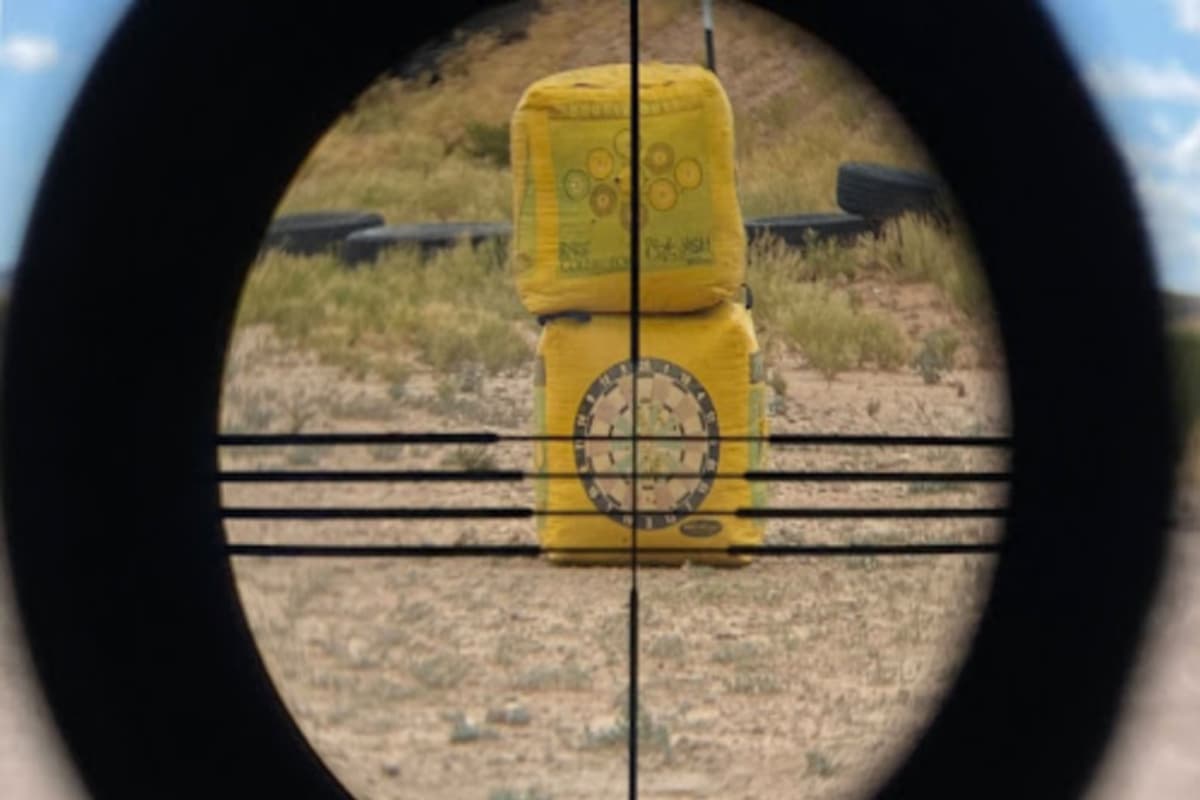 Lastly, the X2 has an air transfer button that switches the air output to the loaded barrel. This process is manual, and it's easy to get it wrong or simply forget to actuate in the heat of the moment. So be sure to pay close attention that you're pushing air down the correct, loaded tube.
Performance and Accuracy
As mentioned above, the Air Sabers shoot from a firing tube that's centered in the large shroud. These specially designed, extremely rigid, hollow carbon fiber arrows are loaded from the muzzle and slide over the firing tube. There's an o-ring at the base of the tube that "clicks" once the arrow is properly loaded. It also holds the arrow(s) in place if you are on the move.
Once you've loaded your arrows, you need to cock the airgun. As mentioned above, the Air Saber has a rear bolt, and the Air Saber X2 has a side lever. Regardless of the model, once cocked, you are ready to fire. The smooth, single-stage, not-adjustable trigger on either model breaks between 2.5 and 3 pounds. There's a cross-bolt safety in the trigger blade for both airguns.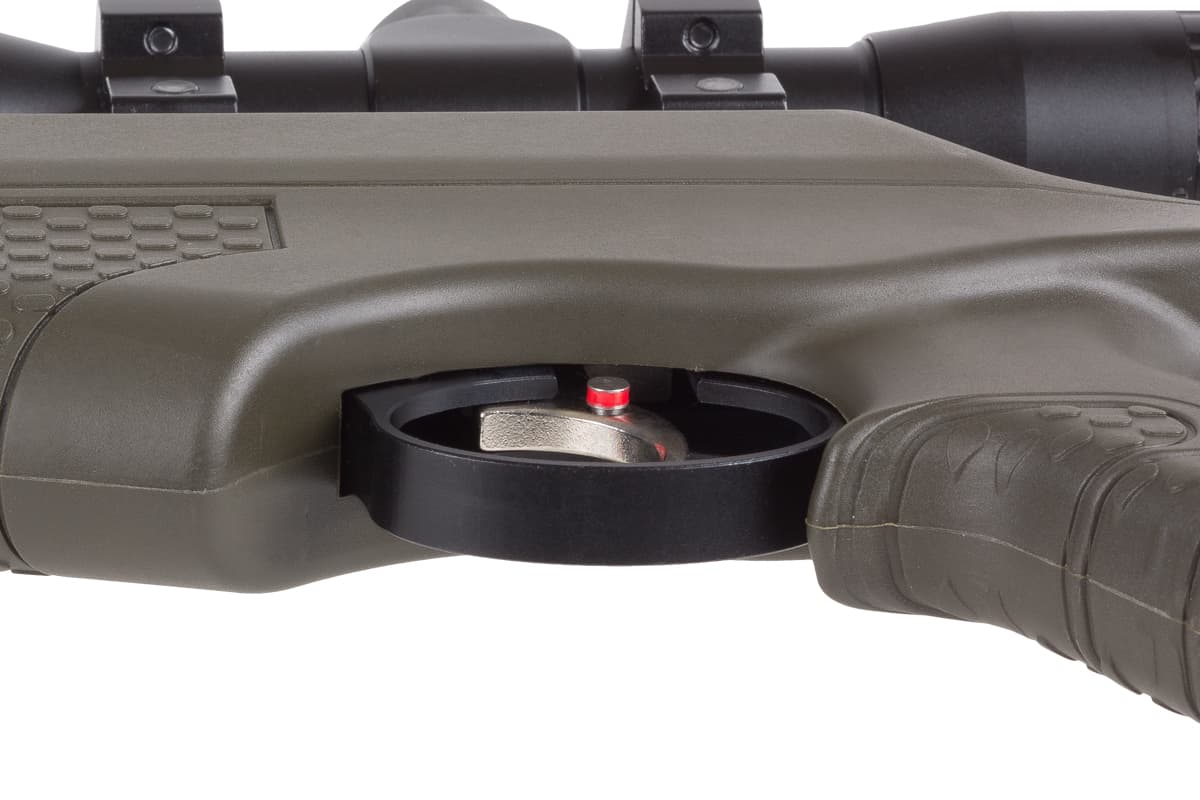 Most of the differences between the two models, except the cocking lever, are cosmetic. The real substantive difference with the X2 is its ability to have two arrows ready to go. It takes a good bit of time and a lot of movement to load a second shot. For those times when you can take a 2nd shot, say when you have pigs on a pile of corn, the ability to have another arrow at the ready with the cock of a lever and a push of a button is a huge deal. You need to keep your wits about you as it's easy to confuse things, have the selector on the wrong tube, and shoot nothing but air.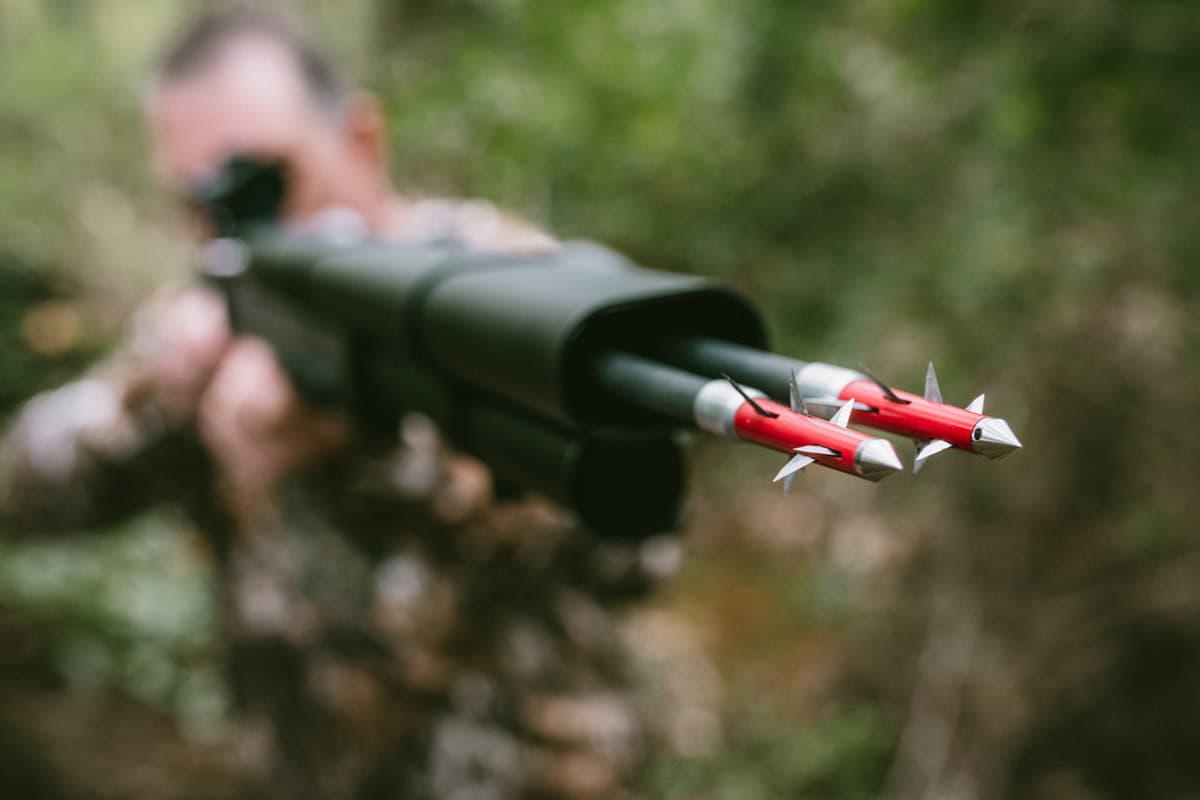 Accuracy has always been exceptional with the Air Sabers. When shooting at 25 to 35 yards, you need to avoid trying to shoot groups. The arrows are very expensive, and it's easier than you might think to drive one arrow right up the tailpipe of the arrow you just shot.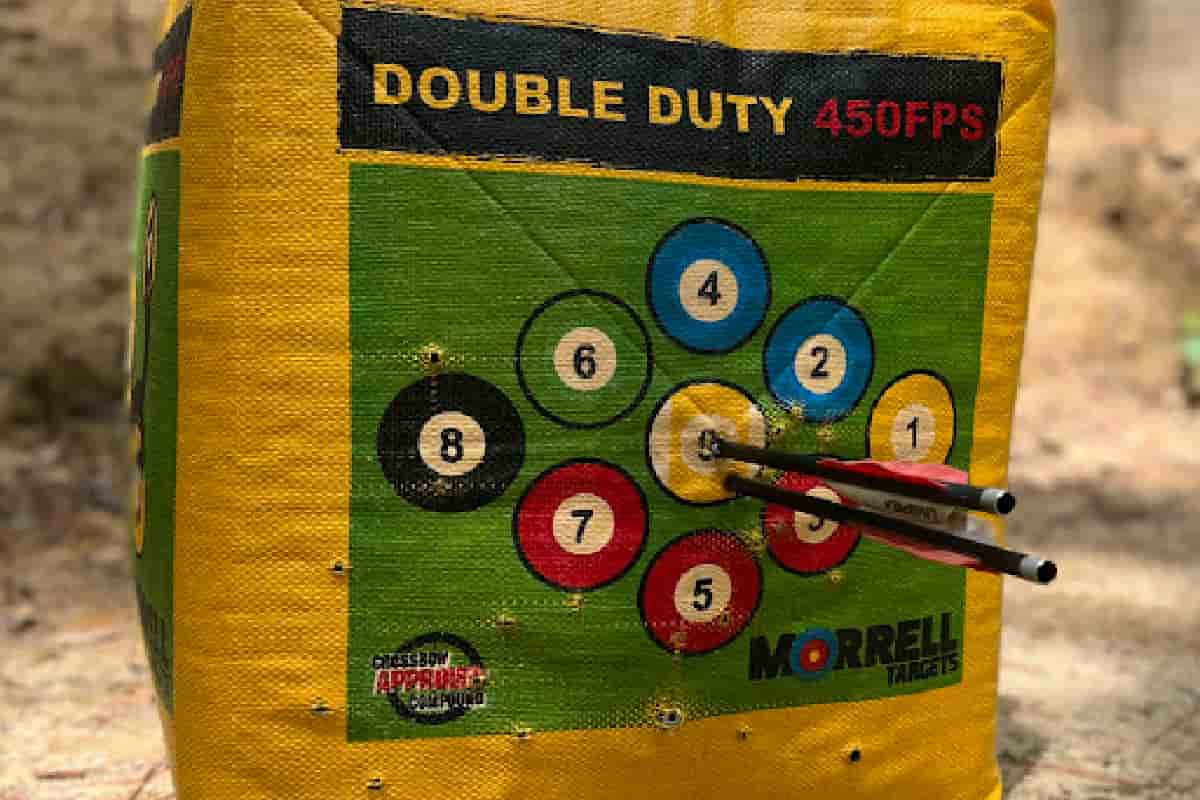 While the range for the Air Sabers is marketed at 70 yards, we recommend keeping your shots much closer to 20 to 35 yards. In our tests, we found the arrows flew around 380 to 430 FPS depending on where you were in the shot curve. This brings flight time squarely into play. If you are just target shooting, then, by all means, see how far you can stretch things out. But, if you are hunting, both Air Sabers are loud, pushing well over 110 DB. As a result, your game will have ample opportunity to jump the shot, and you will more than likely miss your intended kill zone. Where this is always a consideration with airgun hunting, it's more so with Air Archery. The closer you can get to your game, the higher your chances of making a clean kill.
The Air Saber comes in a little more affordable than the X2. So if you are tight on funds, the Air Saber is a great option. But if you can stretch the budget a little, then the upgraded cocking bolt and two-shot arrow system are worth the extra spend. Either way, if you want to hunt with what may be the most lethality per dollar in an airgun, the Air Sabers from Umarex are a good choice.
Summing Up
One secondary benefit often overlooked with Air Archery is the ability to reuse your arrows. If target shooting and having fun is your thing, then there's a real place for these guns in your life. If you are shooting in your backyard, you may want to look at the Air Javelin or Air Javilen pro, as they are better suited for that environment. But if you have the room and either no neighbors or very understanding neighbors, then the Air Sabers are a lot of fun. Take your shots, walk out to the target and collect your arrows. Head back to the bench and start all over. As long as you don't drive one arrow up the tailpipe of another one, you'll get a lot of use out of them. If you do transition to hunting use, don't expect to be able to reuse them after your kill. They will likely get irreparably damaged in the process, so make that shot count.
So, what's our take on the Umarex Air Saber? They are very accurate, very effective, and very fun to shoot. If you have more questions or would like more information about other arrow-shooting airguns, please don't hesitate to give us a call.
Discuss