While airguns don't require the same cleaning routine as firearms, you will need to clean your gun if accuracy has fallen off. This special kit from Umarex has the tools you need to start the process. Just add airgun-safe cleaning and lubing solutions, and you're good to go!
Umarex Airgun Cleaning Kit Features
33" flexible cleaning rod
Rod handle that converts to a screwdriver
6-bit driver set (2 flat blades, 2 Phillips, 1 3mm hex head and 1 4mm hex head)
.177-caliber cleaning brush
.22-caliber cleaning brush
.177-caliber mop
.22-caliber mop
25 cleaning pads
.177/.22-caliber thread adapter
Segmented and hinged hard plastic storage case
Specs
Manufacturer

Umarex

Condition

New

Accessories Type

MAINTENANCE AND CLEANING

Warranty

1-year limited warranty

Weight

0.64
Reviews
Average Customer Review
4.1
4.0
15 Reviews
1.0
By Douglas
USA
August 23, 2020
Bought this kit online thinking wow, this has to be a quick an easy salution! Boy was I wrong. Some air rifles are harder to clean.Here's the catch...You Can't Put Steel Wire Brushes In The Ai r Rifle Bores!!! It will mess up you're barrel bore!!! This is a piece of SHIT cleaning kit!!! Don't but it! Beware Airgunners especially if you're new to it. And the Shit got stuck in my barrel and Pissed me off! Messed up my favorite nice air rifle!How could a nice company professional sell a POS accessories cleaning kit like this POS??? I don't understand!!! F----g RO!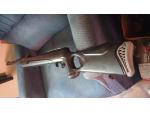 Pros
???
Cons
Needs a type of hard metal rod!
4.0
By Christ
USA
July 13, 2019
Pretty good for the price. Will definitely need an upgrade when i get more guns.
Pros
Price Compact Easy storage
Cons
Cheap
5.0
By Jeff
USA
July 15, 2018
KEEP THIS IN HUNTING PACK WORKS GOOD AND EASY TO USE
Pros
SMALL COMPACT AND KEEPS THINGS ORGANIZED
Cons
NONE
4.0
By Daniel
USA
February 10, 2018
All kits are pretty much the same. This kit is only good for 2 calibers. Which is fin if its the 1 of 2 you need. Kit is compact and easy to carry in the field.
Pros
Size
Cons
If youre going to be cleaning at home you need a straight rod rather than a pull through.
3.0
By Gregory
USA
December 23, 2017
Nice Kit
Pros
While the kit is great for the price, compact and useful for the field.
Cons
The 0177 adapter does not fit securely into the end adapter and is worthless. No response back from the company in the last 2 weeks.
3.0
By Jeffrey B.
November 3, 2017
Inexpensive and compact cleaning kit for .17 and .22 cal. Works OK on .25 cal. I might rather have a stiff rod rather than the wire to attach the brushes/mops
Pros
Low Cost
Cons
Uses wire rather than rods for attachments
5.0
By Newbie
November 3, 2017
Has screwdriver bits, and, Allen wrenches applicable to umarex octane rifle. Although, the manual states that using a wire cleaning brush will damage the rifling. This Kit contains such item?
5.0
By Michael
USA
October 2, 2017
This is the right tool for cleaning my .177. I'm very happy with it.
5.0
By George
September 5, 2017
So far l have cleaned both my stoeger x5 .177 and my Benjamin classic. 22 with no problems. If you are worried about the brass connector..put some electrical shrink wrap on it ...perfect fit..
4.0
By David
USA
July 26, 2017
All the necessary tools for basic maintenance.
Pros
The storage case is nicely designed. Don't underestimate how handy that can be in the long run.
Cons
Flexible cleaning rod with pressed brass crimp holder is not ideal. I wouldn't use it on a premium rifle.
Q&A
Question?
Login to ask someone who bought this product.
What are the thread size on the female attachments in the kit Thanks Bill
asked Bill c from USA
The threads are either 5-40 or 8-32 we do not know for sure.
Mark from USA
How do you open the case?
asked ed