The Umarex Gauntlet Starter Combo gives a first time PCP air rifle owner everything they need to dive into the world of pre-charged pneumatic airguns. This combo includes a 4-12x40 scope, rings, sling and the Air Venturi MK4 hand pump (manufactured by Hill pumps) to fill your Gauntlet with air. The only thing left for you is to decide what pellet you want to sling downrange and to carve out your next weekend to enjoy shooting all day!
The Umarex Gauntlet has an incredible amount of features for it's price tag. Many of which are usually only found on much more expensive rifles. The Gauntlet is a rotary mag fed rifle that will allow quick follow-up shots. You can fill the 210cc bottle to just over 200 bar (3,000 psi) and receive 60+ consistent shots due to the on board regulator that allows for precise airflow shot after shot regardless of how much air you either have or don't have. The other upside to the regulator is that you don't need to fill your rifle to the full 3,000 psi full fill. So using your hand pump you can just pump it up to 2,000 psi, still get 20-30 full powered shots before needing to refill your air. This is a great option!
Other features include an all-weather ambidextrous synthetic stock with built-in sling swivels. A foster quick disconnect fill port to the on-board air cylinder. An adjustable comb on the stock to help gain the perfect cheek weld. And the barrel is fully shrouded to reduce the rapport and sound of the Umarex Gauntlet making the rifle backyard friendly as well as hunting friendly. Truly the Gauntlet punches well above its weight and delivers a lot of rifle at a great price. And with this starter combo you can have everything you need to enjoy years of shooting with your Gauntlet PCP air rifle. It's time to get off the fence and see why everyone is falling in love with PCP air guns.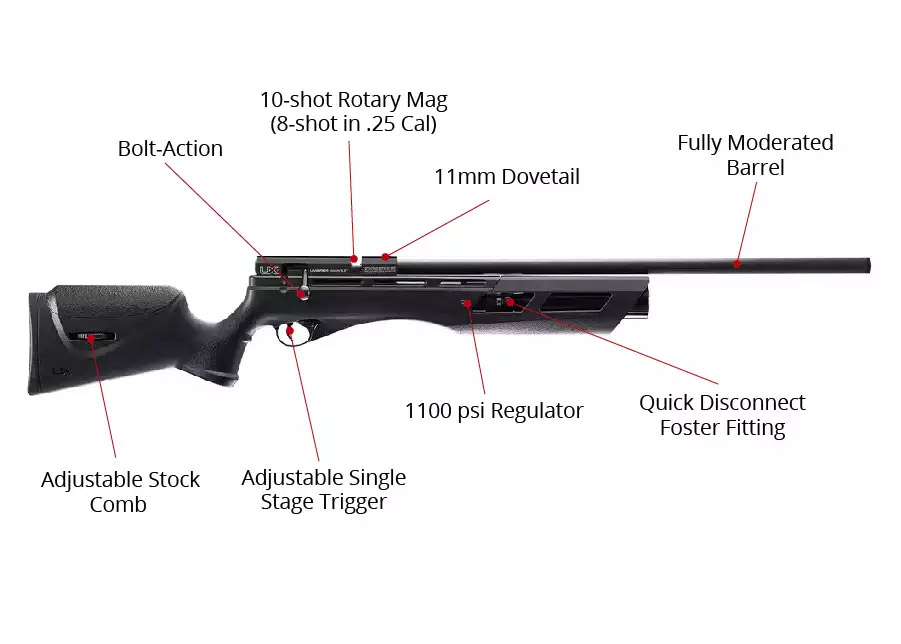 Umarex Gauntlet Starter Combo Features
Includes Mantis 4-12x40 AO Scope with high rings
Includes padded sling with swivels and an Air Venturi MK4 hand pump
10-shot repeater
3,000 psi, 13 cu. in. removable tank
1,100 psi regulator means consistent shot strength
Incredibly quiet - fully moderated
Adjustable Single-Stage Trigger
Height adjustable cheek piece
11mm Dovetail rail
Bolt action
Easy foster quick-disconnect fitting
Pressure release key
Includes 1 (10 shot) rotary magazines and 1 single shot tray
Specs
Manufacturer

Umarex

Caliber

.177

Velocity

1000 fps

Condition

New

Ammo Type

Pellets

Action

Bolt-action

Barrel Style

Rifled

Fire Mode

Repeater

Gun Weight

8.50

Overall Length

46.00

Barrel Length

23.50

Loudness

3-Medium

Magazine Capacity

10

Mechanism

Pre-charged pneumatic

Rail

11mm dovetail

Safety

Manual

Front Sights

none

Rear Sights

none

Shots per Fill

70

Trigger Adjustability

Single-stage

Trigger Action

0

Use

Small game hunting/target practice

Warranty

3-year limited warranty
Reviews
Average Customer Review
4.4
4.5
7 Reviews
4.0
By Bruce
USA
December 28, 2019
For the price this is a good deal. I have been looking at PCP air rifles for a long time but the cost of them has been out of reach for me. This was a good deal to get started in the PCP world.
Pros
Came with a good scope and rings. Has a good single stage trigger that can be adjusted.
Cons
The barrel has no support, and floats around way to much witch causes you not to be able to keep it sighted in. Umarex needs to fix this problem, and offer to their customers who bought one a modification to fix this problem.
5.0
By James
USA
August 21, 2019
Great gun so far will drive tacs out to 50 yrds i dont need to hunt more than 50 almost 60 cant see that far lol great gun for the money arter ist fill 225 punps can shoot 35 45 shots with a top off of 50 pumps or so also installed a Hajimoto barrel band for 36 dollars great mod.
Cons
not a walking around gun
4.0
By Stan
October 19, 2018
The MK4 pump and Mantis scope are outstanding but the tank on the rifle leaked air pressure ,as much as 500lbs overnight when pumped to 3000lbs When still in the rifle but When removed held air just fine.Rifle shoots great but is back to Umarex for Warranty repair of leak. Can`t wait till it comes back ....
Pros
Straight shooter Real Tack Driver
Cons
Leakey Tank
5.0
By Glen
USA
August 31, 2018
The Gauntlet is my first experience with a PCP. Out of the package, set up was easy. Then comes the getting to know you stage. Everything with the gun went well, the air tank was all new to me. The thing that throws me off the most is the gauge, it really doesn't move until I totally discharge it. There is no red, green or yellow on it to tell when to refill. I have learned that after 60 rounds, I hook it back up to the pump and fill it back up to 3000psi. All said, I would tell others to buy it and I like the way it shoots, Dead On.
Pros
Ten round clip, and 60 shots before refill
Cons
gauge on the air tank
4.0
By Donald
USA
July 30, 2018
I received my combo and un-boxed everything. the scope mounted very easy. The pump went together with ease. When I tried to pump up the bottle the quick connect fitting on the bottle leaked. I contacted Airgundepot, and was told on Friday I would have to return the complete rifle for a new one, well being the technician that I am I removed the leaking nipple, the surface that seals inside the nipple was ruff, I put some Meguiar's Plastx plastic cleaner/polish between the sealing surfaces and used my power straight blade driver to spin the pieces first clockwise then anti-clockwise about 2 minuets each, then cleaned the Meguiar's out and assembled the valve/nipple into the bottle. That cured the leak it now holds 3000 + psi. I set up to sight in the scope I took off the outer shroud to use a red laser bore sight, dropped the crosshairs right on the red dot at 10 yards scope set to 10 yards, and using the bench rest the rifle hits pellet on top of pellet, off hand I hit a 1/2 inch group.
Pros
Accurate and easy follow up shot with the 10 round mag, I got 40 pellets on 3000 psi. Airgundepot was quick with wanting me to return the rifle, I however waited over 5 weeks to receive this one and did what I need to so I could keep and use this one.
Cons
Weight is heavy for a .177, had to fix the leaking fill valve is the only reason I gave 4 stars.
4.0
By Belinda
USA
December 7, 2017
I too spent lots of time researching which pcp would be the way to go for a decent price. And it's just my luck that I've stumbled across this right when I've decided o buy another gun. I'm more of a small game hunter. I own a ranch and, as you know, there's lots of pest there. I already own a Benjamin marauder and loved it, actually wanted to buy another one. But I saw this and said, YES! I just received the gun,cleaned it, and put a few shots thru it. I was really pleased with the accuracy, it's just like how the videos showed. I also liked how you can change the air tanks. Only problem was the SLOW "rear end" shipping and the quality of the rifle is a little on the low side. The bolt is very hard to cock, the trigger is semi alright, but leaning more towards the bad side, the magazine is hard to put in, it' kind of heavy, and the stock is kind of cheap. So the accuracy basically substituted for quality. I would defiantly recommend this to someone who is looking for a cheap, dependable, and accurate rifle. That is, if they don't mind giving up some of the smaller luxuries such as a good trigger and bolt.
Pros
Very Accurate Cheap Changeable air tanks Regulated
Cons
Bolt is heavy to cock trigger is ok but leaning more towards the bad side magazine hard to put in and out kind of heavy stock is kind of cheap
5.0
By Thomas
USA
August 1, 2017
Ive watched countless videos on every single air rifle i think available today. I'm a break barrel guy and wanted to take the plunge into Pcp world but didnt want to drop 1200 if I didnt have too. I've seen the reviews of this gun and it outperforms all in its price range. Trust me ! Ive spent weeks watching reviews for the perfect gun and for the money this is it.
Cons
They keep back dating the release date.
Q&A
Question?
Login to ask someone who bought this product.