The Walther Maximathor utilizes Walther's proven engineering in a beautiful PCP airgun with all of the features you could ask for in a hunting air rifle. This bolt action beauty has an 8-rd magazine, built in manometer, Lothar Walther barrel, Minelli hardwood stock, and adjustable match trigger. What else could you ask for?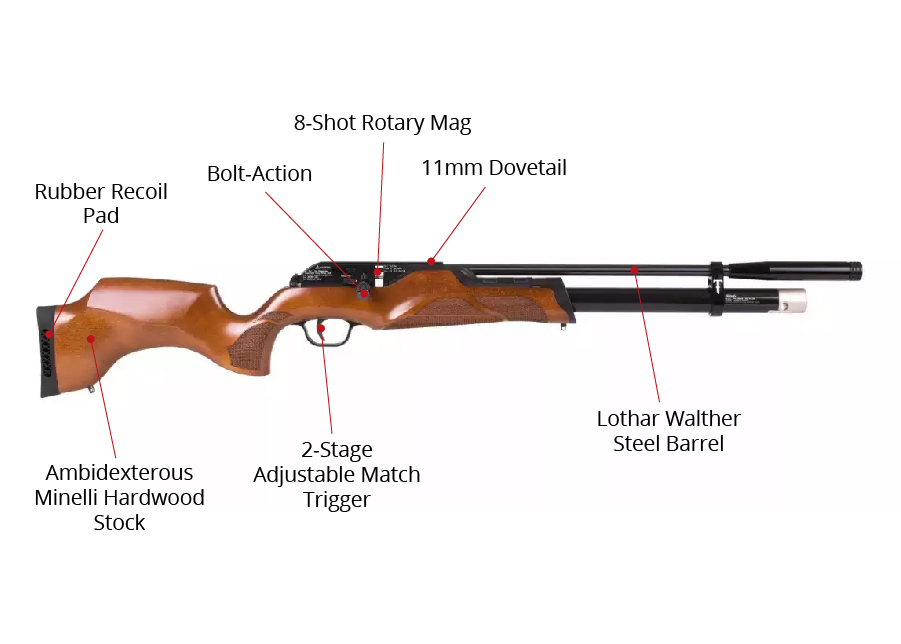 Walther MaximaThor Air Rifle Features
Precharged pneumatic (PCP)
Bolt-action
8-shot rotary clip
Rifled steel Lothar Walther barrel with 1/2" UNF threads
2-stage adjustable match trigger
11mm dovetail
Ergonomic ambidextrous Minelli hardwood stock with checkered grip
Ambidextrous cheekpiece
200 bar/2,900 psi max fill pressure
Made in Germany
Vibration reduction technology
Automatic safety
Rubber recoil pad
Built-in pressure gauge
Includes quick fill port
Specs
Manufacturer

Walther

Caliber

.25

Velocity

1000 fps

Condition

Refurbished

Ammo Type

Pellets

Action

Bolt-action

Barrel Style

Rifled

Fire Mode

Repeater

Gun Weight

9.60

Overall Length

41.75

Barrel Length

23.50

Loudness

4-Medium-High

Magazine Capacity

8

Mechanism

Pre-charged pneumatic

Rail

11mm dovetail

Safety

Automatic

Front Sights

none

Rear Sights

none

Shots per Fill

30

Trigger Adjustability

Two-stage adjustable

Trigger Action

0

Use

Hunting

Warranty

Lifetime limited warranty
Reviews
Average Customer Review
5.0
5.0
6 Reviews
5.0
By Goran D.
June 27, 2019
Diana make his gun in China, Walter Made in Germany ,10000 shots test,power 60Joul in 22 cal whit this gun Perfect.
5.0
By David
USA
December 29, 2018
This gun is about the most beautifully crafted guns that I own, very much under-rated in my opinion. The Germans usually make exceptional products and this gun is no different! Everything about it, the fit of every part, the finish with the wood stock is beautiful! Bolt is smooth as butter right out of the box, magazines slide in and out perfectly and cycle flawlessly! Precision is fantastic with hole in hole shots at up to fifty yards and hits like a hammer! I cannot wait until better weather when I can take this beauty out to 75, or 100 yards! I am quite sure the performance will be very near as good!
Pros
Accuracy, power and number of shots per fill which by the way is also very easily accomplished! Solid build!
Cons
None
5.0
By Robert
USA
August 4, 2017
Excellent hunting gun , very accurate and powerfull ,heavy The only complaint I have is was not shipped with a fill port. After a month still has not arrived. I don't know what air Depot is doing . Been using a mackship one , that wast a lot of air when I try and fill it. I hope it comes some day.
Pros
Accurate , Powerful Great hunting gun nice stock.
Cons
Heavy and Loud
Very accurate works well with feeding from magazines
5.0
By gary
USA
February 24, 2017
a little on the heavy side,, don't bother me as i bench shoot this one anyway,
Pros
accurate ,, nice finish,, excellent gun for the price
Cons
could use a quick connect fill port
5.0
By peter g.
June 9, 2016
Just got my MAXIMATHOR and this is one beautiful gun! Super powerful .22 caliber hits like Thors hammer, absolute german accuracy and precision. I'm so happy I bought this bad boy, might have to get the .25 as well. I put a Hawke Vantage scope on it now it's backyard friendly with the addition of T.K.O. shut yo mouth device. I think I'm in love.
Pros
Everything
Cons
Nothing
Q&A
Question?
Login to ask someone who bought this product.
Does this rifle include a magazine or does it have to be purchased separately?
asked Aldo Cesar from Mexico
What size is the reservoir?
asked Francisco from
Cylinder Size 267 cc
Mark from USA
Where does one buy extra 25 caliber rotary magazines for this gun? Where does one buy a spare quick fill air connector for it? I cannot find them on the internet for sale anywhere. This is a big concern regarding purchasing the 25 caliber version at least, which is the one of interest to me.
asked Luther from USA
Which silencer can I buy for this rifle?
asked Zurelys
Great Rifle ! Shoots well, accurate and so far no problems. Hope they will make a "Bullpup" version of this rifle and keep the mechanics the same. Hope Hope Hope ! ! 100 shots per fill ? ? ? Not let it get down that far. Another thing would be nice is being able to change the tube and take an extra along out in the field.....
asked Ratgetter Rick
What is your honest oppinion of this gun?
asked Dale
My name is Henry Young from Philippines complaining about maxima thor pcp airgun loaded air. The air pressure exit to the barrel, what's the problem? i brought it last feb. 06, 2017 the dealer is fire power philippines. I already returned the pcp maxima thor for check-up to there gun smith . Two weeks up to now not yet return by the gun dealer. Would you please comment with this? Kindly email me your comment.. Thanks. [email protected]
asked Henry S. Young
How loud is this? Is it back yard friendly?
asked Rob
how to remove stock from barrel of walther Maxima Thor .22 air rifle
asked Capt. Musheer
Is the MaximaThor regulated?
asked Chad
Is the MaximaThor regulated?
asked Chad