Able to send shot up to 30 yards down range, as well as being able to fire .50 cal slugs, the new for 2017 Air Venturi Wing Shot II is the most versatile air shotgun on the market. The smooth bore barrel delivers shot skyward using the Air Venturi shotshells holding either #6 or #8 shot. With the new ventilated rib, target acquisition has never been easier. The removable choke will reduce the inner barrel down to .486', from .494', ensuring a consistent shot stream and 12' spreads at 20 yards. This performance makes the Wing Shot II ideal for upland or bushytail hunting. With the CHOKE REMOVED, the Wing Shot II will fire a .50 caliber slug at 760 fps, creating 245 foot pounds of energy. This set up will allow a well placed shot to easily take down javelin or coyote.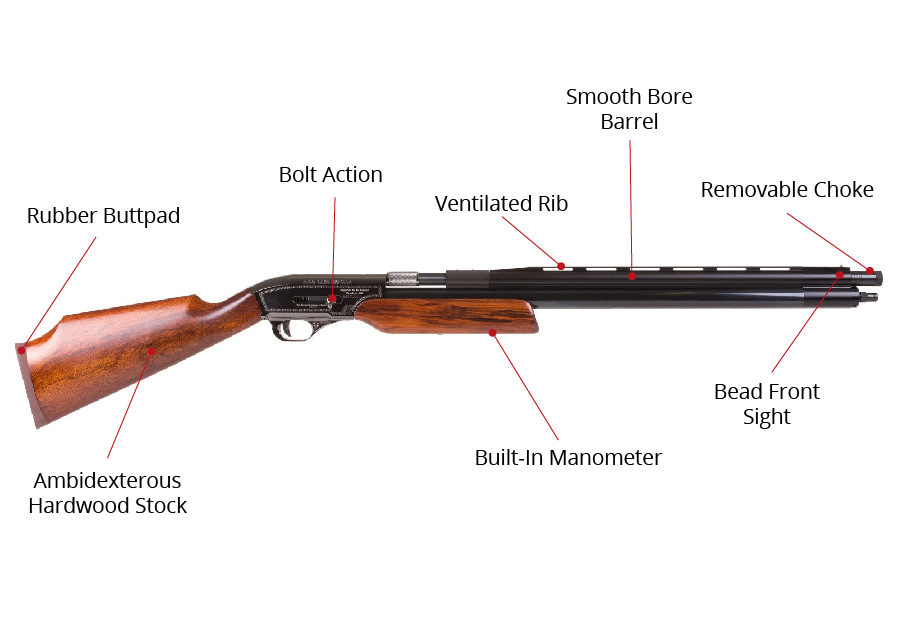 Air Venturi Wing Shot II Shotgun
New for 2017 - ventilated rib for a more convenient target acquisition
Precharged pneumatic (PCP)
Single-shot
Smoothbore
Bead front sight (no rear sight)
Built-in manometer (pressure gauge)
Ambidextrous hardwood stock
Removable choke
Single air reservoir (244cc)
Shoots .50-caliber lead bullets or .50-caliber shotshells
Specs
Manufacturer

Seneca

Caliber

.50

Velocity

1130 fps

Condition

New

Ammo Type

Pellets

Action

Bolt-action

Barrel Style

Smooth bore

Fire Mode

Single-shot

Gun Weight

7.40

Overall Length

43.00

Barrel Length

22.50

Loudness

5-High

Magazine Capacity

1

Mechanism

Pre-charged pneumatic

Rail

No

Safety

Manual

Front Sights

Bead

Rear Sights

none

Shots per Fill

5

Trigger Adjustability

Two-stage non-adjustable

Trigger Action

0

Use

Hunting

Warranty

1-year limited warranty
Reviews
Average Customer Review
5.0
5.0
6 Reviews
5.0
By Benny
USA
January 5, 2023
Verified Purchase
This gun likes air. I have a 100 cubic inch tank I keep filled using a compressor, really the best way to go about it,(my opinion). I could spend the day out hunting with this rifle,with this set up, and have more than enough air to sustain the hunt.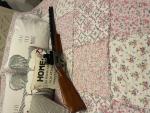 Pros
I love this gun! Im able to shoot shot from it or slugs! Im making my own shot using #4. Has a good spread at 25 yards.
Cons
None!
Pros
Wonderful, love it, better than I expected,
Cons
Can not find shot anywhere got one box and they pattern better than the .50 plastic wads that I made with #4 shot in it
Seems to spread a tad bit low of point of aim. May just be my particular unit.
Pros
I love the Wing Shot 2! I have used it on 2 different veterans hunts to bag a total of 10 pheasant. Being able to hunt large and small game alike is very appealing.
Cons
Weight: at over 7.5 lbs, the WS2 is a bit heavy especially given its lack of sling swivels or mounting points. Is an AIR HOG (5 shots per full at full power)
5.0
By james
USA
March 5, 2020
This is a fun to shoot air shotgun, great for taking out pesky raccoons
Pros
Great feel, great looks, easy operation. Accurate
Cons
It's a bit loud , no replaceable cover when choke removed
5.0
By Alexander
USA
December 5, 2017
5.0
By Gary A.
August 8, 2017
having fun shooting everything I expected
Q&A
Question?
Login to ask someone who bought this product.
What all is needed for it to have optics such as a scope or red dot
asked Magrath from USA
Better thing is scope
Rajveer from USA
WHAT SIZE CHOKE TUBE IS IN THIS GUN AND DO THEY MAKE ONE IN A FUL OR EXTRA FULL?
asked brad from USA
how many decibels is Loudness 5-High?
asked Jeffrey from USA
Will the wing shot mk11 shoot air bolts ?
asked Bryan from USA
Is this gun classified as a firarm
asked Dan from USA
No. A firearm is defined as a vessel that uses a chemical reaction to project anything. Being that these run completely off air there is no chemical reaction only a burst of compressed air. No combustion. No chemical reaction
Christine from USA
will this gun fire the air arrows also. and if so how accurate
asked william from USA
How close do I have to be to kill a deer?
asked Jack from USA
At 245 FPE with lead it is "possible" to kill a dead at a reasonable close range. If you use arrows you are deadly within probably 50 yards. Outside of that you arrow is going to drop quite a bit.
kyle from USA
What will I need to buy to charge this and can I use my oxygen tank off my cutting torch to charge if so what and we're do I get the fittings
asked Jeff from USA
Will this kill ducks or geese?
asked BRAD from USA
I would say no to geese. They are quite large for the small amount of shot. It could kill ducks but most if not all states require non-toxic shot to be used for water fowl. The shot shells use lead and would not be legal for water fowl.
kyle from USA
Will this gun be good for rabbit hunting?
asked Andrew from USA
It will work at 30 yards or less. You would be better served with a 22 cal pellet gun.
Mark from USA
Will this gun kill a deer
asked Theodore from USA
Yes it will kill a deer.
Sean from USA
Will the Benjamin Hand Pump fit thing gun?
asked Jay from USA
Big Q of the day, CA legal?
asked John
Yes you can use it in CA though i believe it's still regulated. CA has actually alot of game you can hunt with airguns. Do a search online for airgun hunting laws then check with your areas DNR agent for more info.
kyle from USA
Can this air shotgun be used in Turkey hunting
asked Cody
Can you shoot .50 caliber sabot rounds with this gun?
asked Stephen from USA
When using the slug will it take down a whitetail?
asked John Jacob
Are you able to use steel shot effectively for waterfowl?
asked Christopher
Will the Wingshot bring down a bear?
asked Carey L West
How does the grouping look with slugs or round balls at 35 yards?
asked Raynard
Can you shoot air bolts with this?
asked Micheal from USA
The video said you can also fire an arrow with it. Is this true? Also, can you charge it with a hand pump instead of an air tank? Thanks.
asked Clifford from USA
is it worth the $ im looking for something for rabbits in thick brush my other 3 not good in thick brush
asked mel