Since its inception, the AirForce Condor has cementer its place in airgun history as one of the preferred rifles for hunters. This Condor SS is the same set-up as used by Eric Bladford and Chad Sims of IraqVeteran8888. As Eric say's this is the Texan's little brother in a lot of ways. And it's stupid quiet. it's really an effective hunting tool, even above and beyond a suppressed firearm.?
The IV8888 special edition is a match made in hunting heaven between the AirForce Condor SS and the
ATN Day/Night X-Sight II
. This allows for the ultimate small game hunting rifle that you can use day or night, and with the loaded features of the X-Sight II including the shooting solutions to adjust for wind and distance you can really push the limits and range of the Condor SS. Better yet you can record your shots to SD card to show later! This combo also includes the picatinny rail adapters and adjustable bipod.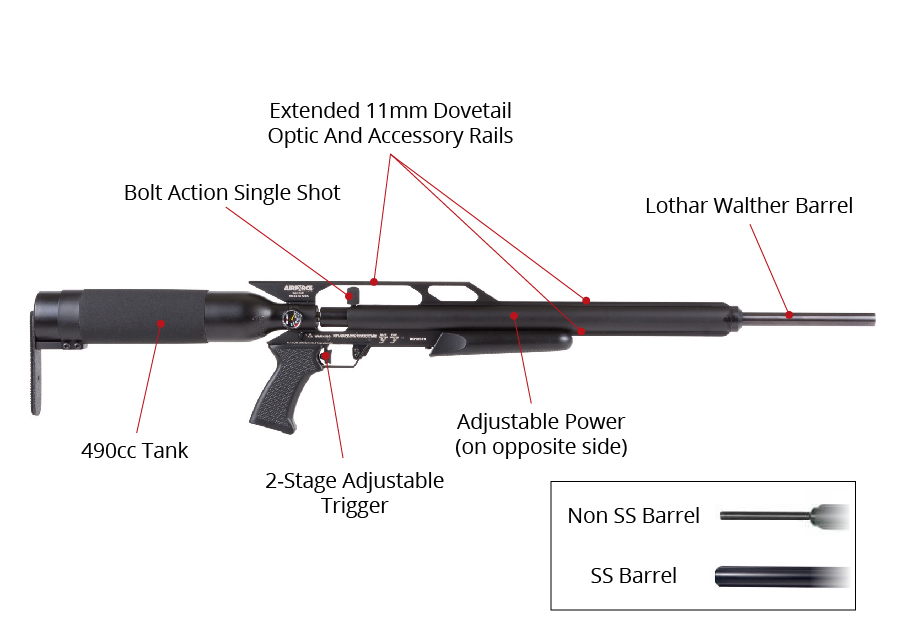 AirForce Condor SS IV8888 Combo Features
Includes ATN X-Sight II 3-14x50 Day/Night Digital Scope
Also includes x2 Picatinny Rail Adapters & BiPod
Single-Shot
Recoiless
Adjustable Power
Lothar Walther barrel
Internally Shrouded
600-1100 fps depending on caliber, pellet & power setting
Max Fill Pressure: 3,000 PSI
Specs
Manufacturer

AirForce

Caliber

.22

Velocity

0 fps

Condition

New

Ammo Type

Pellets

Action

0

Barrel Style

Rifled

Fire Mode

0

Gun Weight

11.00

Overall Length

0.00

Barrel Length

0.00

Loudness

1-Low

Magazine Capacity

0

Mechanism

0

Rail

Yes

Safety

0

Front Sights

none

Rear Sights

none

Shots per Fill

0

Trigger Adjustability

0

Trigger Action

0

Use

0

Warranty

Lifetime limited warranty
Reviews
Average Customer Review
5.0
5.0
5 Reviews
5.0
By Eric m.
April 20, 2018
Bought this combo as a way to do some coon hunting in the woods at night. Total impressed with the scope on the gun. Has so many settings to use it almost shoots for you. Would highly recommend this to anyone. Gun is strong enough to take medium game from 100 yards and scope is so easy to use its sick.
Pros
Easy to use once set up and sighted
Cons
Weight scope adds more than expected Battery run time is li5tle short really needs the battery pack
5.0
By Paul
USA
December 29, 2017
I purchased the Condor SS during the Black Friday so mine originally came with a Hawke Scope, but I got an ATN X-Sight II for Christmas and now have it equipped the same as this combo so I figured I would place my review here. With this optic the Condor SS becomes an amazing small game and pest ridding rifle. The night vision is really impressive considering it's not using the same technology as conventional night vision optics. The one shot zero really impressed me. You can see my photos below the target I used with the one shot zero the shot off to the far right on the bottom was the first shot and the nice group up top was after using the one shot zero and that was at 50 yards. I was also impressed that ATN included a f-stop Lens shroud to help improve focusing and also seems to have improved their IR light that it comes with they must follow product reviews from their users to have made those additions and improvements and that's cool. So if you have seen online reviews about how to drill a hole in a lens cap to improve focus you don't need to. ATN now includes a nice metal powder coated threaded one.I did buy the pro version of the light and it's better at long range but the included IR Illuminator is pretty good too. I like the switch on the included light much better than the ATN IR 850Pro and at close range under 50 yards I like the included IR 850 (non pro) better so it's nice to have both. The Pro IR 850 is rechargeable but the are both nice. The picture below is deer on my property. I like the B&W night vision over the green but you have the option to change it. I also like having multiple retical option. The only down side is it's a heavy setup. When you get the light and extended battery and sight on the gun it add a lot of weight, but totally worth it. It's the coolest new tech device for shooting no doubt. Oh yeah it also has a cool app for your phone that you can control most of the scopes options from your phone. This gun and scope combo is just a blast to shoot definitely far different than having a traditional scope but being able to record shots and take photos and videos is really very cool.
Pros
The scope is an affordable night vision option that wont break the bank, Takes video and photos and geo tags, The Condor SS is just an amazing air rifle, love the power wheel
Cons
Only con I can come up with is it's single shot, but when your airgun is this accurate your probably wont care much It's just hard to reload in winter with gloves on if AirForce ever make a repeater look out.
5.0
By Kent L.
November 3, 2017
Love my purchase, exactly what I wanted. Got here super fast !
5.0
By Sean Earll C/O
USA
August 3, 2017
This is my first "real air rifle". I have my cherry Benjamin .22 from the 80's and the incredibly accurate .177 Gammo, love them all. The CondorSS .25 is so awesome in design and function. It's a dream to shoot and most quiet air rifle I have experienced. Just love this gun, A friend started the frenzy with his CondorSS. It was so awesome two other friends purchased soon after. I have an issue seeing up close, so opening the breach and loading the gun is very easy. We purchased an air tank with all the bells and whistles and filling the rifle can be performed with one hand in a minute. The scope I can go on about forever. Being an I.T. guy interfacing with this scope is awesome and simple, Took me a total of ten minutes to register the scope, download and update the latest firmware and begin zeroing in (and geeking out).
Pros
Beautiful aluminum and machine work. HD scope (tech) recommend installing the Obsidian application on Andriod and pair. Quiet and did I say quiet.
Cons
Forgot to send me the dovetail to picatini mount for the bipod. Couldn't afford to buy the TexanSS at the same time.
5.0
By Dave
February 18, 2017
This rifle has me hooked. I will be adding to my AirForce arsenal and it will be through Airgun Depot. Absolutely solid!
Pros
Everything in this package is solid!
Cons
Not a thing!
Q&A
Question?
Login to ask someone who bought this product.