Definitive Guide to

AirForce Condor
AirForce Airguns opened its doors in 1994 with the goal of offering accurate and powerful, American made airguns. Since then the Texas based manufacturer has been turning out some of the best hunting air rifles on the market. After nearly ten years of manufacturing their signature model, the Talon, AirForce was ready to up the ante and in 2004 they introduced what was billed at the time as "the most powerful mass-produced .22 caliber airgun made." Since its inception, the AirForce Condor has cemented its place in airgun history to become a preferred rifle for hunters, target shooters and airgun hobbyists alike. Time hasn't slowed down its appeal as it remains a contender year in and year out as our favorite airgun.
Order an AirForce Condor
Video
Detailed Review
The Basic Anatomy of the Condor
When you first lay eyes on
the AirForce Condor it looks straight out of a science fiction movie
, at the same time its imposing rear mounted tank and extruded aluminum frame you know that this gun is all business. The construction of AirForce airguns is thoroughly modern when compared to the competition.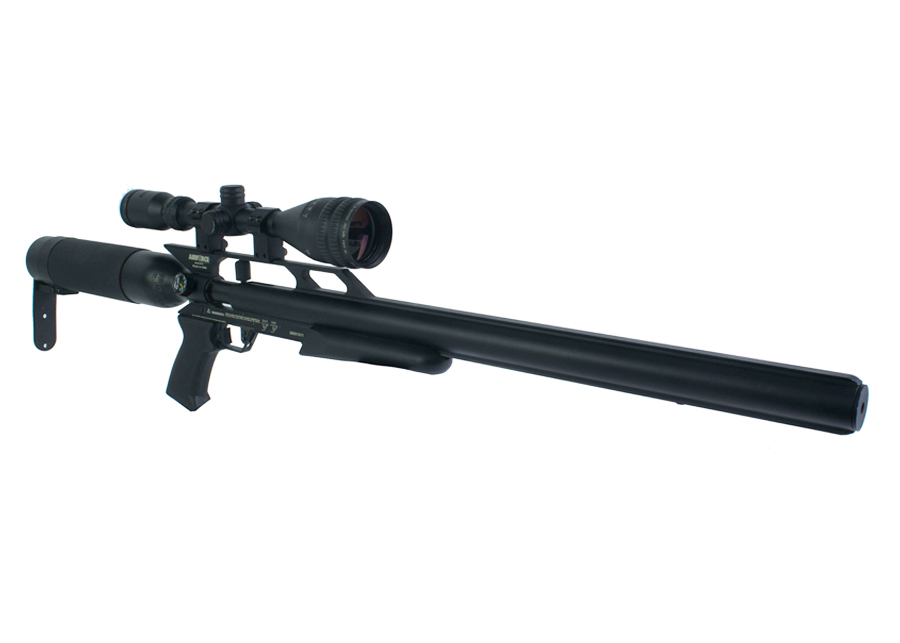 As such, all the benefits of modern materials apply. The Condor weighs a scant 6.5 lbs and the Condor SS weighs in at 6.1 lbs due to its slightly shorter barrel. Most of that weight sits at the back of the gun nearest to the shooter when the rifle is pulled up into firing position which makes the gun very pointable, however, some shooters struggle with the lack of weight on the front of the gun, finding it hard to stabilize when shooting off the shoulder. With some practice, it is fairly easy to become adept with the AirForce Condor and before long you find yourself really appreciating the quick pointing nature of these great rifles.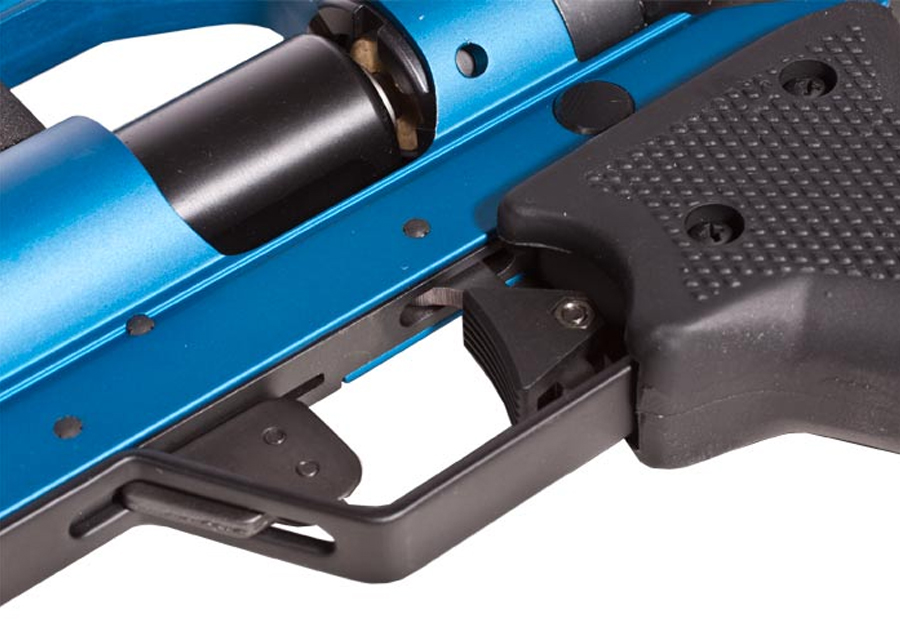 The Condor and Condor SS come with full length 11mm dovetail rails that run along the top and the bottom of the gun as well as a raised scope rail. This allows you to attach just about any accessory you could ever want to your Condor. Also available are 1913 picatinny rail adapters that allow you to attach a myriad of scopes, lasers, night vision optics, thermal optics... really anything that you could desire. This
versatility makes the Condor very popular among pest and varmint hunters who enjoy hunting at night.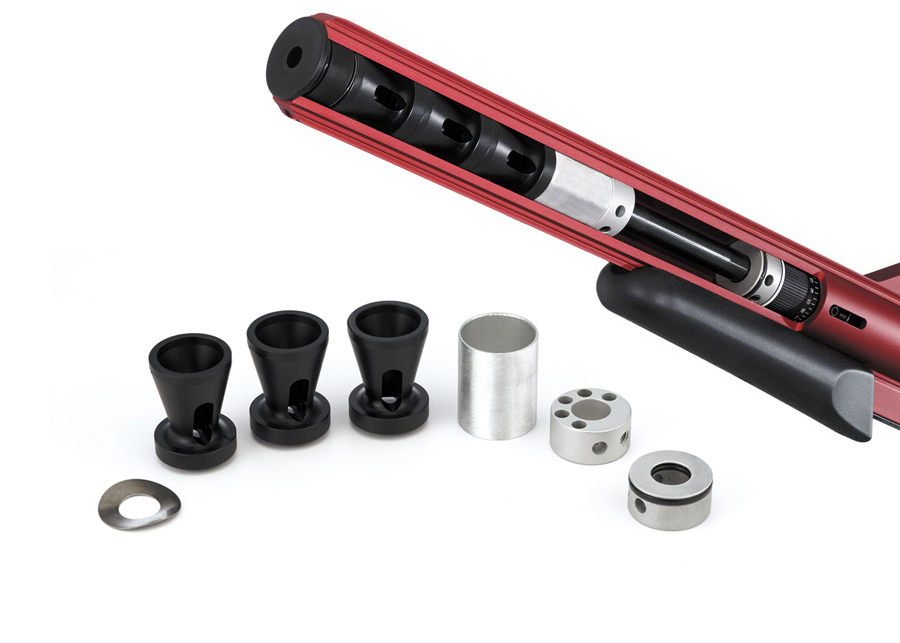 We disassembled the sound suppression system on a Condor SS and fired it unsuppressed. The gun barked at a sharp 104 dB, after reinstalling the suppression system the gun was quieted down to a mere 85 dB. Considering the average human conversation takes place at about 65 to 70 decibels, that's pretty impressive. When compared to a suppressed .22 pistol the sound is higher pitched but still, very quiet.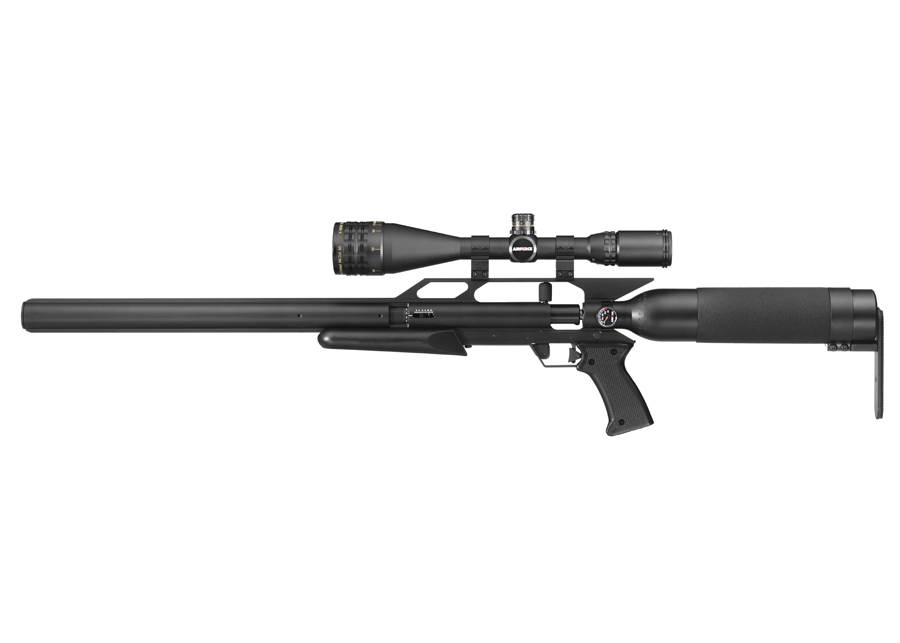 Shots per Fill, Power & Accuracy of the Condor
The Spin-Loc tank system makes installing the tank fairly quick and easy, and though it can be removed for filling we recommend using the foster quick fill adapter on the tank and leaving it attached to the gun.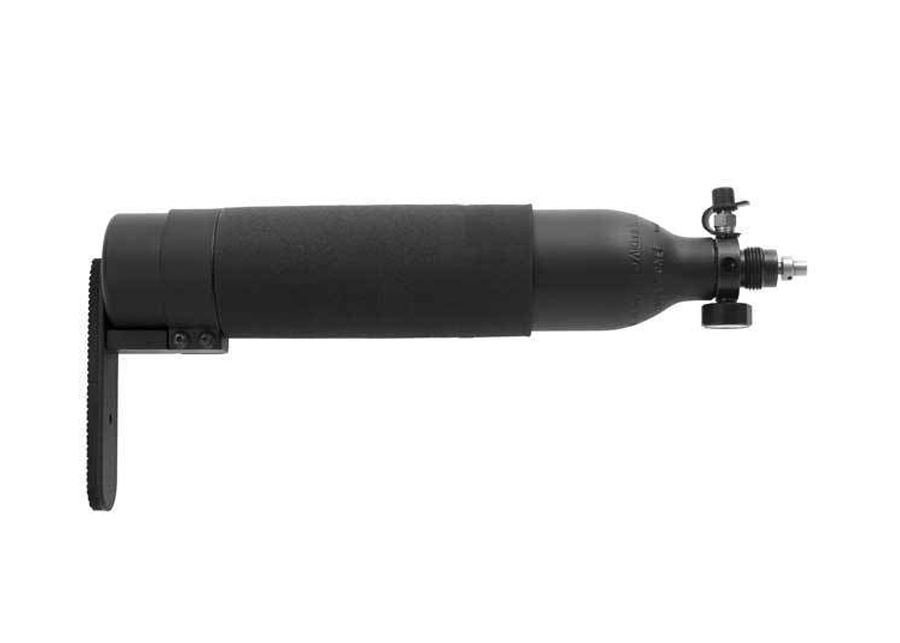 The max fill pressure for the onboard tank is 3000 psi. Off your average fill, and depending on caliber size and projectile weight you can expect anywhere from 35 to 55 shots per fill. One of the real benefits of the Condor is that it has an adjustable air system so you can dial your pressure down for practice to allow more shots per fill, then crank it back up for extra power when hunting. Be sure to check out a great video put together by our good friend Rick Ward, The Urban Airgunner, all about
how to adjust the power settings on your AirForce guns
.
When using JSB 33.95 grain pellets the .25 caliber is capable of producing upwards of 70 ft lbs of energy (from a standard .25 caliber Condor non-SS version that has a longer barrel).
That type of power in a .25 caliber PCP air rifle is pretty much unmatched. The Condor SS is capable of achieving upwards of 47 ft/lbs while the unshrouded Condor .22 cal can max out at 70 ft lbs. The Condor definitely holds up to its claim of "the most powerful mass-produced .22 caliber airgun made?.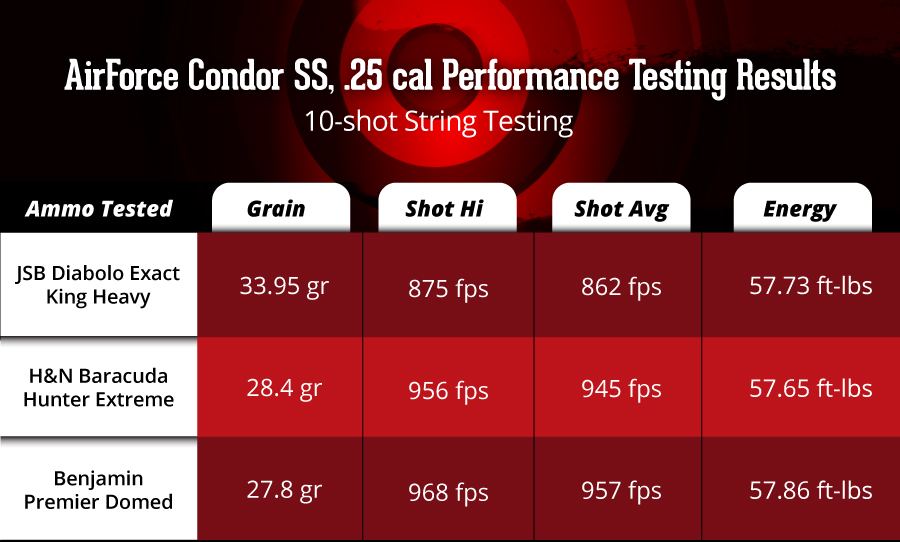 The accuracy of the Condor rifles is all the result of the quality made Lothar Walther barrels. These German made steel, button rifled barrels provide excellent accuracy from a number of projectiles and really make for a great shooting. We found that with JSB Exact pellets we had no problem achieving sub 1 inch groups at 50 yards and were consistently able to make hits on half size d-28 targets at 100 yards. The Condor is a great gun for everything from backyard sniping to precision pest control work.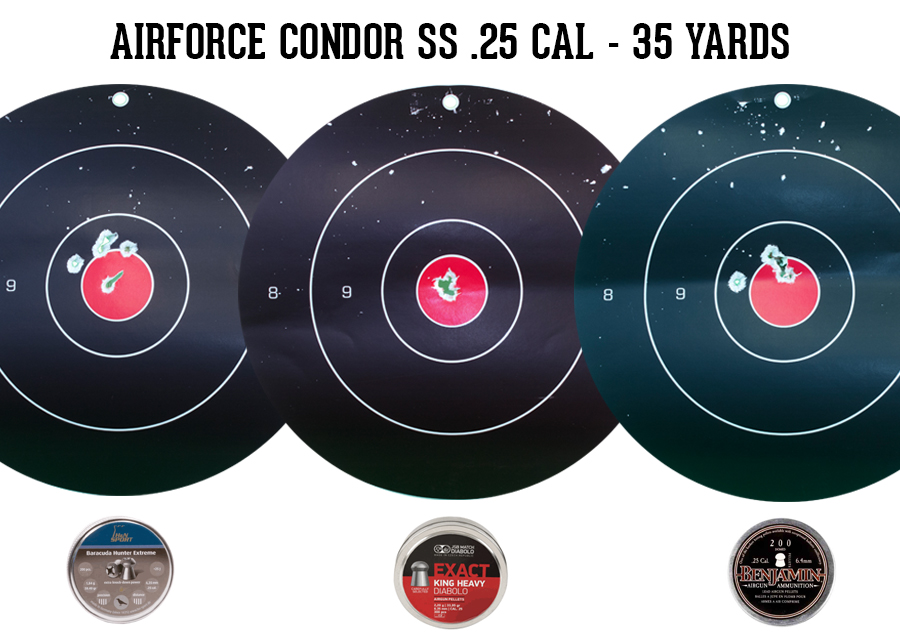 Join in on the conversation and leave your thoughts and impressions of the AirForce Condor. And don?t forget to share this page with others that you know would be interested in the in-depth review and videos we've put together on this gun.
Simple Design with Extreme Durability
The true beauty of the Condor lies in its simplicity. AirForce airguns are designed to be easy to operate and easy to get accustomed to which is partially the reason that they have become the go to air gun for those who are already firearm enthusiasts, but are looking to bridge the gap between air guns and powder burners. That same simplicity contributes to the Condor's ruggedness and excellent durability. AirForce air rifles are meant to be used, put to work, and called on when needed. With an aircraft grade extruded aluminum frame, precision CNC'd action and trigger components and barrels sourced from famed barrel maker Lothar-Walther, the Condor stands the test of time and is ready to take whatever abuse users can dish out. Plus AirForce has one of the best warranties in the business - a recipe for success!
How Quiet Is It?
We get asked all the time, "just how effective is the integral sound suppression system on the Condor and Talon SS?" We decided to test out a Condor SS with the sound suppression removed as well as with it installed to see just how much of a difference it made. We were surprised that with the un-suppressed the bark of the Condor topped out at 104 dB however once we re-installed the baffles
the Condor SS produced a mere 85 dB which is almost a 20% reduction in muzzle noise.
To put that in layman's terms, it's quiet, really quiet.
Accuracy & Power
The Condor is available in .177, .20, .22 and .25 calibers. No matter what caliber you choose you can be sure that the Condor and Condor SS are some of the most powerful air rifles in their class. When using JSB 33.95 grain pellets the .22 caliber is capable of producing upwards of 70 ft lbs of energy! That type of power in a .22 caliber PCP air rifle is pretty much unmatched. The Condor SS definitely holds up to its claim of "the most powerful mass-produced .22 caliber airgun made." The Condor is no slouch on accuracy either. With its Lothar Walther button rifled barrel, the Condor excels at stabilizing a wide range of pellets though we find that AirForce guns prefer quality pellets from manufacturers like JSB or H&N. With JSB Exact Diabolo pellets we were able to obtain groups under 1 inch at 50 yards. The Condor and Condor SS are also capable of firing larger solid projectiles that are more suited for hunting.
Discuss