The AirForce Texan with carbon fiber tank gives you a lighter air rifle featuring upgraded TX2 valve technology that also boosts the power. The new version includes a 475cc carbon fiber air bottle, and weighs in at only 6.12 lbs., which is around 20 percent lighter than the standard version of the Texan, but with muzzle energy of up to 754 fpe in .457 and 800 fpe in .50.
The tank now fills to a max pressure of 3600 psi (250 bar) instead of 3000 psi (200 bar) for the previous model, giving you more power with a rifle that's the same size. The Texan remains one of the most powerful airguns on the market, and is capable of hunting almost any big game you can find in North American, and elsewhere as well.
This air rifle comes with an extended 11mm dovetail scope rail on it, but it doesn't have sights, so you'll want to mount a scope for increased accuracy, especially when hunting. If you're looking for a supremely powerful and accurate air rifle for big game or small game hunting, now with a lower weight and even more power, get an AirForce Texan with carbon fiber tank at Airgun Depot today.
AirForce Texan, Carbon Fiber Tank Features:
PCP
Single shot
Sidelever
Adjustable power
475cc carbon-fiber tank
250 bar (3600 psi) max fill pressure
34" barrel
2 stage trigger (adj. for position only)
2.06 lb. trigger-pull
Automatic safety
Textured grip
Extended 11mm dovetail scope rail
6.12 lbs. (without scope & mount)
No baffles/is not silenced
13.875" to 15" length of pull
Buttplate can be rotated right and left for some cast-on and cast-off adjustability
Made in the USA
Specs
Manufacturer

AirForce

Caliber

.457

Velocity

1113 fps

Condition

New

Ammo Type

Pellets

Action

Sidelever

Barrel Style

Rifled

Fire Mode

Single-shot

Gun Weight

6.12

Overall Length

48.00

Barrel Length

34.00

Loudness

5-High

Magazine Capacity

1

Mechanism

Pre-charged pneumatic

Rail

11mm dovetail

Safety

Automatic

Front Sights

none

Rear Sights

none

Shots per Fill

4

Trigger Adjustability

Two-stage adjustable

Trigger Action

0

Use

Hunting

Warranty

Lifetime limited warranty
Reviews
Average Customer Review
4.9
5.0
13 Reviews
Pros
Ref: .457SS. Loads of power
Cons
Loudness. It is over the top loud. I think it is louder than my 16 gauge shotgun. It is not backyard friendly with near by neighbors. I do not know if a DonnyFL moderator would make a major sound level change but I would hope so. Meantime into the woods with ear protection.
5.0
By Raymond
USA
February 9, 2023
Verified Purchase
.... i am thoroughly embarrassed to write all of this but needs to be said. I am literally shocked that in this day and age the level of fantastic support/service post sale by both Airgun Depot and Airforce! This Texan isn't my first bigbore or even PCP. And I'm not a horrible shot & not an award winning shooter either. For the money, I really wanted to ensure the performance of this rifle was as it's supposed to be so i only would have myself to blame for bad shots. Yes, I understand the many different factors that go into it all... still, nice to know your instrument is at least factory tuned etc. All in all, I'm a big fan of both Airgun Depot & AirForce & can't extend my gratitude to them both! Thank you AGD for putting up w/me & bringing back the ancient art of great customer service!
Pros
There are so many reviews/youtube vids, articles, blogs etc on the Airforce Texan that not sure what my 2cents on the functionality of this bigbore can add to the convo. However, I'm here to praise Airgun Depot as well as AirForce as two companies that shocked me with their level of, what seems to be these days, the dead & ancient art of, "customer service." I've been wanting to get a .45cal Texan for a while now and even after reading a lot of reviews, blogs, watching vids etc... still did a decent amount of research on which flavor was going to be the best for me. Both Airgun Depot & AirForce were excellent with quick responses and input to help me make the right decision. "But wait..." you might say. "Of course they're going to be nice before they get your money, but what were they really like once they did?" Well, let me tell ya! The first .45 Texan that arrived was an older SN# with the older trigger guard/model. I know, probably not a big deal for a lot of folks. TBC below.
Cons
... Airgun depot didn't even hesitate... they sent a RMA and sent another one. Now, watching a vid on Airforce's utube channel, it was said not to use any lube on the Texan and doing so may void the lifetime warranty. The second one I received had a bunch of oil in the breech, barrel & screws... basically couldn't pick up the rifles w/o getting some oil on my hands. I contacted Airgun Depot and was told, "Since there's nothing wrong with it, i would have to pay return shipping." I contacted Airforce and asked if this is normal when they ship the Texan out & was asked to send pics. Meanwhile, I asked Airgun Depot if it's possible to speak w/a manager (I know... total Karen moment on my part) mainly because I was worried if somehow & for some reason if I needed to send it in for warranty repair... just didn't want to be told later my warrantee is void etc. And Airgun Depot once again sent me a RMA & sent yet another. Next day Airforce replied and said they think it'll be okay. TBC below.
5.0
By mace
USA
December 1, 2022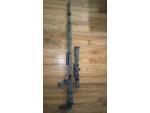 Pros
This is a awesome gun can sling big bullets that will put most other calibers to shame biggest I've shot were 655 grains and u have to take the tank off to load them but even those at 30 yards out of this blew up a whole foundation block went thru both sides couldn't find it and small pieces of concrete came back and it me with a little sting and they hit with a wallop it's super powerful like a real firearm and it hits hard a big mature doe at 160 yards with a nick Nielson 348 knurled at 900 fps chronographed dropped right in it's track and the thump from the round hitting the deer was about louder than the airgun going off which did make my ears ring just a tiny bit this is a amazing gun very powerful groups touching at 100 yards with Mr hollow point 415 grain boat tail hollow points so far got four deer with this thing and it's my favorite rifle to hunt with just alot cooler than a firearm in my opinion and alot cheaper to shoot exspecially if u cast.!
Cons
Nothing people say a magazine would be nice but all u need is one shot for deer hunting anyway and it would get in the way I think I like this design.
5.0
By Jonathan
USA
December 22, 2021
I enjoy the 45 cal for hunting in close terrain but would be interested in the .257 if it had a carbon fiber tank.
Pros
I bought the SS version to hunt invasive deer on private property. I use the 350 grain neilson hollow points in .45. All chest shots were through and through, all head shots were instant kills. These are axis deer around 75-120lbs. No animal made it further than 10 yards or 10 seconds before dropping dead. Very humane. All shots were under 75 yards and landed exactly where I aimed. I use a $130 vortex scope and was able to get this sighted in about 5 shots and it stays consistent and accurate for the first 3 shots, i refill air after 3rd shot, especially with heavier slugs. I Added a Donny fl emperor moderator and it takes some of the bark out but it's still sounds like a dull 22lr without the crack. Highly recommend for HUNTING. I added a picture to give you an idea of the size of deer and the gun with moderator and to show this is a legitimate hunting rifle (many people do not believe you can ethically hunt with an air rifle)
Cons
A small magazine would be nice but not necessary. I fumbled once reloading and missed an opportunity. With moderator, it is pretty long. Not sure if the extra suppression is worth the length. Watch some videos about filling the air tank for the first time. It's a little weird and can be scary when air is rushing out at 3000psi. Threading on the shroud is very thin, I think it may have oxidized a little and now I cannot remove the Donny fl adaptor.
5.0
By Eric
USA
July 11, 2021
Pros
Could you guys use mag that shoots 2 or 3 pellets in a row like umarex hammer?
Cons
When is big bore sidearm coming?Might b a huge seller.That's what a lot of air gunners want??
Always remember, if you remember nothing else i have told you. If you order a Texan 457 read all the cautions in the booklet. DO NOT DRY FIRE. Look at the red tag attached to the air tank it will save you a lot of grief.
Pros
Great gun, fun to shoot. I think the Texan 457 for me will be the go to gun for hunting. Not to heavy to carry and I have always stand hunted. I am 66 years old and retired. Hunted all my life from Virginia to Colorado and several places in between. Time for something new.
Cons
Nothing. Everybody complains about the noise but every high powered rifle in the world is loud for heavens sakes.
5.0
By Michael
February 22, 2021
Been taking out coyotes at 75yrd-120yrd. This is absolutely amazing, using either Mr. Hollowpoints 385gr., or NSA 388gr. Hollowpoints. Just absolutely dropping them, very very lethal. Just what I needed, can't wait for deer, elk, Javelina, an boar to be Harvested with this amazing hunting tool.
Pros
The POWER The FPE.
Cons
Huh? Ohhhhhhhh, absolutely nothing
5.0
By Raymond
USA
November 22, 2020
i have killed a nice 8 pointer at 65 yards with pass thru with NSA 388 g hp. the deer didnt even kick.it hit the ground on the spot. cant ask for any better
Pros
look i have the 45 cal the older 45 and my wife got me the 50 cal with the cf tank and tx 2 top hat .. im telling you this is the strongest airgun ever made .my son went and got the dragon clew and its a bb gun .no power at all.dont put your money out there for the dragon c .sure looks cool but no power.get the airforce tx and you have a gun that will kill anything you want to kill out past 100 yards. im teyou want the power to lling you dont put your money out there to buy the dragon c its like a BB gun .you want the power to kill wild game the tx is the gun for you.the 50 cal kicks like crazy i got scoped with it the day it came in so be sure to set scope away from your eye or get scoped .i love the tx air gun its the best of the best.dont waste your money on other airguns as they just dont all up
Cons
no cons just the best airguns ever made
5.0
By Raymond
USA
October 1, 2020
if your wanting to deer hunt with a AIR GUN then buy this 510 cal .. you will love it .. Thank YOU AIR GUN DEPOT. Yall Rock
Pros
i just got my 50 cal AirForce Texan. I tell you its crazy strong. Im 55 years old and only been scoped one time in my life till today . I got my 50 cal yesterday and couldnt shoot it as my pellets didnt get here till today. i have the older Texan 45 cal and it does not come close to the power this 510 has .. and by the way NSA pellets is the best way to go.. im using 388 gr hollow points that are touching at 65 yards. The Texan i great. if your looking for power then you need to get with Air Gun Depot and get the 510 cal. theres nothing as strong as the 510. If you go with the 510 cal you will have to buy 510 cal pellets . nothing else fits the gun.the gun is beautiful as always. The Texan is the only way to go.. if your looking for knock down power get the 510 cal .. The 45 _ 457 cal is good for hunting but the 510 is great.. you just have to believe me when i say great i mean GREAT.
Cons
the new finish on the gun is a matte finish . so just touching the gun looks like you scratched it.
5.0
By Clarence
USA
May 8, 2020
Pros
This rifle is a Monster!!!! With 3600 psi fill it's getting the same or better number with gun that fill to over 4000 psi!!!! I've been slaying hogs with this rifle!!!
Cons
None
Q&A
Question?
Login to ask someone who bought this product.
how many shots per fill?
asked John from USA
What's the bullet drop at 100 yards for the 50 cal 350-400 grain range? Can't seem to find any info about the BCs for any of the slugs other than 1 NSA
asked ryan from USA
can you use shot in this rifled barrel? Do they sell a .50 smooth bore replacement barrel? I want to shoot squirrels and deer
asked Bruce from USA
Short answer...No. Of course, if one could find a .510 cartridge capable of holding shot to load into this rifle, it seems plausible that it COULD be done. However, I certainly wouldn't do it, nor do I recommend doing it. Primarily because of the potential of damage being done to the rifling in the barrel. But also because AirForce doesn't specify the use of that type of load. I would highly recommend contacting AirForce directly, and inquiring about it, as well as the availability of a non rifled barrel for your purposes. I called them in regard to this rifle, and they are easy to get a hold of, friendly, and helped me with my own questions.
~MF from USA
Does the regular.45 Texan come with the new TX2 Val
asked Thomas from USA
Can you use pure lead head bullets, that are used for reloading instead of pellets? for this gun
asked David from USA
Why am I hearing a rattle in my carbon fiber air bottle?
asked Jessica from USA
What scope mounts are ideal for this rifle, Medium or High? I think the largest OL scope i have is either 55mm or 57mm. I can't remember.
asked Tony from USA
I need serious help. Why does my barrel leak all the air when I fill my carbon fiber tank on my texan 45. It does it with both new carbon fiber tanks
asked Matthew from USA
Pull the top hat towards u pull it till it stops not to hard though its Pretty easy
Armando from USA
I hunt antelope what range does this have?
asked Alan from USA
The range of a Texan for analope is as far as you can accurately hit the vitals. It has plenty of power to kill an antelope at 250 or 300 yds. I shot one myself with the 457 texan at 150 yd. Dropped him in his track.
James from USA
Can you add a sling to it ?
asked RAYMOND from USA
Does Airforce make a suppressor/moderator for this Beast.......?
asked Kenneth from USA
DonnyFL makes a couple that work great on the texan. The Emperor is my favorite. The Hushcan is great too.
James from USA
DonnyFL Ronin and the adapter 19.1mm and it makes VERY quiet and friendly to neighbors, the impact on AR500s is a different story.
Todd from USA
can air bolts be used in this ?
asked chris from USA
What size and kind of air adapter will fit my Air Force Texan 50.cal? To connect to my compressor air hose at my house?
asked Eric from USA
what size ammo are they using to get 1100 fps with the 50 cal ? i have the 45 cal but fixing to buy the 50 . cant seem to find ammo other them 388 gr hp.
asked Raymond from USA
i size a 517 down to a .510. it gives a person a lot of options from nice boooolit molds.
Todd from USA
can a person silence it?
asked Kelly from USA
Yes DonnyFL has everything you need!
Benjamin from USA
There are aftermarket moderator units available.
Mark from USA
I am looking to buy this for my husband. Would you buy this again? or choose a different option?
asked Tim from USA