Consider all the great things about the AirForce Texan: smooth side lever cocking, the world's most powerful production air rifle (500+ ft. lbs in .45 cal), surprisingly light, Lothar Walther barrel, and of course USA made (well? except the Lothar Walther barrel of course, which we?re okay with since they?re the best rifle barrels in the world!). Now add to that an exceptional Hawke scope that retails for $189.99 and rings, you save over $110 by getting this scope combo. Only available at Airgun Depot.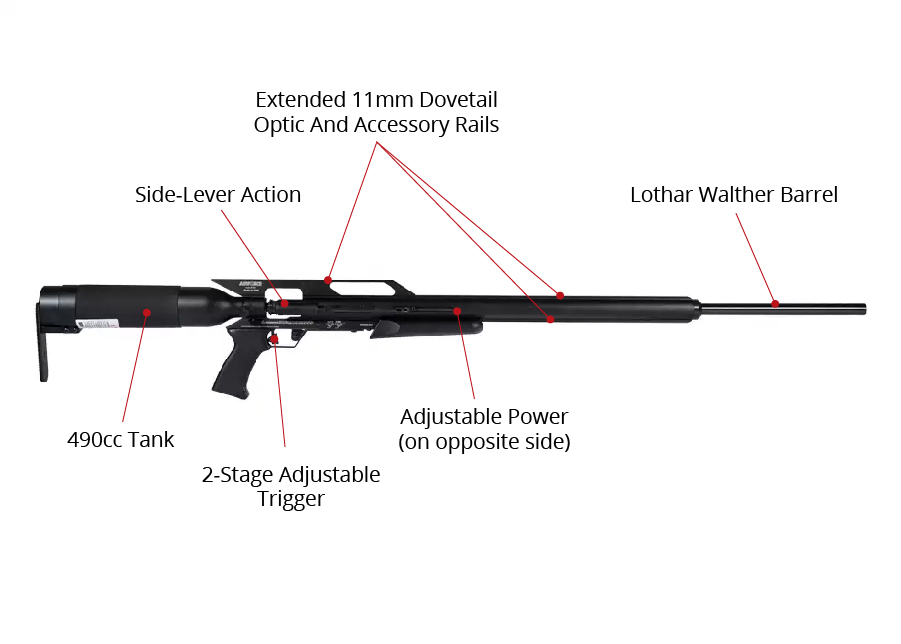 Airforce Texan Hawke Scope Combo Features
Precharged pneumatic
Single-shot
Sidelever
11mm dovetail
34" barrel
2-stage trigger (adj. for position only)
2.06-lb. trigger-pull
Automatic safety
Textured grip
490cc tank
Pressure-relief device
3000 psi (200 bar) max fill pressure
Adjustable power
Extended optics rail
7.65 lbs. (without scope & mount)
No baffles/is not silenced
13.875" to 15" length of pull
Buttplate can be rotated right and left for some cast-on and cast-off adjustability
Made in USA
Includes: Hawke VANTAGE IR 4-12x50 AO Scope w/ Mil Dot IR & 1" High Rings ($194.99 value)
Scope comes unmounted
AirForce Airguns recommends using only lead projectiles. Note that with .45 cal, select ammo sized to .457 for best results.
Specs
Manufacturer

AirForce

Caliber

.30

Velocity

1270 fps

Condition

New

Ammo Type

Pellets

Action

Sidelever

Barrel Style

Rifled

Fire Mode

Single-shot

Gun Weight

7.65

Overall Length

48.00

Barrel Length

34.00

Loudness

5-High

Magazine Capacity

1

Mechanism

Pre-charged pneumatic

Rail

11mm dovetail

Safety

Automatic

Front Sights

none

Rear Sights

none

Shots per Fill

12

Trigger Adjustability

Two-stage non-adjustable

Trigger Action

0

Use

Hunting

Warranty

Lifetime limited warranty
Reviews
Average Customer Review
4.8
5.0
18 Reviews
5.0
By Daniel
USA
December 9, 2021
Verified Purchase
If sound is an issue for you. I suggest the Texan SS or LSS. If not, this is a great rifle for the price. I pity the ground hog that shows its head in my field. Thanks Air Gun Depot.
Pros
Just received my new 30 cal rifle. Shoots great. I had to shim the rear scope mount. It was hitting about 18 inches low. Shimmed it up with a sliver of a plastic dollar store cutting board. It is now hitting on the paper at 100 yards. I will fine tune it at the range this week. Had the same issue and fix with the LSS 45 cal. However, with that simple fix the fine adjustment went well and it is dead on. I know this will shoot just as well.
Cons
Not a con. It is my fault. I had the 45 LSS. It has the suppressor. Silly me, I thought it was a gimmick. I found out the suppressor really does the job. This version is considerable louder.
5.0
By Derek
USA
January 18, 2019
Excellent rifle- great fit and finish, easy to set up and get shooting right out of the box! Only gripe is a bit heavy - but easily negated with the addition of sling studs and a sling. Would highly recommend!
Pros
Excellent air rifle for the money. Fully capable of taking almost any game animal on the continent out of the box
5.0
By Alma Petersen
USA
May 2, 2018
Excellent gun I go shooting ever chance I get
Cons
Extremely expensive to get a good setup
5.0
By Armando
USA
January 10, 2018
The Airforce Texan is a wonderful gun I enjoy every bit of it when I shoot it so much fun plan On hunting deer And the gun has so much power witch I really enjoy ☺️
5.0
By Donnie
USA
December 24, 2017
I've watched people use this gun on youtube and the gun sounds and looks great and compacted. I can't wait to use it once i get a job.
5.0
By Mark
USA
December 21, 2017
100 yds no problem 3/4"Group
Pros
Light weight
5.0
By Frank
USA
October 30, 2017
I love it! VERY smooth action, VERY powerful, VERY well made A++++++
Pros
Well made, good price
Cons
NONE
5.0
By Reno O.
October 6, 2017
5.0
By Mike
USA
July 8, 2017
I got this gun just for deer hunting. I took my First deer ever with an AIR GUN this pass season. 51 yards ,dropped a doe like a wet rag. One shot and one KILL!!
Pros
All of the gune is GREAT
Cons
NONE !!!
5.0
By James
USA
June 27, 2017
Great shooter, accurate and great power. Was easy to set up and have been target shooting trying to lock in the scope. Having fun.
Pros
It is everything that I expected and much more. Power, great design and well made.
Cons
Non so far.
Q&A
Question?
Login to ask someone who bought this product.
Can the tank that comes with the gun be filled by an air venturi tank
asked Randy from USA
Can I change from .45 to .357 pellet on the same rifle? What adapter do I need
asked Andrew from USA
doe the Barrel lead-up after shooting multiple shots and if so what would be the remedy
asked Edwin from USA
How many shots per tank do you get with 45 cal
asked Rick from USA
Max Shots per Fill 12
Mark from USA