Airgun Depot has an exclusive combo we call the Benjamin Armada Long Range Combo. If you like the thrill and skills needed for shooting 50 yards plus, a stock scope just won't do. This combo comes with the formidable Hawke Airmax 30 6-24x50 SF riflescope. In our opinion it's everything that's great about the well known and documented Hawke Sidewinders, but includes an illuminated AMX reticle that is perfect for long range shooting.
The AMX offers multiple aim points (useful for loopy trajectories), half mil dot spacing on the lower posts (increased aim points for longer shots) and windage bars. Slap on the included large side wheel, grab some white tape if you want to make your own distance marks, and you'll be set for hours of long range shooting. And with the included Shooters Ridge Monkey Bag Gun Rest, you won't have to use tins of pellets to prop up the stock of your gun anymore... or are we the only ones who do that?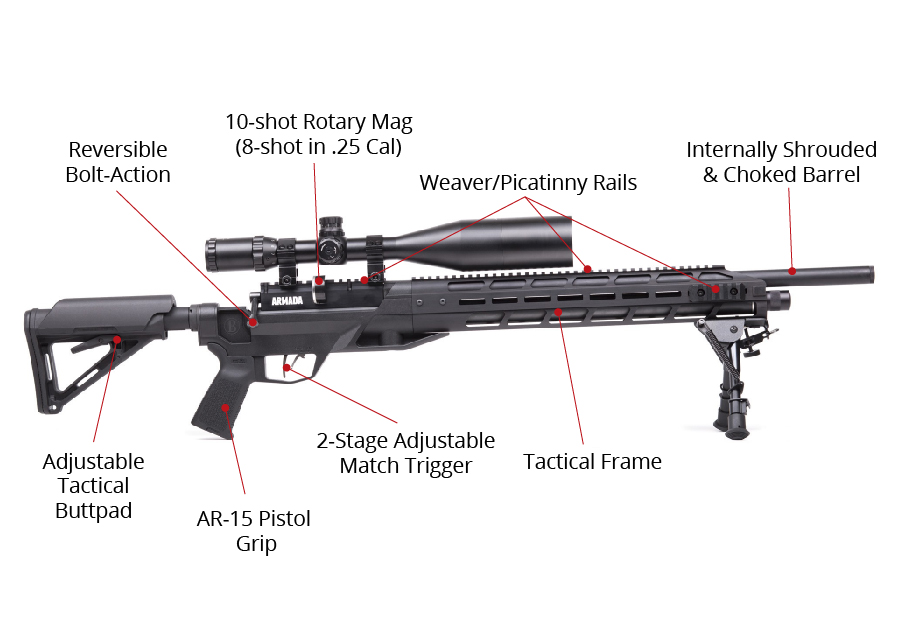 Benjamin Armada Long Range Combo
Includes Hawke Airmax SF IR 6-24x50 AO Scope & Shooting Bag ($100 savings!)
Precharged pneumatic
10-shot repeater with auto-indexing feature (8 shots in .25)
Bolt-action
AR-compatible airgun
Uses compressed air: 2-000 to 3-000 psi (make adjustments as shown in the owner's manual)
Can be adjusted for different velocities
Internal shroud makes this a VERY quiet gun
Choked barrel delivers superior accuracy
Magpul M-LOK slotted all-metal handguard with 15" of Picatinny rail space
Machined receiver with 5" of Picatinny rail space
AR-15 pistol grip and telescopic buttstock
Sling-ready
30+ shots per fill (in .22 caliber)
7.30 lbs. (10.90 lbs. with scope and bipod)
Air reservoir ends with a male quick-disconnect Foster fitting for fast refills (requires a female Foster quick-disconnect adapter to fill from a scuba tank or hand pump)
Includes bipod (adjustable from 6" to 9"), Hawke 6-24x50 AO scope with 4" sunshade and rings, Shooters Ridge Monkey Bag
As of April 2- 2015- Crosman no longer includes a degasser; however some guns may still have them in the box. An optional degasser is available: PY-A-3959.
Scope specs
6-24x magnification
50mm objective lens
30mm mono-tube chassis
AMX mil-dot reticle (red illumination)
17.28 ft to 4.45 ft field of view at 100 yards
Specs
Manufacturer

Benjamin

Caliber

.25

Velocity

1000 fps

Condition

New

Ammo Type

Pellets

Action

0

Barrel Style

Rifled

Fire Mode

0

Gun Weight

14.00

Overall Length

0.00

Barrel Length

0.00

Loudness

1-Low

Magazine Capacity

0

Mechanism

0

Rail

Yes

Safety

0

Front Sights

none

Rear Sights

none

Shots per Fill

30

Trigger Adjustability

0

Trigger Action

0

Use

0

Warranty

1-year limited warranty
Reviews
Average Customer Review
5.0
5.0
1 Review
5.0
By Jesse
USA
June 24, 2017
I purchased this rifle after several months of reading every review I could get my hands on. So far I am extremely happy with the performance of the rifle. Right now I am still having to fill it with a hand pump so I am not getting all of the shooting that I would like, but I already know that the gun is more accurate than I am. I have already been able to get under 1/2" groups at 35 yards. I am definitely looking forward to getting the compressor that I have on order so I can get more time behind the scope. We don't have any local fill station options and I don't know of anyone else currently shooting a PCP. I am starting to make an impact on the pigeon population in my area.
Pros
Accuracy, terminal impact, price, and value
Cons
A little heavy for packing around, bit of an air-hog at top velocity settings
Q&A
Question?
Login to ask someone who bought this product.