There's a reason the Benjamin Marauder has been our No. 1 seller several years straight: You point, it hits! Our special combo includes a good-quality CenterPoint 4-16x40 AO hunting scope, rings and Benjamin sling. Because your Mrod air rifle will be your go-to gun for just about any type of shooting discipline, you'll be handling it a lot. The wide, padded sling makes it easier to shoot and carry the gun for hours. The adjustable comb brings your eye to the right level for your optics. If you're sharing your gun with another shooter, each person has the right alignment since the comb is easy to adjust up and down. The most exciting part about the Marauder is the price. If you haven't done any price comparisons with other PCP repeaters, you should. The others will leave you with 2 things: Sticker shock and less accuracy. So, get the Mrod and know that you've gotten one of the most accurate PCP repeaters made today.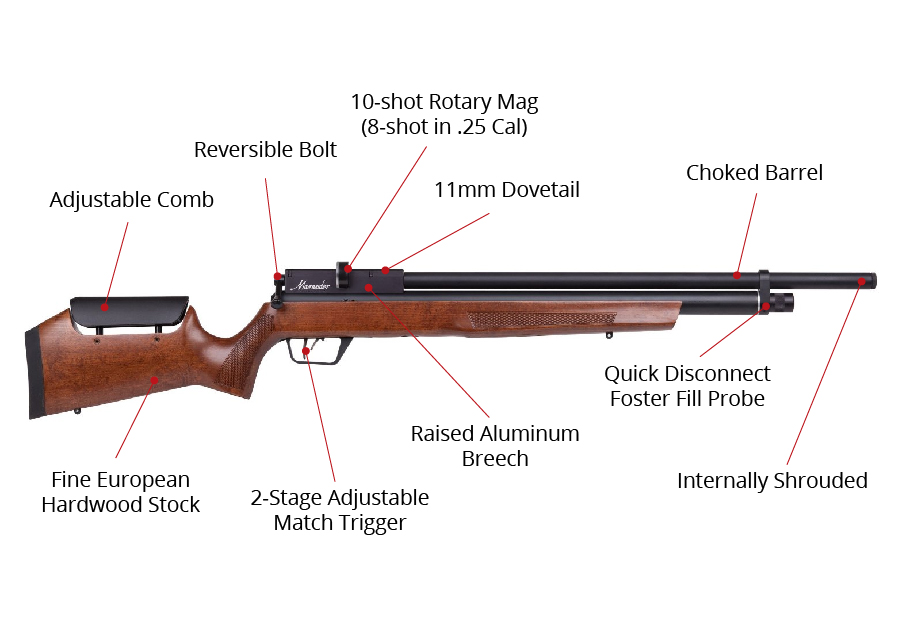 Benjamin Marauder Premium Combo Features
Comes with Benjamin sling and Centerpoint 4-16x40 AO scope ready for installation
10-shot repeater with auto-indexing feature (.25 cal is an 8-shot repeater)
Uses compressed air: 2,000 to 3,000 psi (make adjustments as shown in the owner's manual)
Can be adjusted for different velocities
Internal shroud makes this a VERY quiet gun
Choked Lothar Walther barrel delivers superior accuracy
2-stage adjustable match trigger...and the trigger is metal!
Raised aluminum breech for easier loading of circular magazine
Turkish walnut stock with adjustable comb and checkered grip & forearm
Reversible bolt -- switch from right to left side
Built-in air pressure gauge (manometer)
215cc air reservoir
42.8" long*
8.2 lbs. - gun only weight*
Air reservoir ends with a male quick-disconnect Foster fitting for fast refills (requires a female Foster quick-disconnect adapter to fill from a scuba tank or hand pump)
Includes one magazine and sling swivel studs
Upgrades from the original version of the gun: Factory-installed depinger changes the sharp "ping" to a dull thud. Improved valve (increases the number of shots: .177/.22=32 shots, .25=16 shots). Trigger moved back for better hand position. Optional reversible bolt for left- or right-handed shooters. Simplified breech design for assembly, service and to provide a more stable platform for larger scopes.
As the caliber increases, the gun becomes somewhat louder.
Testing has shown that filling your Marauder air rifle to no more than 2,600 psi (179 bar) may deliver the greatest accuracy. We recommend trying different fill levels between 2000 and 3000 psi to determine the optimum fill level for your own rifle. Each gun is different. A chronograph is the best way to determine optimum fill levels for precharged pneumatics (PCPs). The owner's manual does not show the correct weight and length for this rifle. The owner's manual states this about fill pressures: "The Marauder has been factory set to an efficient fill pressure that will suit most hunting and target uses."
Specs
Manufacturer

Benjamin

Caliber

.177

Velocity

1100 fps

Condition

New

Ammo Type

Pellets

Action

Bolt-action

Barrel Style

Rifled

Fire Mode

Repeater

Gun Weight

8.20

Overall Length

42.80

Barrel Length

20.00

Loudness

2-Low-Medium

Magazine Capacity

10

Mechanism

Pre-charged pneumatic

Rail

11mm dovetail

Safety

Manual

Front Sights

none

Rear Sights

none

Shots per Fill

32

Trigger Adjustability

0

Trigger Action

0

Use

Small game hunting/plinking

Warranty

5-year limited warranty
Reviews
Average Customer Review
4.7
4.5
36 Reviews
5.0
By Juan
March 17, 2023
Verified Purchase
Nice store with good support.
Pros
Excellent quality product, you take care about the packing also.
Cons
Maybe could be add instructions to install the telescopic sight.
1.0
By Lowell
USA
January 19, 2023
Verified Purchase
6. After further examination of the barrel the barrel was loose it took three full turns to tighten the barrel up, however this did not correct the barrel sag. I took the barrel band off and I put a nickel sized rubber O-ring of thin diameter on the barrel and then I put the barrel band back on so that the O-ring was inside the barrel band. This corrected the barrel sag which centered the barrel in the barrel band. This corrected the problem with the scope elevation adjustment. I re-zeroed the scope and was able to get the scope cap on. 7. After thirty shots the rear trigger guard screw fell out. I removed the the stock from the gun and found the side of the wooden screw hole had been broken out and some sticky substance had been used to try a to hold the screw and rear trigger guard in place. If they would have used a threaded insert for for wood this would not happen, furthermore you would be able to use a standard screw to screw into the insert. Very disappointed with my purchase.
Pros
AirGun Depot did an excellent job on handling my purchase and shipping was very Quick. And the Quality issues below have nothing to do AirGun Depot but maybe AirGun Depot might want to start inspecting the the products they are purchasing for resale to insure that you are selling a quality product. Extremely poor Quality Control from Crossman. It appears that Crossman does not have any Quality Control in place. 7 Quality defects straight out of the box.
Cons
1.Stock sling stud had a black rubbery substance clogging the hole up. I was unable to get the sling swivel inserted until I cleaned it out of the hole. 2. (Adjustable Cheek Piece ) Same black rubbery substance was in one of the allen screw holes and the allen head was full of it. I had to clean it out to be able to insert the allen wrench to adjust the cheek rest. 3. The stock does not have a have a relief groove cut into the stock to be able to insert a degassing rod to let pressure out of the gas cylinder. 4. The stock does not have a relief groove cut in the side of the stock to be able to adjust the air pressure. You have to remove the gun from the stock to adjust the air pressure and reassemble it before checking the velocity and accuracy. 5. The barrel was sagging down and touching the bottom of the barrel band. By the time I zeroed the scope in I could not get the scope cap back on. The accuracy was poor.
5.0
By Robert
USA
July 30, 2022
Verified Purchase
Received the gun pre charged and ready to shoot, except for mounting the scope. I was happily surprised with the high quality scope, and easley mounted the scope. I had it sighted in within 30 shots. So nice and enjoyable to plink without having to adjust your position with a break barrel gun. I'm glad I invested in a compressor as It's so fun and quick to shoot, you'll be charging it often. Last invest in extra magazine's as you'll not want to stop shooting to reload after only 10 shots. After the first day I ordered 3 more magazines.
Pros
High quality gun at a remarkably great price.
Cons
Front barrel mount has a 16th inch gap all the way around, causing a slight uneven pattern. I wrapped some tape around the inside of the mount, and reinstalled the mount. This tightened up the pattern. Also a cheep finish on the gun stock, so I sanded off the old finish, stained and applied 3 coats of lacquer. Wow the gun looks awesome now.
5.0
By Earl
USA
December 27, 2021
Verified Purchase
If you're interested in shooting on the cheap this is the best deal for you. So many different rounds to play around with problem right now is finding them a bit of a challenge, but compared to powder and lead,primers $29.00 for 500 pellets is still a great way to enjoy your time behind a scope. Spend the money invest in a compressor, play with different pellets and fine the one your gun likes and you can stack shots on top of each other.
Pros
So happy with my .177 that I ordered.22 Both are fine shooters out of the box.
Cons
Instructions are lacking glad there is plenty of u tube videos on how to load and tune the gun. My first pcp so it's a little more complicated than expected.
5.0
By Steve
April 13, 2019
This is a very accurate air gun it will stack pellet on top of pellet straight out of the box. Will drop rabbits and squirrels with easy very happy with my purchase. Shoots diabolo heavy 25.39 pellet well
Pros
Great for plinking cans or taking small game though I doubt it won't take larger with a well placed shot will go thru 3/4 plywood
Cons
None
5.0
By jbgoodstok
USA
October 4, 2018
Excellent - easy to understand and operate - lots of power for a 22 - multiple pellet selections which makes it very versatile. I like all the support videos available too - I need that.
Pros
Powerful and versatile - accuracy is superb - feels good in my hands - comes up nicely to aim point and trigger is excellent right out of the box(got lucky here)- 6x24 mildot a great match on here is perfect.
Cons
Wish they would send a degassing too with it - and the new depinger is good for noise reduction but sounds like a bell - 2" piece of vinyl tube takes that out.
5.0
By Stephen
August 25, 2018
Got it in .25 call , all I can say is it is a very accurate rifle shooting jsb heavys out of it and have dime groups at 50 yards , got the combo with the scope could not be more pleased with it and air gun Depot
I'm very impressed so far. After mounting the scope, I sighted in inside my 4 car garage. The loudest sound was the pellet hitting the 2x8 behind the target. After about 30 shots, it was roughly sighted in and needed a longer range for fine tuning, but before I could do that, a few pesky ground squirrels wandered into my pasture. Three shots, three dead squirrels at about 35 yards. Batting 1000 so far. Now, the loudest thing was the hammer strike. Just a little metallic click -- unbelievable! The scope is also great. It is a variable 4x16 with an adjustable objective and lighted crosshairs in red or green with adjustable intensity. Fantastic combination. I also love the 10 shot magazine for follow-up shots (none necessary so far). I bought a large air tank with the rifle and filled it at the local dive shop, clearly the way to go if you can afford it. I had to call in for help about the operation because I didn't realize that the substantial hammer spring cocking occurs while pulling back on the bolt. The telephone help was also very satisfactory.
Pros
Really accurate, Unbelievably quiet.
Cons
If you need to carry it hunting, it's a little heavy but it does come with a nice sling.
5.0
By Scott W.
USA
June 18, 2018
Cannot tell you how happy I am with this purchase, like others before me have said, you cannot go wrong with this rifle. Mounted the scope and had it zeroed within 10 pellets. JSB Diablo Exacts. Super quiet and easy to pump up, as far as I was concerned anyway. I purchased a MK4 Hill Pump and had no trouble at all. The gun came with around 900 PSI in it and ten minutes later of easy pumping I was up to 3,000.
Pros
Everything as far as I am concerned
Cons
None
Just got this PCP and a hand pump. It does take a bit of a workout to get it to 3k psi, however, once you're there, it doesn't take too much to keep it between 2k - 3k psi. Only had the chance to roughly sight it in, however, it is EXACTLY what I was looking for in a backyard air rifle - super accurate, super powerful, and super quiet - I'm amazed at just how quiet this gun is! It's pretty heavy, but I wouldn't trade it for anything else I've tried - worth every penny.
Q&A
Question?
Login to ask someone who bought this product.
can air leaks be fixed by me, or do I send the rifle to be fixed>?
asked Glenn from USA
Can this kill a Deer with a well placed head shot or a well placed neck shot
asked Charles from USA
considerando que vivo en Argentina, es posible que vendan algun kit de orings y alguna valvula que despues de cierto uso, sufren desgaste y es conveniente o ideal, reemplazar los provistos de fabrica, para tener siempre el rifle por largos años con un rendimiento optimo, si pueden responder a mi mail es mejor [email protected] gracias
asked Carlos from Argentina
Can I use my bicycle pump to fill the air tank?
asked Christopher from USA
Is this gun regulated?
asked David from USA
No . The Marauder FT is the only regulated model. AGD-43168337
Mark from USA
What happens when your scope breaks when your hunting? Would it be nice to have open sites?
asked Edward Choszczyk
where do you by the ammo?
asked tom Murphy
DOES THE AIR PUMP COME WITH IT
asked ALLAN DAILEY
I would like to know if i can use CO2, instead of compressed in the tank?
asked Nini
Iam from philippines, can you manage to ship the item to my country if i purchased one benjamin murauder.
asked Enrico
What is the most accurate pellet used for a 17 caliber and the 22 caliber?
asked Ed
Can a regular air compressor be used to fill the air chamber on this and other air rifles.
asked Dennis M. Burke from USA
If you buy say the .177cal rifle , can you buy the 22cal, and the 25cal, Barrels so when you want to compete in the lower cal. You didn't have to buy another rifle , cost a factor.
asked Robert Allison
CAN I REVERSE THE BOLT TO LH MYSELF OR MUST IT BE RETURNED ??? (ON MARAUDER WOOD)
asked WILLIAM from USA
can you fill this with a regular air compressor like a car tire ?
asked billy
Can you add a regulator to this rifle?
asked Daniel
hi do we need firearm license for pcp air rifles??
asked taimoor
can I get one of theses .177cal in a smooth bore
asked Russel Adharsingh
Hi, I'd like to know if they ship to Argentina, as well as the cost of them. He was interested in this combo of Benjamin Marauder and also of a Benjamin Inflator for PCP. Thank you so much Walter
asked Walter Miro
Hello I would be interested in the acquisition of this Rifle Benjamin Marauder with the combo, as well as also to buy the pump for inflation, I would like to know if they make shipments to Argentina, and cost of them. From already thank you very much.
asked Walter Miro
Can this be used to take out grey fox & racoon at 25 yards in .22 ?
asked Mark Fussell
Can I buy this gun from India? What is the cost ?
asked Shaik
What would be the best tank to air up this gun, or is there something better to use? Thanks
asked danny from USA
Is the scope mil-dot?
asked Wyatt
is the scope mil-dot and is it suitable for marauder .25 recoil
Scott Alexander
what is the fps for the 0.177 model
asked Kevin from USA
Look at the "Specs" ,Top of page, it's listed, your result may vary by pellet used and pressure in chamber.
Robert
Its power is adjustable, plus pellet weight changes velocity too so there's no real set #. I'd probably use 10gr or heavier pellets and dial it in to 900 to 1000fps for best accuracy, but being adjustable you can set it however you like. I think the .22 is better overall, but up to you and your needs.
Todd
The FPS is 1100
Verdell from USA
what's the fps for the .177 cal.
asked Kevin from USA
does this come with something to put air into it or do u hav to buy it separately
asked noah
You have to buy a hand pump or an air tank. Benjamin accessories have the correct fittings for the Marauder.
Carlton from USA
hello: The scuba tank is the way to go on filling the Marauder.
jake spencer
You will have to buy it seperately. Nothing comes with the gun for that.
Verdell from USA
Does this combo come with a hand pump ?
asked Chris
This package is just the rifle and the scope. Pump is sold separately
Scott from USA
Can this gun be left aired up? For ready use whenever you need it. Thanks Brian
asked Brian
Yes it can.
James from USA
Absolutely. In fact, it is recommended that PCP rifles be stored under pressure to ensure the valve remains closed and no contaminates find their way inside the reservoir.
Richard