This is our no frills pump combo to give you the lowest price possible to get into a PCP with a hand pump to fill it with. You can decide from here if you want to add scopes, slings, bipods, etc and add them as needed. The Maximus is a single bolt action, pre-charged pneumatic (or PCP). Following the path of other successful PCP rifles from Benjamin like the Discovery and Marauder, the Maximus is a fantastic low cost way to discover why everyone loves shooting PCP air guns!
Easily filled with the included Benjamin Hand Pump, the Maximus will fill to 2000 psi and produce 30 full charge shots before needing to be refilled (20 full power shots in .22 caliber). The Benjamin Maximus comes with fixed iron sights as well as standard dovetail groves so you can add a scope.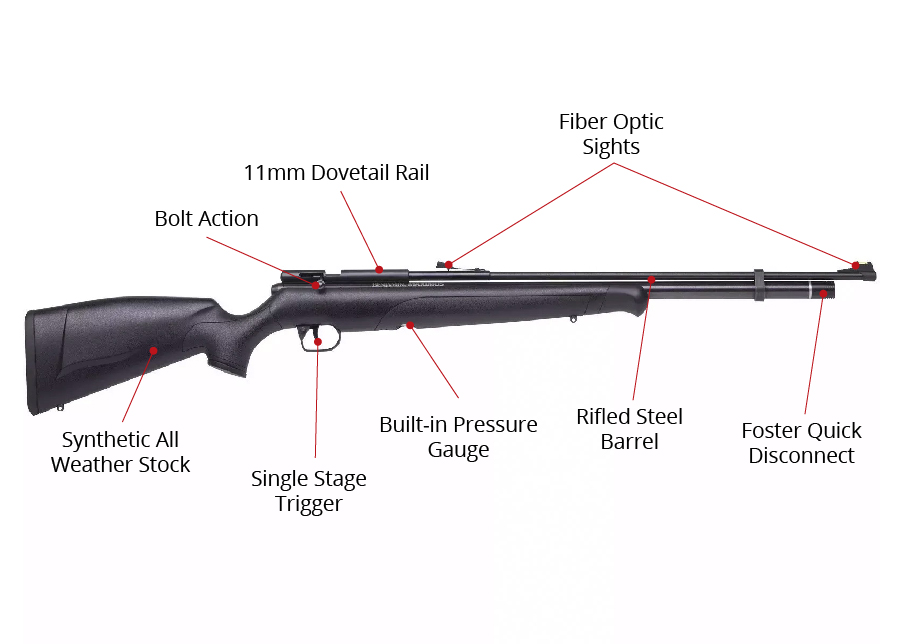 Benjamin Maximus Pump Combo Features
Precharged-pneumatic
2,000 psi
Up to 30 shots per fill (.177 caliber)- 20 shots (.22 caliber)
Single-shot
Bolt action
Rifled steel barrel
Single-stage trigger
Dovetail mounting rail
Black synthetic all-weather ambidextrous stock
Built-in pressure gauge
Metal breech
Single-stage trigger
Fiber optic rear sight
Fiber optic front sight
Includes Benajmin High Pressure Hand Pump ($180 Value)
Specs
Manufacturer

Benjamin

Caliber

.22

Velocity

800 fps

Condition

New

Ammo Type

Pellets

Action

Bolt-action

Barrel Style

Rifled

Fire Mode

Single-shot

Gun Weight

5.00

Overall Length

41.70

Barrel Length

26.25

Loudness

4-Medium-High

Magazine Capacity

1

Mechanism

Pre-charged pneumatic

Rail

11mm dovetail

Safety

Manual

Front Sights

Fiber Optic

Rear Sights

Fiber Optic

Shots per Fill

30

Trigger Adjustability

0

Trigger Action

0

Use

Small game hunting/plinking

Warranty

1-year limited warranty
Reviews
Average Customer Review
4.7
4.5
6 Reviews
5.0
By Matthew
June 16, 2021
Pros
"Benjamin maximus pump combo" what kinda Freaky a s s gun is this LMAOOO
Great value for the money...bought the gun/pump combo..very happy with the purchase and customer service..will be sure to purchase more in the future.
Pros
Accurate,affordable,light,easy to understand instructions for both the gun,and pump.
Cons
None
5.0
By Bryan
November 29, 2017
I am 60 years old. And have owned a lot of air guns. At my age I need a scope so I put a airforce 4x32 on it. I sighted it in at full power so when it gets down to the first line that is in the green I refill it. I am lucky and get to shoot it out my backdoor and have 100 yards out to the back of my pond. Very true shooting air rifle. Once you learn how far it drops at 50 yards and at 100 yards you will be very deadly with this pellet gun. I have done a few 100 yard shots with it.
Pros
easy to pump up. I am 60 years old. at the first line it takes about 25 pumps to re fill it. No problem.
Cons
My brothers wont bet against me anymore. I have won to many steak dinners.
4.0
By pablo
USA
October 9, 2017
I love the price point to enter the pcp world. Great accurate rifle. I have hunted pest birds all the way to raccons no problem.
Pros
Affordable, accurate, light and powerfull.
Cons
The trigger is heavy out of the box. Bolt might need to be replaced in the future, some times it feels like its going to break off.
4.0
By stephen
USA
August 19, 2017
this gun arrived on time, and has been in use ever since. absolutely problem free. have shot more than 3,000 pellets through it without a hitch. It has also proven that it can take punishment, it accidently got slammed to the ground when I tripped. it hit hard enough to put a dent in the scope housing without breaking the scope. thank you for a well built rifle.
Pros
shoots straight. I make at most 1/4 ctc at 40 yds. except when operator error gets involved. at sixty, I sometimes don't hold it steady.. excellent price for a single shot pcp. I have made head shots on squirrels out to 60 yds with no problem. had no problem mounting a utg 3x9 x40 TF2+ full tactical scope on it. try doing a head shot on a baby squirrel at 60 yds, no problem with this rifle.
Cons
the thing is I wish it had a magazine, 10 rds would almost make it perfect. but as humans, we could find fault with almost everything.
5.0
By Spencer
USA
November 21, 2016
This was my first pcp and it is very accurate i have already bagged quite a few squirrels this season so far the pump is easy to fill the gun to 2000psi i would most definitely purchase this gun again.
Pros
Accurate , light weight, easy to fill with hand pump, fairly cheap price
Cons
So far only thing i dislike is the metal parts of the gun seem not to be blued or painted. But i plan on doing my own camo to the rifle
Q&A
Question?
Login to ask someone who bought this product.
ive always preferred a front sight hood on all my air rifles, from the Daisy Buck to all 5 Benjamin models i own (314, 347, 397, 392 and now the Maximus (tho its on backorder at the moment). im just curious, is there any after market front sight hoods available somewhere that fits this particular model? otherwise, ive just used a tiny bit of solder to a piece of brass pipe i custom fit to the front sight. thankful its brass. its a very forgiving metal.
asked George from USA
We have not seen any upgrades for the Maximus. You would have to custom make it.
Mark from USA
How Difficult Or Pump Strokes on Ea. Refill
asked Don J
Does it come with the necessary fittings needed to fill the valve like connecter that goes to gun and quick disconnect to thread for the connecter?
asked Tommy from USA
What type of bipod will fit this well? Should I add a rail?
asked Trim Tab
Dear sir, This Benjamin maximus rifle is my dream air rifle but I don't know whether this rifle can be ship to India or not.
asked Majum from USA