The Benjamin Pioneer Airbow brings something to the table that few others have ever done before. The Pioneer fires full-length arrows with full weight broadheads, all driven by air. Closely modeled on Benjamin's proven PCP air rifle design the Pioneer can fire arrow up to 450 feet per second, and get up to 8 shoots on a single charge . The Pioneer Airbow brings the excitement of archery to a whole new level and opens up hunting possibilities that previously have not been available to airgunners. It features an all-weather, synthetic black stock with a full Picatinny mounting rail for adding your favorite accessories. It comes ready to go with three 375 grain carbon fiber arrows featuring nano ceramic Victory ICE coating for increased speed, penetration and easy retrieval, plus field tips. The optics package includes a CenterPoint 6x40mm scope with an MTAG reticle that offers aiming points to 75 yards. A canted Picatinny base provides an additional 20 MOA of adjustment, and the package rounds out with a custom sling and quick-detach quiver. A Realtree AP? camo decal kit is also included so you can decorate the Airbow.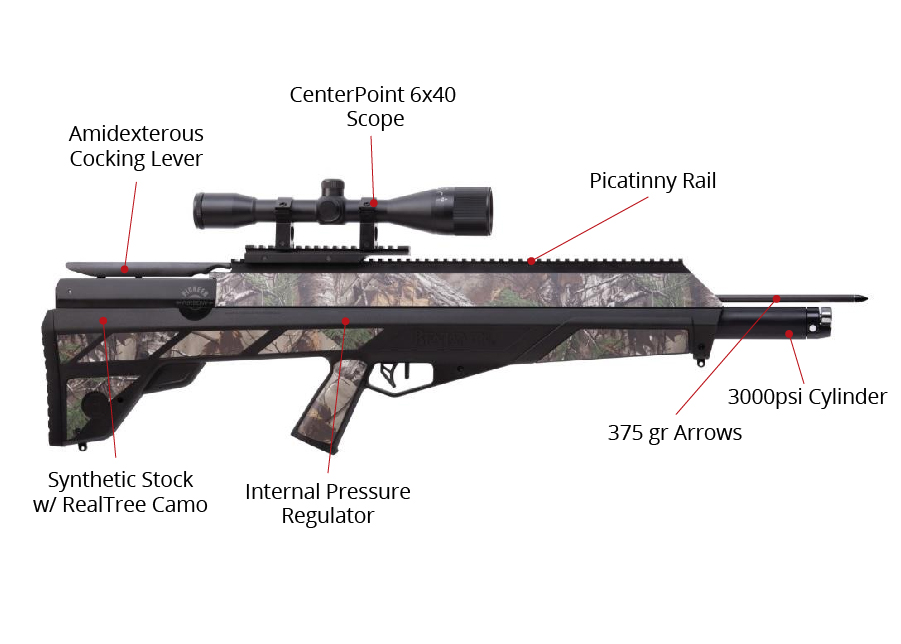 Benjamin Pioneer Airbow Features
Precharged pneumatic airbow powered by 3000 psi of compressed air
Integrated pressure regulator delivers 8 consistent full power shots at 450fps
Ambidextrous top cocking bolt
2 pound cocking force with trigger lever
Free floating barrel with patent-pending stabilizing system ensures precision accuracy
Synthetic black stock
Picatinny rail system, canted, with additional 20 MOA
Bullpup configuration, short 33.5" overall length
Includes
375 grain custom full-sized carbon fiber arrows with field tips, 3 arrows
6x40mm CenterPoint scope with MTAG reticle
20 MOA base
Custom sling
Gun-mounted, quick-detach quiver system
Realtree AP? camo decal kit
Scope Features
6X magnification
40mm objective lens
1" tube, one-piece aluminum construction
2.83" eye relief
Field of view 16.8 ft at 100 yards
Fingertip turret adjustable
Length 13"
Weight .97 lb.
Specs
Manufacturer

Benjamin

Velocity

450 fps

Condition

Refurbished

Ammo Type

Pellets

Action

Sidelever

Barrel Style

0

Fire Mode

Single-shot

Gun Weight

7.00

Overall Length

33.50

Barrel Length

0.00

Loudness

1-Low

Magazine Capacity

1

Mechanism

Pre-charged pneumatic

Rail

Weaver/Picatinny

Safety

Manual

Front Sights

none

Rear Sights

none

Shots per Fill

8

Trigger Adjustability

0

Trigger Action

0

Use

Hunting

Warranty

5-year limited warranty
Reviews
Average Customer Review
5.0
5.0
4 Reviews
5.0
By Michael
USA
November 24, 2017
Very happy with this purchase. More power and better accuracy than I expected. Having a ball shooting with the neighbors.
Pros
Very accurate.
Cons
Heavy. Hard for a 75 year old to carry around.
5.0
By Anthony
USA
December 9, 2016
Be ready to smile, because shooting this thing makes you smile, remember that feeling of your first BB gun you had as a kid? Well this is like getting that all over again and more , very powerful and accurate at 30 yards I haven't shot it pass that yet but I don't see it being a problem out to 50, Truthfully weather your going to just shoot at targets or hunt with it, 30 yards is plenty,just be sure to check your local laws first and again I stress very powerful, when shooting be sure to have a good back stop, at 30 yards with field points it was going through my pillow target and up to the end in a 3 ft block of dense styrofoam,I would also recommend a little gasoline on the first 3-4 inches or the arrow to make removal easier.
Pros
Fun to shoot, accurate,powerful , did I mention fun to shoot ? Also they don't ask it here but I have to say the person I spoke with on the was very helpful not only with this purchase but anything else I have gotten from them, his name is Gregory at EX 252 Tell him Tony from NEW YORK says hello.
Cons
I could say, price or should come with another barrel to shoot pellets. then the price would be higher lol, but as it is so far no complaints
5.0
By craig
USA
July 17, 2016
Well to start with the bull pup design has a perfect balance when shouldered. The trigger is clean and crisp with no creep. The power is jaw dropping. I have a archery target 12" thick stuffed full of rags with a 3/8" plywood backing. I shoot my Mathews Halon compound at around 310 ft per sec and have never shot through the rags. This thing at 20 yards shot completely through rags and plywood. Until I get a different target I have to limit my shots to 45 yards just too keep from messing up my arrows. The 6x40 CP scope works very well. I purchased this Pioneer for my Wife to hunt with this fall. This is an amazing hunting tool well worth the money. I would recommend this product to anyone wanting something for your wife and supervised youngsters to be able to handle with ease tn the deer woods.
Pros
Ease of use accurate out to 60+ yards. Great Value and extremely hard hitting.
Cons
None
5.0
By Ben
USA
June 13, 2016
I have shot many different types of weapons including serious xbows. This gun will be a real treat for those who want the potential killing power of an arrow and the ease of shooting a rifle-like air gun. Very stable platform and easy to prepare each shot with more than enough deliverable energy to take any big game animal (where legal). About the same accuracy as a good crossbow but much easier to close the weapon down. Only limitations that I see so far is that there should be other alternatives to shaft weight than the standard shaft being offered by Benjamin. There might be situations where a 20 yd shot from a treestand/blind would require a heavier shaft (i.e. bear, elk to name a couple). A nice weapon.
Q&A
Question?
Login to ask someone who bought this product.
The stats say pellets, and it says it's a cross over, but there's no info about pellet caliber ... Is this an airbow only, or can it be used for pellets as well? And if so, what caliber?
asked John from USA
The Pioneer only shoots arrows. There is no rifled barrel.
Mark from USA