.25 caliber
27.8 grains
Domed
200 pellets

Specs
Manufacturer

Benjamin

Caliber

.25

Ammo Type

Pellets

Ammo Weight

27.8 grains

Pellet Shape

Domed/Round nose

Pellet Quantity

200 ct
Reviews
Average Customer Review
4.4
4.5
27 Reviews
5.0
By jim
USA
June 10, 2023
Pros
Accurate in my Gauntlet 2. Very few damaged pellets per tin. Inexpensive.
Cons
Sell them in 500 rnd tins
5.0
By Tim
March 4, 2023
Verified Purchase
The photo represents the accuracy of this pellet. 18 rounds at 30 yards with 2 scope adjustments out of my Benjamin armada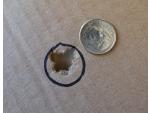 Pros
My order arrived quickly. And as expected from airgun depot, packaged well. These pellets work the best in my armada. After trying many different brands, these are my go to pellets.
Cons
Would not change a thing
4.0
By Patrick
February 9, 2022
Verified Purchase
Great pellets
Pros
These shoot 3/4 inch groups at 50 yards with my Gauntlet 2 and hit like a tank
Cons
Wish they came 350 or 500 rounds tins
5.0
By Karl
USA
January 26, 2020
Work fantastic in my Armada. One hole 10 shot groups at 30 yards all day. Good knock down power on tree rats (squirrels) as well.
1.0
By Mark
USA
February 1, 2019
This pellet did not shoot well out of my Hatsan AT44-10 in .25cal.
5.0
By Mike
USA
December 18, 2018
I shoot these in most of my .25 cal. rifles and have had great luck with them ! They shoot true and great !
Cons
Just wish there were more than 200 to a tin !!
These pellets work wonderfully out of my Bataan edge vortex rifle. They are hard hitting and deliver. The only thing is the quality control, in every tin there are a few pellets with lead shavings in the skirt and they don�t fly like the others.
Pros
Hard hitting
Cons
Quality control
5.0
By Gerry
USA
January 19, 2018
Bought these last year for my .25 BT65. They were OK but not nearly as accurate as H&N Hunter Extreme or Barracudas. Almost forgot I had them. Just tried them in my Royale 500 & it loves them. Almost as pinpoint accurate as JSB 25.39 Kings in this gun. Always amazes me how pellet sensitive airguns are. When the right combination is found it's a beautiful thing. For me, these are a keeper.
Pros
Hard hitting, no flyers (yet), screw on lid, economical.
Cons
None yet.
5.0
By Manuel
USA
December 27, 2017
Verified Purchase
Sighted scopes on both guns @50 yards with these pellets and was really impressed with the accuracy and consistent performance of both guns using these pellets. I plan to hunt with them now that I see how well they performed. Initially was thinking of punching holes on paper cause they are reasonably priced. Now they will pull double duty.
Pros
Good pellets at a good price
Cons
I shot every pellet I had and ordered 2 more tins of these pellets. I found nothing to complain about.
4.0
By Alejandro
USA
May 8, 2017
Shoots well thru my Benjamin Marauder .25 cal.
Q&A
Question?
Login to ask someone who bought this product.
Will these pellets, in .25 cal., load in the magazine of a Hatsan BT65SB ?
asked Darryl from USA
I have a Hatsan bt 65 sb, I bought a tin of .25 cal Webley Accu Pell 27.8 Gr pellets and they fit and are very accurate. now I can't find Webley pellets in .25 cal anywhere. Airguns of Arizona told me they were identical and Benjamin actually was the company that made them. If that is true then they will fit but that is the largest pellet that will work in the Hatsan. I have ordered 4 tins of the Benjamin pelles and am waiting for there arrival.
Jerry from USA
yes they will fit the magazines
Richard from USA
How accurate are these pellets compared to say jsb match diablo 25.4 grain and do they group well like the jsb exact diablo? I am new to air gunning and so far the only two pellets I found to shoot good from my hatsan bt 65 sb in .25 cal is the 25.4 jsb diablo and the preditor pollymags.
asked David from USA
In 25 cal this ammo H&N barracuda-enjun 34 gr work the best. If your scope is set up for jsb they will shoot high and vise versa. So u have to pick one set up and adjust accordingly.
Lawrence from USA