If you like to hunt small game such as rabbits and squirrels, you need a powerful air rifle that can reach out to further distances because small game is usually wary. You'll have the confidence to reliably, humanely and repeatedly take pest critters every time you shoulder your Benjamin Prowler air rifle. The gas piston has taken the airgunning world by storm because it's a proven technology that gives shooters much more leeway. If you like smoother-shooting guns and guns that don't experience spring fatigue because you left the gun cocked while waiting for the next critter to cross your path, then a gas piston should be your powerplant of choice. Powerful! Reliable! Accurate! Sounds like the perfect airgun!
Benjamin Prowler Air Rifle Features
Gas-piston
Breakbarrel
Single-shot
2-stage adjustable trigger
Ambidextrous
No spring torque
No spring fatigue
Smoother cocking/shooting
Manual safety
Includes 4x32 scope and mount
Specs
Manufacturer

Benjamin

Caliber

.22

Velocity

950 fps

Condition

Refurbished

Ammo Type

Pellets

Action

Break barrel

Barrel Style

Rifled

Fire Mode

Single-shot

Gun Weight

6.40

Overall Length

45.00

Barrel Length

0.00

Loudness

3-Medium

Magazine Capacity

1

Mechanism

Gas-piston

Rail

11mm dovetail

Safety

Manual

Front Sights

none

Rear Sights

none

Shots per Fill

0

Trigger Adjustability

Two-stage adjustable

Trigger Action

0

Use

Small game hunting/plinking

Warranty

5-year limited warranty
Reviews
Average Customer Review
4.5
4.5
51 Reviews
5.0
By Lonewolf
USA
November 17, 2019
This Rifle in not good. ITS AWESOME!!!!! I HAVE DONE SOME HUNTING WITH IT DROPPED RABBITS & SQUIRRELS WITH OUT SCARY OTHER'S WAY. SPRINGS ARE SO NOISY
Pros
GREAT RIFLE TO HAVE ON MY COLLECTION. I WOULD NOT CHANGEA THING
Cons
NONE NPPE ALL GOOD
4.0
By Caleb
November 16, 2019
Ive had it for a couple of years and its very accurate ( with different scope) but after about 1500 rounds the screws on the front part of the stock broke off and I had to use a drill to get the broken screws out but I found some screws to match and it works perfect
4.0
By Michael
August 18, 2019
Bought this for a friend of mine about 1 year ago. The rifle is well made and not too heavy. It is very accurate and the scope is usable. Cocking effort is somewhat on the high side but not a problem. It cocks and fires smoothly. The noise level is except-able. The only negative is the trigger...it has a huge length of travel before discharging the rifle. Does not appear adjustable.
Pros
Most everything
Cons
Trigger length of travel is quite large
Gun shoots accurate after adjusting the 4X32 acope that came with it. Had to make sure the gun was in a braced position so that it would not move when the trigger was pulled (similar to the pic in the directions). Adjusted the scope settings until it was shooting accurate. Also shortened the trigger pull using the directions. The gun is heavy and needs to be braced against something to be able to shoot accurate. I am sure there are much better scopes but I found the one that came with it works fine if you are patient and make the adjustments in the directions.
Pros
Shoots accurate if directions are followed.
Cons
Heavy and needs to be braced against something to shoot accurate.
5.0
By Jake
March 20, 2019
Verified Purchase
It's very accurate but I can't get the scope center at all. It shoots way off right. But you aim left a little it's spot on. So if you get a good scope you can get just about anything small game with it. My first shot I shot a crow from about 40 yards away kill shot. I recommend this to anyone has a first time gun. You can also buy them at Walmart for 95!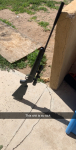 Pros
Shoots far, very accurate, powerful
Cons
Scope is ass
3.0
By John
February 24, 2019
I notice several reviewers note the rifles inconsistency. I also had a problem when I first got mine, then I noticed the barrel would move when I placed it on the sand bag. My advice is, make sure the barrel is fully closed before you shoot it. Now that I know what the problem was, the gun shoots wonderfully.
Pros
Excellent accuracy
Cons
You have to make sure the barrel is fully closed.
4.0
By James Blaha
USA
February 21, 2019
Verified Purchase
decent gun for the money but: scope sucks replaced with much better because it's a really a very nice rifle! (again for the money).
Pros
rifle
Cons
scope
4.0
By Michael R
USA
February 21, 2019
Verified Purchase
This is the 3rd rifle I have purchased from this company. The service,prices and response has been excellent !!
4.0
By alan
USA
February 20, 2019
Would not sight in as reported in many other reviews. I replaced the scope with a Hawke Vantage 3-9x40 and an Accushot medium 1 piece mount. I also cleaned the barrel...I was surprised how filthy it was inside. I also added a bearing to the trigger and a longer adjustment screw. (you can look these mods up online) Note that if you take the spring out the trigger will have some slack. I left the spring in and the trigger feels good now.
2.0
By casey
February 10, 2019
would be a great small game and target air rifle if i could get constant groups i have been through 3 scopes from the company and over all i have had the same results they hold 0 for about 10-30 shots then they wander i have also tried a different rand and got the same results i also have had issues with dieseling after over 750 shots and it causes a serious lack of accuracy i have contacted the company and they are reluctant to act it did hold accuracy long enough to get a squirrel and it was humane but thats all the good i can say for it
Q&A
Question?
Login to ask someone who bought this product.
I recently purchased one and the barrel won't break. Is it a manufacturer issue or can I fix it myself? Is this normal?
asked Jesse from USA
If the gun can not be cocked it is defective. Return it.
Mark from USA
I dry fired this gun twice I'm new to the break barrel thing but will my gun lose any power velocity or anything??
asked Clifton
Clifton, Possibly not with just two instances, but likely so if it is continued. In order for the compression piston not to slam forward against the end of the compression tube, it needs the resistance of the compressed air against forcing a pellet of sufficient weight down the barrel. The shock of the impact when this is not done may cause problems with the tolerances for proper mating of the barrel block and locking parts. The barrel then becomes difficult to break open initially, and may also be more difficult to close. Also, do not fire the gun with just cleaning pellets as they do not offer sufficient resistance. Although the manufacturer does not discourage using alloy pellets, I personally suspect that both the light weight and hardness of the finish causes undo stress from firing and wear on the rifling of the barrel. I operate a Crosman Authorized Service Center in Notasulga, Alabama.
JAMES from USA
Dry firing an air rifle can damage the piston and seal. Twice may not have hurt it, but it is best not to repeat it. Piston powered air rifles may actually gain some velocity as they break in. Please note: advertised velocities are best case scenarios, with light weight pellets. Pellets less than 7 gr can be as detrimental as dry firing. This rifle will likely give better accuracy with pellets that are between 8 and 10.5 gr., and with the heavier pellets, the velocity will not be near the advertised 1250 fps.
BmaS
Is this the latest model with the straight stock forearm or the older model with the curved stock forearm? The item is BPNP17X manufactured after May 2014. I want only the newer model.
asked Larry Gregoire
The models that we carry look exactly as pictured. We do also carry the older style but only in a refurbished model. Thanks your question.
Scott from USA