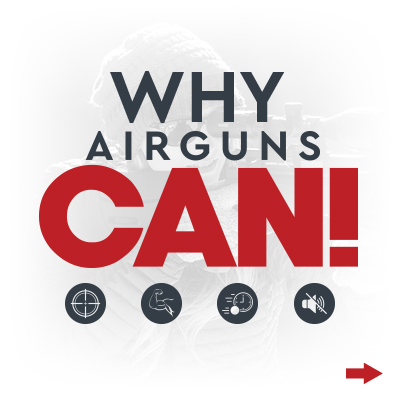 More Trigger Time
Time on the trigger is one of the main requirements for becoming a very good shooter, but there are so many obstacles to getting the shooting time you need: finding a range, finding time to go to the range, the cost of ammunition, time away from family, the list goes on. But with airguns, these constraints either disappear or are at least shrunk down a lot! For one thing, you don't need a dedicated range to shoot them at - it can be your backyard or even your basement! Just make sure you have a good backstop. Most airgun ammunition is very cheap and because they're so quiet you may even get your gun-shy better half to shoot with you! You will hear far fewer complaints about your hobby if the family is involved!
Excellent Accuracy
It has been said that the only interesting guns are accurate guns, and, if that's so, airguns can be very interesting indeed! It's not uncommon for airguns to consistently be able to put ten shots under an inch at 100 yards, and some can put ten under half an inch! Cut it down to three shots and the groups are tiny! Best of all, you won't have to raid the cash box to work up a load because the tuning options are on the gun itself, and pellets are cheap!
Amazing Power
Airguns today aren't like the Red Ryders you grew up with, they are capable of taking deer, elk, and even Cape Buffalo! And they have! Guns like the AirForce Texan LSS are capable of slinging .457-caliber 520-grain slugs at over 700 foot-pounds of energy, making them more than capable of taking out virtually any big game you could want to hunt. And once you get to know it, your big bore airgun can be capable of astonishing accuracy out to 300 yards or more! In addition to shooting .50 caliber slugs, the Seneca Dragon Claw is capable of shooting 450 grain air bolts at 500 fps for 238 foot-pounds of energy, making it both faster and more powerful than any crossbow on the market!
Extremely Quiet
Shhh...Don't tell anyone, but one of the real advantages of airguns is their relative quietness. This is because they run on air instead of gun powder, but also because many of them have a shrouded barrel with integrated baffles that quiet them down. This quietness makes shooting airguns completely different from shooting firearms because in most cases you don't need to wear hearing protection, so you can talk while you shoot and people who aren't shooting don't need to stay far away. Since they can be so quiet, you can also shoot in your backyard or basement without bothering your neighbors, allowing you to get much more trigger time in!