You'll be transported back to the Old West with the Umarex Cowboy Lever Action Rifle! Kicking out shells with each cycle of the lever, you will be knocking down targets left and right! Simply insert a couple of 12 gram CO2 cartridges, load a BB into each shell, insert the shells through the trapdoor on the side, and get ready to have some fun! Based on the Winchester model 94, this is a gun that gives you the feel of the real thing but let's you shoot in your basement or backyard.
Legends Cowboy Lever Action Essential Combo Includes:
Legends Cowboy Lever Action CO2 BB Air Rifle
12 gram CO2, 12 Pack
Two packs of Cowboy Lever Action BB Shells
Specs
Manufacturer

Umarex

Caliber

.177

Velocity

600 fps

Condition

New

Ammo Type

BBs

Action

Lever-action

Barrel Style

Smooth bore

Fire Mode

Repeater

Gun Weight

5.96

Overall Length

38.00

Barrel Length

19.25

Loudness

3-Medium

Magazine Capacity

0

Mechanism

CO2

Rail

No

Safety

0

Front Sights

Blade & Ramp

Rear Sights

Adjustable for elevation

Shots per Fill

0

Trigger Adjustability

0

Trigger Action

0

Use

Plinking & target practice

Warranty

90-day limited warranty
Reviews
Average Customer Review
4.2
4.0
6 Reviews
1.0
By Juan
September 18, 2022
Verified Purchase
As long as you have rounds that fit the bullets, this gun is fun to shoot.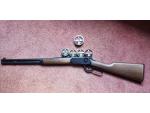 Pros
Awesome gun, really well built. Super realistic, and very fun to shoot.
Cons
I'd love to give this gun a 5/5, but it has 1 major flaw. The tolerance of the bullets where the .177 rounds load in is too small. It wont shoot most .177 unless you squeeze it through the bullet to reduce the diameter of the the round; it's incredibly annoying. The only option I have to even fire this air rifle is to keep purchasing the same Gamo Rocket [.177 Cal, 9.6 gr - 150 ct] rounds for $7.99 + shipping. I wouldn't recommend it until legends fixes this issue.
5.0
By Christopher
USA
May 31, 2022
Worth every penny.
Pros
The Feel! This rifle feels like you could fire real rounds with it. I LOVE IT! Not a single hiccup with it yet!
Cons
Losing your "Brass". It's So easy to lose rounds because they come flying out.
4.0
By Johnathan
USA
January 16, 2022
it's a really cool gun and is very well built and reliable but the accuracy is lacking for a rifle. also i wish they sold a big loop replacement lever so you can do one handed loading easier.
Pros
the c02 lasts forever. i left them in it for a year and still had full power. cycles smooth. you can dry fire it and it's super fun to do the spin loading trick with it.
Cons
has no accuracy to the point were you couldn't hit the broad side of a barn. you are likely to loose the shells but that's kinda part of the risk you take for something this cool.
5.0
By Harvey
USA
June 24, 2021
A great product and thank Airgun depot for selling it
Pros
This air gun looks and feels like the real rifle Me and my grandson will have fun shooting it.
Cons
Nothing
Pros
I preordered this rifle a few weeks ago and received it last Wednesday. I couldn't be more pleased. This rifle, fit and finish is beautiful. I'd be hard pressed to tell it from my old Winchester 94 which I traded away many years ago. When shouldered it is a natural and is beautifully weighted. I haven't fired it yet but look forward to it. Great jon guys on, in my opinion, a great rifle.
I pre-ordered this gun with a 10% code and it never went through but I was able to buy it today (code no longer worked), I hope I didn't miss ant pre-order special, very dissatisfied with how much work I had to put in to buy this and other products on the website
Pros
It's as cool as it looks, shells are really cool to eject after firing.
Cons
You keep refunding my orders for no reason
Q&A
Question?
Login to ask someone who bought this product.
Can I put 177 pellets in it.
asked Randall from USA
Is the furniture wood or plastic? Is the action/barrel metal? If not wood/metal, what parts are plastic?
asked Michael from USA
Can you mount a scope rail on this gun ?
asked Matthew from USA
has anyone found a big loop replacement for the lever so you can do loading with one hand?
asked Johnathan from USA
Is it possible to get extras cartridges?
asked Delmo from USA
yes, you have to buy them separately though unless you do the bundle then you get two sets of 10 from what i understand
Johnathan from USA
Is there a shell that allows this to fire pellets instead of BBs?
asked Vincent from USA
i just use the same shells for both and it works perfectly
Johnathan from USA
How many shells do you get with this bundle?
asked Raymond from USA
10 with the gun and an extra 12 (2 pks of 6) in the bundle
Kenneth from USA
idk about the bundle but you get 10 with the gun. from what is sounds like you should get 20 with the bundle
Johnathan from USA
What's the difference between this one and the other one on this site besides color?
asked Luka from USA
If you mean the other one, then I'm assuming the legends rifle by itself. If that is what your asking about than they are the same. This one just comes with a kit containing extra bb shells and some co2... I made the foolish decision of buying the gun without the kit for the same price. My trigger finger made the purchase before I finished looking on airgun depots website.
David from USA
The walther is a better made pellet rifle, It does not use shells. The Legends uses single loaded shells . Not as stoutly made.
Mark from USA
Will this handle a .177 pellet?
asked Jeff
yes, and is a great fun way to shoot it even though it is a smooth bore.
Johnathan from USA