The Commander CO2 pistol is a faithful replica of the firearm with the same name. If you're lucky enough to have the firearm version, you absolutely must get the air gun version! You'll save a fortune in ammo as you maintain proficiency. Add to that the incredible amount of fun you'll have popping paper targets on your home range, and this gun is a win-win purchase.
Colt Commander Pistol Features
Uses 12-gram CO2 cartridges
Blowback
18-rd drop-free BB mag*
Semiauto
Single-action
Fixed front and rear sights
Skeleton trigger and hammer
Ambidextrous- textured grip
Manual safety
Functioning grip safety
Slide stays open when last BB is shot
All metal
*The manual states the magazine holds 18 steel BBs. However- you may be able to load 19.
Specs
Manufacturer

Colt

Caliber

.177

Velocity

325 fps

Condition

New

Ammo Type

BBs

Action

Semiautomatic

Barrel Style

Smooth bore

Fire Mode

Repeater

Gun Weight

2.10

Overall Length

8.50

Barrel Length

4.50

Loudness

3-Medium

Magazine Capacity

0

Mechanism

CO2

Rail

No

Safety

Manual

Front Sights

Blade

Rear Sights

Fixed

Shots per Fill

0

Trigger Adjustability

0

Trigger Action

Single-Action

Use

Plinking/Fun

Warranty

90-day limited warranty
Reviews
Average Customer Review
4.6
4.5
29 Reviews
4.0
By Ron
January 27, 2023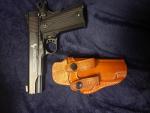 Pros
This is got to be my favorite pistol very accurate and powerful feels good great weight and best Co2 magazine no doubt if your looking for a good one this is it no doubt I usually don't do reviews but I figured try to help out someone who is looking for a great Co2 pistol..when people are complaining about there guns not working or there no good its because there not taking care of them after 1000- 3000 bbs oil and clean it thats the key to owning or taking care of any gun..But this one I promise you will love it hope this helps..Good Luck
Cons
Absolutely nothing!!
5.0
By Roy
USA
May 10, 2022
Verified Purchase
This is a great gun for practicing live draw and obtaining sight picture without hurting yourself if you accidentally pull the trigger. The bb gun will only leave a welt when a powder burner will leave a hole in your body. Practice makes perfect so practice that draw safely.
Pros
Feels good in the hand like a powder burner 1911. Looks great as well. At a glance you can't tell if it is not real....be careful in public. Fairly accurate as a bb gun. I love the fact that the co2 cylinder is mounted in the slide and drops out like a magazine for a 1911. I purchased two so I can also practice changing magazines.
Cons
I think it should have tighter tolerances. I can wiggle the slide on the frame, rocking it from side to side. A tighter tolerance here would improve accuracy. There is also play up and down on the slide. The trigger has a longer pull than a real 1911. This should be addressed if there is a newer version made.
5.0
By Daniel
USA
March 29, 2022
Verified Purchase
If your looking for a great training piece this one is perfect. The Blow Back Slide feature is great. Accuracy is "Good". Price is reasonable.
Pros
This gun is exactly the same as a 45 1911 that I currently have. The size of both are exactly the same. The feel of both are the same and it shoots with all of the realism of the 1911. I have run about 400 BB's through the gun and it finally functions as advertised and works great. Nice gun and fun to shoot. Great for training and way cheaper to shoot than the 45 cal. I would recommend the gun with some comments.
Cons
During the first 350 shots or so the blow back slide did function but the slide got caught in the pin removal notch on the slide. (First smaller Notch) After a lot of disassembly and oiling I figured out that the slide catch assembly was too lose. I sprayed it with several different paint products and finally settled on "Liquid Tape". This product is used for electrical connections and has a fair amount of grip so it catches the mechanism only after the final BB leaves the magazine as it is designed to do.( Other paint types did not work at all in some cases made it worse.) Seems to work great now. So this is a great gun as long as you are willing to spend some time fine tuning it otherwise it would be going back. The slide on the frame channel is a little loose thus not as accurate as the real 1911. Overall a good value.
3.0
By Eric
USA
January 8, 2022
Verified Purchase
FORTUNATELY, Airgun depot makes it easy to voice complaints, and their customer service is pretty simple and works!
Pros
Very heavy and balanced, the blowback feels nice and adds a nice layer of realism.
Cons
The parts aren't very sturdy, and after a couple short sessions of use the gun fails and even breaks, the slide release and slide it's self seems to have given me the most issues. I had to return it once, and received another, and now that one has a broken slide release button so I'm returning it again.
5.0
By Allan
USA
October 13, 2021
Pros
Nice gun very realistic. I am very happy with mine after greasing the gun.
Cons
Take the slide off and grease both the slide and the frame of the gun. This will cure jamming problems.
3.0
By Terry
USA
July 28, 2021
Pros
Well made feels good in my hand.
Cons
This pistol is advertised as a replica of the Colt Commander. The real Colt Commander is the same as a Colt Government model with the exception of the length of the slide/barrel. The Commander is supposed to have a shorter slide/barrel. 3/4 of an inch shorter. This gun is the same length (5"). I collect replica weapons and this not. Disappointing.
4.0
By Ashton
USA
June 13, 2021
Pros
Very realistic blowback, looks and feels real. Just a good pinker overall
Cons
Hard to load BB's but thats expected
2.0
By Lulu
USA
May 24, 2019
Co2 leaks. Nice pistol. The blowback action is the best Ive experienced, so far. Great pistol overall the only problem is the CO2 leak which makes it almost unshootable?
Pros
Blowback kick was uderestimated
Cons
Bad magazines. You have to align co2 perfectly to fit the mag, but it wouldnt matter anyway because of the co2 leak. Air comes straight out from top of magazine.
4.0
By Daniel W.
March 29, 2019
I like the "real feel" of the blowback feature but it takes some getting used to. Also, I don't know if it needs some break in time but the slide locks open on about half the shots and it should only do that with the last bb. Overall, I like it
5.0
By Bill
January 3, 2019
I love shooting this pistol. Very accurate and so life like. Function like a real weapon. The company is great. Easy ordering and shipping. Everything was as advertised. Will certainly use this site for future purchases.
Pros
Quality Product.
Cons
None
Q&A
Question?
Login to ask someone who bought this product.
do you need to sign when the box comes?
asked Jared from USA
Is the barrel threaded?
asked Ashton from USA
can the front and rear sites be removed?
asked James from USA
Is this a metal bb gun or just a hard plastic?
asked Jacob from USA
Mostly metal (aside from the grips)
Kristen from USA
Does it locks back when no more ammo? Is it full bowback?
asked Liviu
1005 full blowback, and the slide catches when emptied.
Kristen from USA
Can a adj sight be instaled on the colt comander
asked Randy
does it ship from Canada also do you need a gun license
asked Dylan
Can you change the grips on the gun?
asked William
You can use full size 1911 grip panels, HOWEVER, you will have to remove material from the backs in order for the gas cylinder to clear.
Addie from USA
The grips are compatible with real 1911 ones.
Kristen from USA
When you want to reload and remove the magazine which also holds the co2 cartridge do you not lose co2 each time?
asked Keith
The gas retention is impressive. I have left magazines loaded with BBS and cylinders for over 2 weeks without loss of gas. Conversely, two of my mags didn't last two weeks before they failed completely.
Addie from USA
Valve in magazine prevents leaks between reloads.
Kristen from USA
Can additional magazines be purchased for this pistol?
asked Mike
Yes, simply search Colt Commander Magazine
Kristen from USA
Does the grip safety actually work or is it there just for looks?
asked Carlisle
It functions.
Kristen from USA
How many shots does this gun have?
asked michael mraz
I get 3 loads per cylinder with full or nearly full power.
Addie from USA
I do 3 mags 4 mags tops eats up c02's from the tremendous blowback. AVERAGE 50-60 SHOTS.
matthew from USA
Hello, In the "quick Specs" tab is clearly states this is not a blow-back pistol, however in some of the customer reviews the mention about the blow-back feature. Is this a blow-back pistol or not? Thanks to all.
asked Charles from USA
Surprisingly vigorously, yes.
W. Scott from USA
Yes it sure is a blow back gun. This thing operates exactly like a real Colt 1911A1 and feels like one too! Sweet little gun.
David from USA
RECEIVED MY COMMANDER IT SURE DOSE BLOW BACK THE FIRST SHOT WILL GIVE YOU THAT MESSAGE.
waiter from Canada
It definitely blows back and tends to use up more CO2 but is pretty cool for a BB gun.
Bruce from USA
The end of the barrel shown in pics is not a smoothbore as stated in description. Is it or is it not smoothbore?
asked Paul
I just purchased one and the last .5 inch of the barrel does look like chrome lined rifled .45 barrel but.... the real barrel is smooth bore.
Bruce from USA
I got mine a couple of weeks ago from the Depot and mine does have a smoothbore. I might mention, in my opinion you get way more than your moneys worth in this fine pistol. Functions great and fit and finish is superb. Very nice checkering on the grips and sights are white dot front and rear. Don't expect one hole accuracy. Mines grouping around 2 1/2" at 20 ft. Great CQB accuracy though. Get it, you will love it I think. Just an old guys opinion. Mike in Missouri
MICHAEL from USA
The barrel opening is large at first sight and looks like a rifled .45cal. The real barrel is recessed in about .5 inch and is a smoothbore .177 cal. What I just found out is that you can break this gun down, from the slide stop, barrel bushing, slide and springs. If you are familiar and like the 1911 model, your going to feel very comfortable with this. I also measured this gun and it is definitely not a Commander Model but a full size 1911. The gun is solidly built, feels like the real thing and shoots with real blowback! The slide will lock up after the last shot!! I'm having a blast with this gun! The blowback definitely eats up more CO2 than my Colt Defender model but I like the realism. You won't be disappointed!
Bruce from USA
can u field strip this and is it blowback, case included? thanks
asked Charles
Yes, you can field strip it. I have field stripped mine many times, it works just like your standard 1911 field strip.
Michael from Canada
I got mine today and had to shoot it. It is definitely blowback, it eats up the CO2 cartridge after about 3 magazines of shooting. You can't field strip it but all it really needs is a little oil once in a while. No case, it comes in a plastic blister pack, you need a knife to open. It is really a full 1911 model even though it says Commander. Great gun, lots of fun to shoot!! Happy I bought it. Bruce Q.
BKQ