Crosman DPMS SBR Full-Auto BB Gun Magazine
25rds
Requires 2 CO2 Cartridges (Not Included)
Up to 175 rounds per fill
Specs
Manufacturer

Crosman

Condition

New

Accessories Type

MAGAZINES, CLIPS & RELOADERS

Warranty

1-year limited warranty
Reviews
Average Customer Review
3.9
4.0
7 Reviews
5.0
By Juan
USA
December 26, 2019
Verified Purchase
Easy to operate.
Pros
Easy operation.
2.0
By Asime
USA
November 15, 2019
Verified Purchase
5.0
By ISRA G.
August 19, 2019
I really love this design, it took me a couple of times to grasp how to use the speed loader but man, once I did it right I just cannot think of a better way to do it. The trick is pulling the spring down with the speed loader tail behind the outlet mouth and just keep it and an angle towards you, once the spring is fully retracted just level the speed loader on the magazine and hold it in place with your thumb at the tab on the front of the loader, tilt it a bit forward to allow bbs in the magazine and just pump away, fully depress the loader everytime to allow new bbs to reload. Hope this helps.. lots of fun with this rifle. Attached some pictures, hard to take them with one hand, but the sequence is showed.
Pros
Quick loading. Solid construction. Great use of CO2 canisters. Durable.
Cons
None really to me.
3.0
By Merle
USA
May 27, 2019
I like Crosman Air Guns pistols and rifles. It would seem that the magazine should have made with different way to load BBs without the use of their speed loader. At the beginning and after watching a video, I began more efficient at loading. The quality of Crosman is not to be questioned, but I wish there was a better, quicker, and cheaper way to match the DPMS SBR semi/full automatic rifle. The looks are great, weight balances the overall function. The price is high for all the issues associated with the magazine. This is just a personal opinion.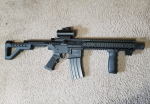 Pros
Great looks Functions fluidly
Cons
Loading issues Very pricey
2.0
By Kenneth P.
April 30, 2019
Verified Purchase
I had to get an RMA for the mag - new one sent works fine. I bought an additional mag but it doesn't hold CO2 at all after the first use
Pros
Great when it works
Cons
went thru way too many CO2 - 2 out of 3 mags didn't hold CO2 after the first use
5.0
By Peter
USA
February 24, 2019
Verified Purchase
Awesome products to have if you have the crossman DPMS. Keep the fun going
Pros
Extra rounds
Cons
None
5.0
By Michael
USA
January 10, 2019
Verified Purchase
I JUST BOUGHT THE GUN FROM AGD AND I WANTED A FEW EXTRA MAGS.
Pros
They are built like tanks. I couldn't believe the heft of them I tested them and they worked fine. They also can work with one co2 canister.
Cons
It takes a while to get used to loading the bb's even with the provided loader but it works out in the end after all and they are worth it.
Q&A
Question?
Login to ask someone who bought this product.
Is this magazine compatible with the Steel Strike?
asked Nadaneece from USA
Is there a newer version of this $49.99 magazine??? Are all of these magazine sent with the same dysfunctional puncture needle and seals???? I have bought several of these mags and continue to have the same problem with puncture and seals. What is the solution to this problem??????
asked David from USA
This is the version of the magazine that Crosman offers. There have been no modifications reported.
Mark from USA
This mag compatible with Crosman r1 full auto rifle?
asked RANULFO from USA
How do I remove some pellets that have gotten stuck in the spring?
asked Mark from USA
Pry them out with tweezers or needle nosed pliers. The lead is soft you should be able to crush them , make them smaller.
Mark from USA