Definitive Guide to

Crosman DPMS SBR
The Crosman DPMS SBR (Short Barreled Rifle) is an accurate CO2 replica of an AR-15/M4 platform that fires 25 BBs in either semi or full automatic mode at 1400 rounds per minute and can be stripped down just like a typical AR. Crosman started with a DPMS PDW (Personal Defense Weapon) and added other tactical features like an angled foregrip, BUIS (Backup Iron Sights), and a mock suppressor while preserving the fully functioning controls and features of a real AR. If you are looking for an accurate replica of an AR-15 for training purposes or just plain full-auto fun then the Crosman DPMS SBR is the airgun for you! To learn more continue reading below.
Highlights

Photo Gallery

Tactical Replica

Performance
Order a Crosman DPMS SBR
Detailed Review
Crosman has partnered with Panther Arms to answer the call for an accurate replica of an AR-15 with full auto capability and fully functioning controls.
With the Crosman DPMS SBR you are as close as you can get to the feel of the real firearm. It has full blowback and you will feel it!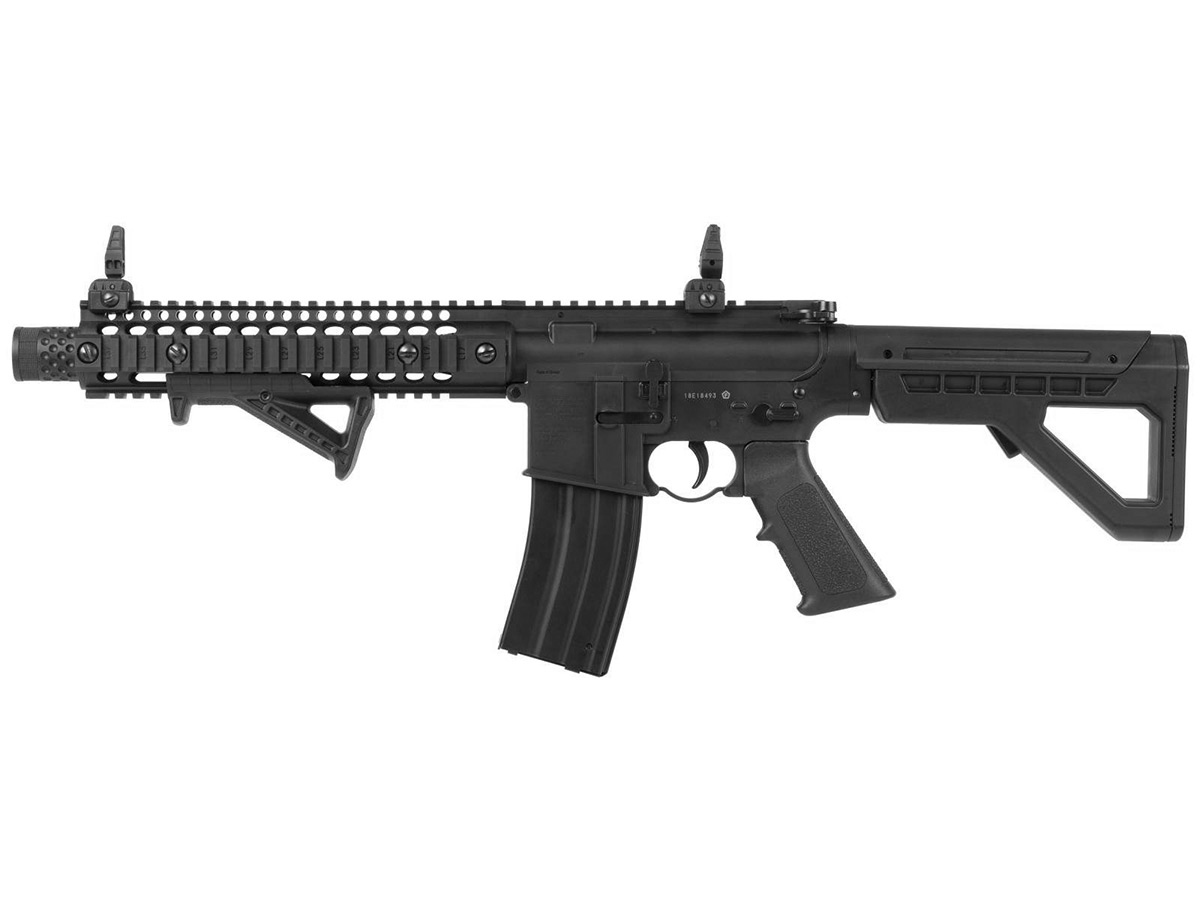 The DPMS SBR weighs in at 6.5 lbs and measures 26.5" with the stock collapsed and 30.5" with the stock fully extended. Most of the DPMS's body is a high-quality polymer which feels and looks great. Starting at the muzzle, there is a mock suppressor that screws off counter-clockwise to expose 14mm negative CCW standard airsoft threads which can be used for attaching aftermarket accessories. The DPMS comes with a Magpul-style angled foregrip and you can mount any accessories you like on the tactical quad rail, such as
bipods, vertical grips, flashlights, and lasers
.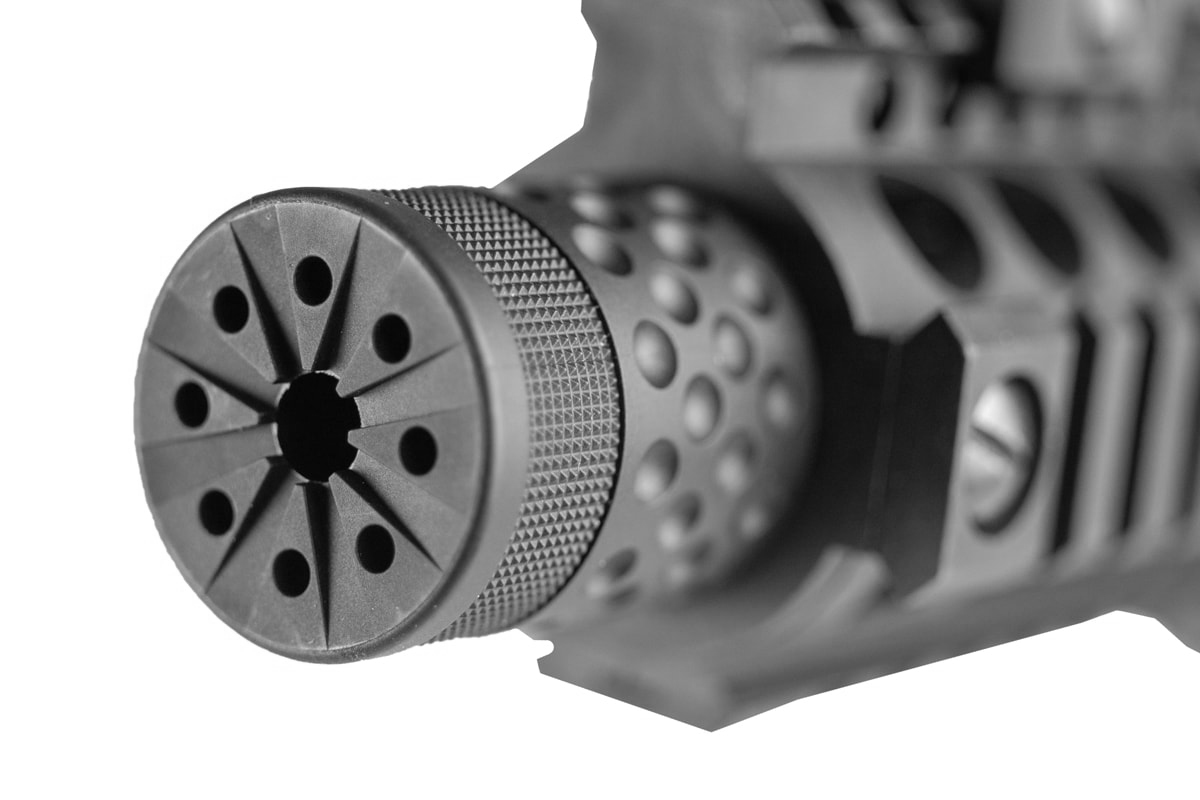 The DPMS comes standard with BUIS (backup iron sights). They aren't spring loaded so you will need to push them all the way up and down firmly, but they work well and will co-witness with most red dot and laser sights. The front sight is non-adjustable and the dual aperture rear sight is adjustable for windage only and has a peep sight for precision shooting and an O2 (0-200 yard) sight for faster target acquisition. Of course, the BB version isn't going to shoot out to 200 yards but the sights are a pretty accurate representation of what you find on the firearm.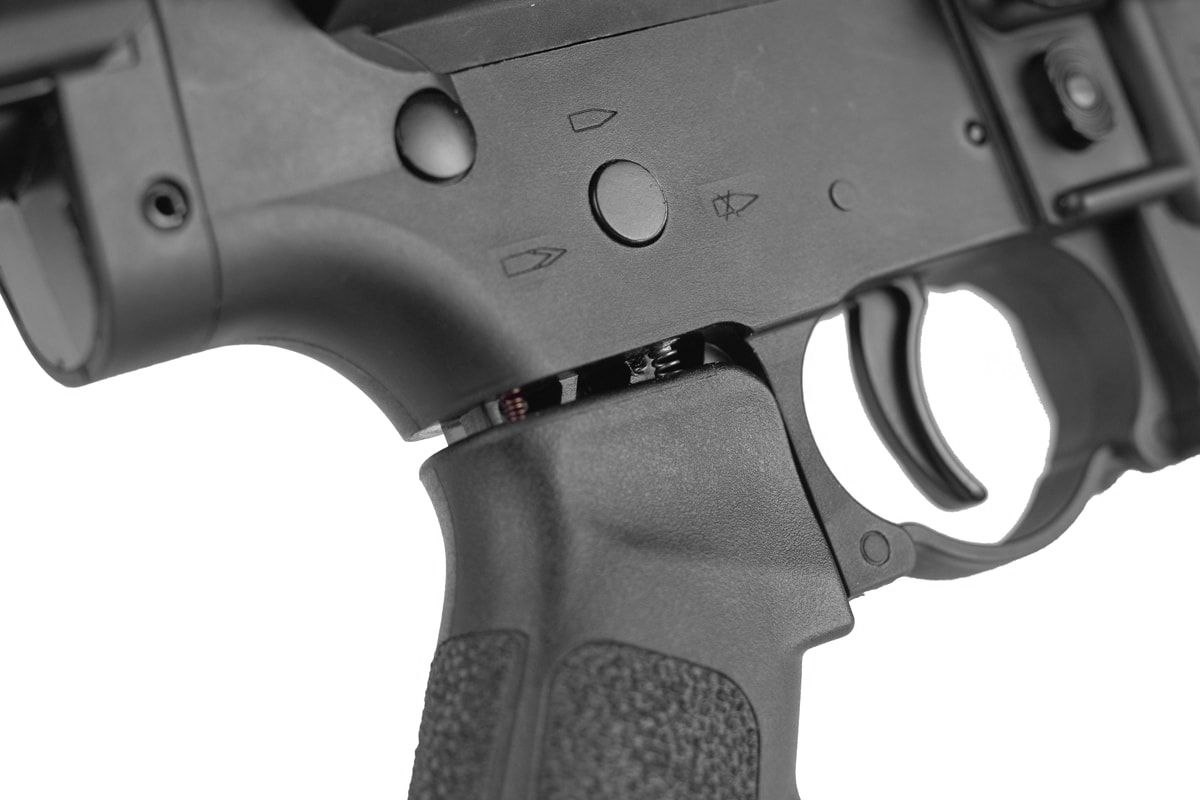 The DPMS SBR will fit any shooter due to the six position adjustable buttstock. Push the lever in and extend or collapse the buttstock, and push the lever in fully to remove the buttstock completely. The buffer tube functions as the hammer so you can't switch in other AR stocks. The magazine holds the BBs, CO2, an Allen wrench for piercing the CO2, and also contains the valving for the gun. When you push the mag release button the magazine doesn't drop free but this is a good thing as it helps prevent falls and damage. The BBs double stack but not quite as much as some magazines so they feed reliably. We haven't had any problems with them, but one customer has reported that Dust Devils may occasionally hang up, but a little bit of Pellgunoil in the feed channel should fix that. While the manual indicates that the follower locks in place for loading, that is not the case and it needs to be held back with a thumbnail, which is a bit of a pain.
Good news is that Crosman includes a speed loader that makes loading the magazine a cinch.
There is one caveat however, and that is if you don't use the BBs it likes it will jam up. We tested a number of BBs and Daisy and Marksman BBs jammed constantly, Crosman Copperheads jammed occasionally but worked overall, but the ones that worked flawlessly were Hornady Black Diamonds, Umarex Steel BBs, H&N Smart Shot, and Air Venturi Dust Devils. If the speed loader is jamming, don't force it. Shake it around, turn it upside down and tap it and try again. That will fix most issues, but you can avoid problems by staying away from larger BBs like the Daisy's.
load the CO2
, pop the front cover off lifting it up where it says OPEN. Insert the first co2 cartridge on the left and use the included Allen wrench to pierce it. You can stop here and only use one CO2 cartridge if you aren't going to be shooting much, otherwise insert the second cartridge on the right and pierce it also. Note that they must be done in this order or the cartridge on the right will release all the CO2 immediately. To minimize CO2 loss, snug up the piercing bolt and then give it a quick twist to puncture and seal completely.
silicone chamber oil
on the green seal on the face of the bolt and also in the bolt housing the seal goes into.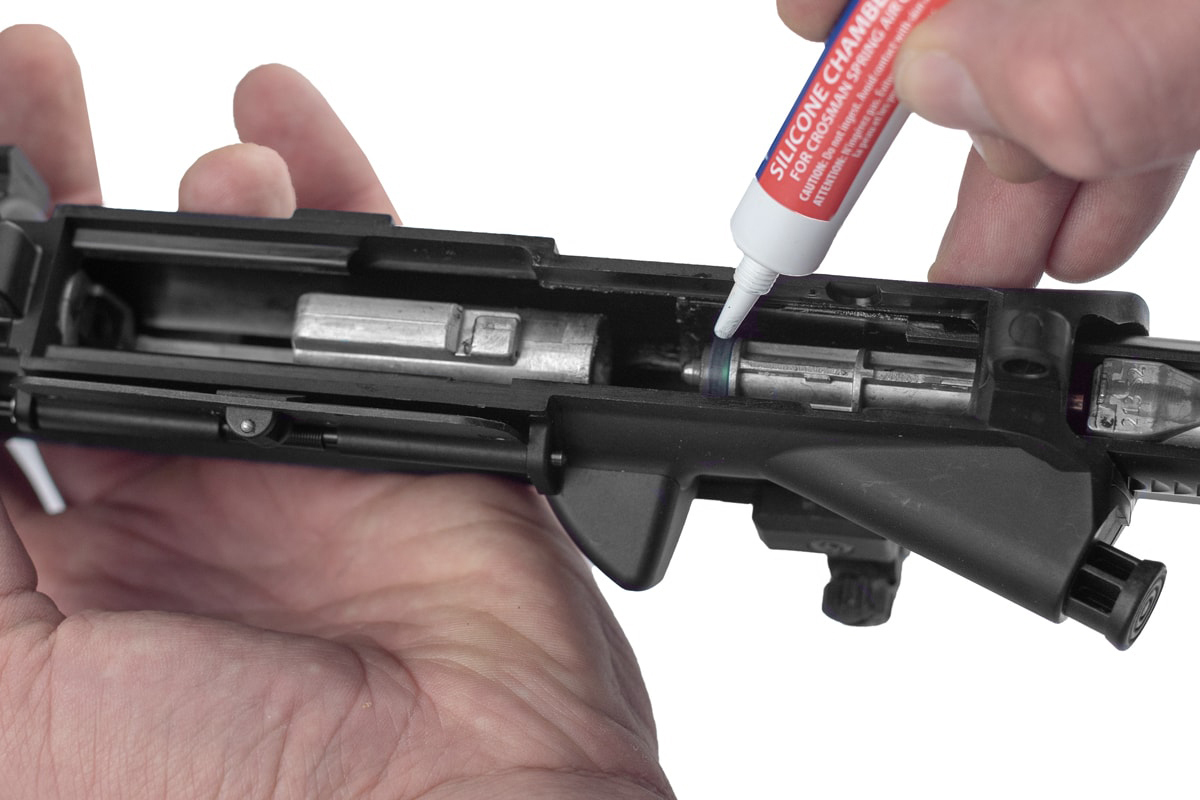 The gun is not designed to be torn down further but if you get a BB jammed in the barrel and can't remove the magazine to push it out you may need to remove the barrel. This is a very unlikely scenario, in fact it should never happen unless you use Marksman BBs which are notorious for jamming CO2 airguns.
First though, you should contact Crosman to have it serviced because disassembly of your DPMS may void the warranty.
If that isn't an option for some reason, remove the two rear bolts on either side of the quad rail and the small screw in the middle of the optics rail. Wiggle the barrel assembly off and push the jammed BB out with a dowel or cleaning rod.
Performance and Accuracy
With CO2 replicas most people are looking for the fun factor more than pure accuracy but it is nice when they come together as they do with the Crosman DPMS SBR.
We tested a few different BBs at ten yards: the least accurate were the Dust Devils, Crosman Copperheads were pretty accurate and the most accurate were the Hornady Black Diamond (this is no surprise as they are often the most accurate BBs in our testing) and the Excite Smart Shot BBs. We shot at ten yards with the peep sights and with the Crosman Red Dot and we confess to having a hard time with these particular peeps. The best we could do with the Black Diamonds was put 21 out of 25 into 1.75" with the full 25 shots taking up three inches of the target. With the red dot, 23 out of 25 went into 1.45" center-to-center and the full group measured 1.81". The Smart Shot lead BBs put 22 out of 25 in 1.4" with a few fliers (probably due to the trigger) opening it up to over 2.5". These are pretty good numbers for 25 shot groups from a BB gun! On full auto the groups opened up a lot, as is to be expected.
expect to get around 175 shots per fill if you are shooting semi-auto and about 150 if you are shooting full auto, although you will experience a noticeable slowing of the blowback for the last fifteen to twenty shots on either mode.
This is pretty darn good, considering the amount of blowback this gun produces. On semi-auto it isn't a particularly loud gun, metering in at 88.5 dB, and should be backyard friendly for most shooters. On full-auto the volume jumps up to 99.6 dB but it should still be fine for most backyards.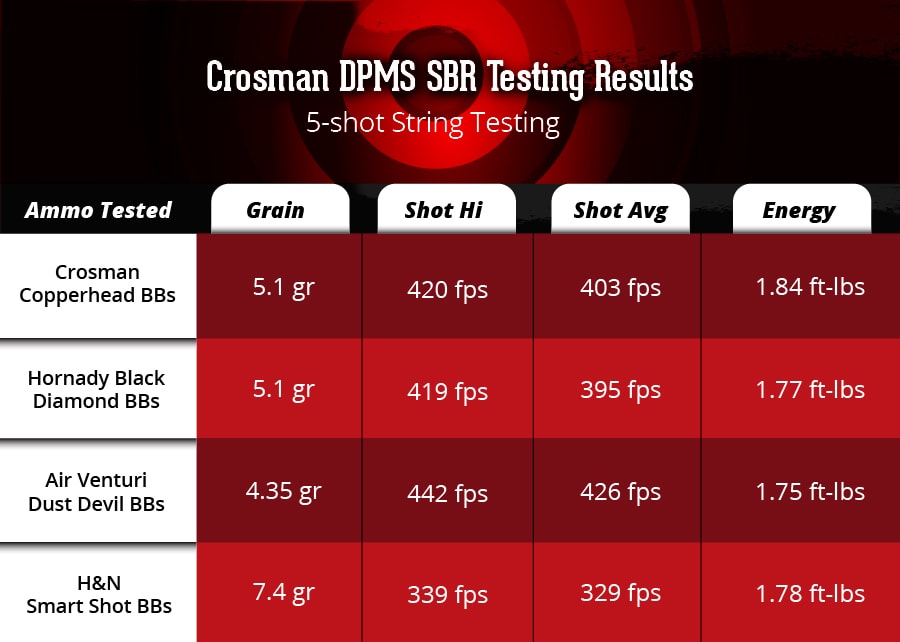 The trigger pull isn't light
?on our Lyman trigger gauge it averaged 10 lbs 7 oz, which is heavier than the typical AR/M4 triggers, which tend to run from 5.5-8.5 lbs. However, for a gun like this that is meant for fun and not benchrest shooting the trigger, in our opinion, is just fine.
Accessories
If you order our
combo
you will have most of what you need apart from CO2 and you will want to stock up on it! We recommend the
Crosman 40 packs
- they are the cheapest way to buy it and a box will last you quite a while. If you don't buy our combo, then make sure you have some
Pellgun oil
to keep the seals and valve in good repair. One tube will last you a long time. A good pair of
safety glasses
is always a must when you are shooting BBs, both for the shooter and any bystanders, and while ricochets are minimized with both the Smart Shot and Dust Devil BBs we still recommend you wear them anytime you have the Crosman DPMS out.
Accurate Tactical Replica
When talking about tactical rifles it almost impossible to not mention the AR platform and now you can add "airgun" into the same conversation. Crosman brings us an accurate replica of the AR-15 with plenty of tactical rails, breakdown capabilities and semi/full-auto firing modes. Plus, it has blowback! When you hold the Crosman DPMS, it just feels good. Then when you fire it, well let's just say you'll have a big goofy grin on your face. Don't say we didn't warn you.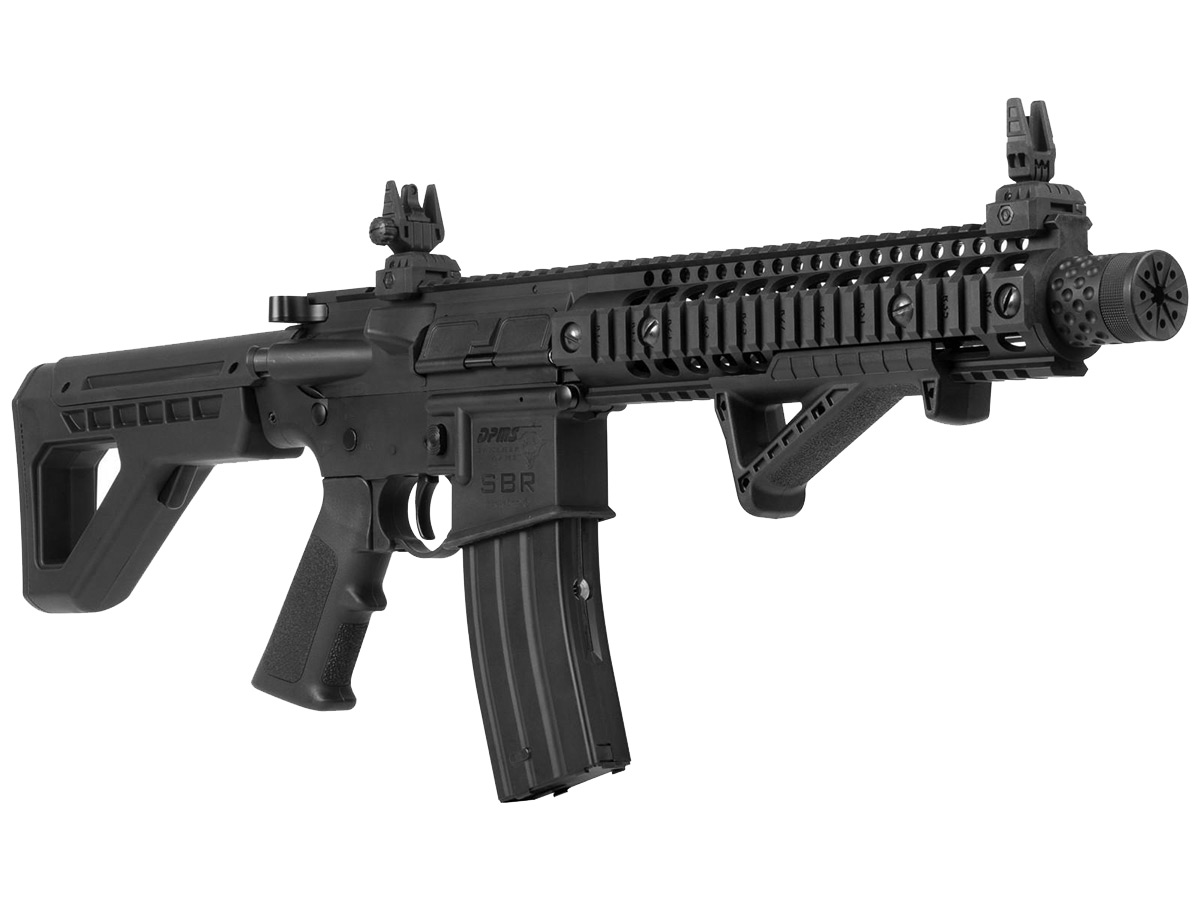 Performance
First off, it's important to remember that this gun wasn't built for dime-sized groupings at 100 yards, but it is pretty accurate. We were impressed with an airgun that you can hold down the trigger on full-auto knocking down a group of cans and then switch to semi-auto to carefully pick off any stragglers. Add a tactical red-dot and laser and your accuracy will improve even further!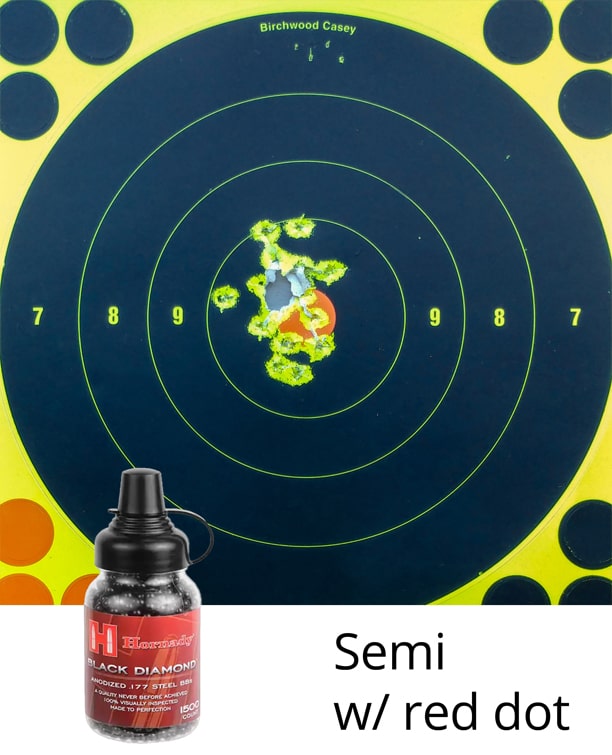 Discuss