The FX Royale 500 is an exceptional sporter air rifle and the Royale series is the epitome of years of quality FX air rifles. This version of the 500 Royale features a handsome ambidextrous walnut thumbhole stock. FX has sourced incredible wood to provide the highest quality wood stock available. With checkering on the grip and forend of the stock, you'll have both beauty and a high degree of grib and feel for what will soon become you favorite airgun.
FX airguns have spent countless hours perfecting and pushing the boundaries of what airguns can do. And while the Walnut FX Royale 500 air rifle features many high end cutting edge features, it is presented in a straight forward simple design that shooters will find familiar and comfortable. The FX Royale 500 Walnut is essentially the .25 caliber of the 400 series. 500 standing for the larger 500cc air cylinder that provides the power needed to power this larger caliber. It also features a longer barrel than its smaller caliber counterpart in order to maximize performance and obtain power and velocity needed for this more hunting oriented caliber.
The Royale breech block was developed carefully over years to produce the best breech block and valve system to date on an airgun. The breech is cycled by the super smooth side lever cocking system that advances the 11 shot magazine. Internally between the air cylinder and the breech is a regulator to provide exact and consistent air pressure for each shot. The result is less variance between shot velocity compared to non-regulated air rifles, all of which lends to more accuracy. And really is anything more important!?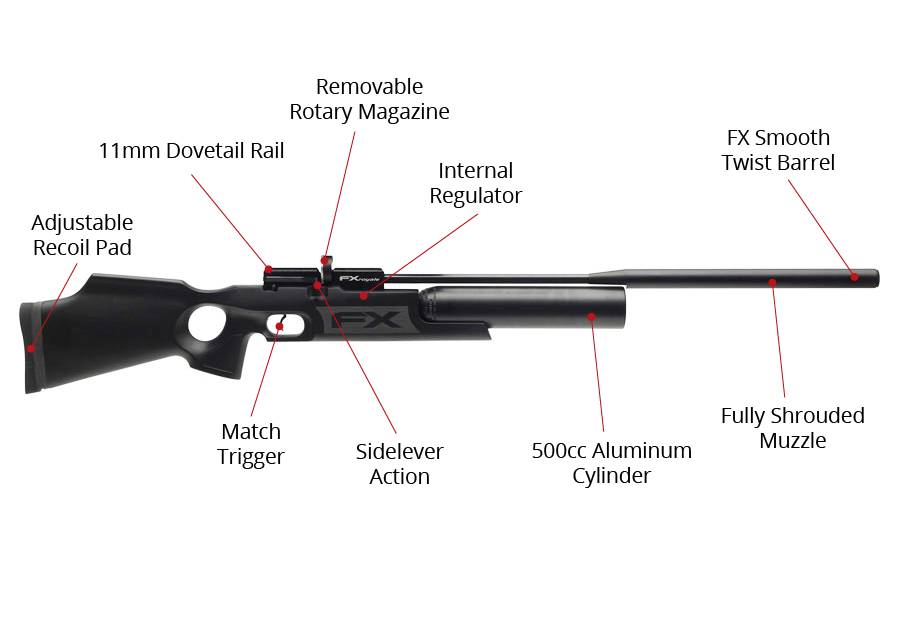 The muzzle of the barrel is shrouded and moderated to dampen the noise of the rifle. The barrel itself is an exceptional piece of craftsmanship featuring the patented FX Smooth Twist Barrel technology. Essentially a smooth bore barrel for the first 95% of the barrel, the pellet upon firing has less friction compared to a standard barrel's rifling, so that energy can build more efficiently and quickly. Then the final section of the barrel introduces an aggressive twist, rotating the pellet to stabilize its flight and provide an amazingly high degree of accuracy.
The Royale 500 right out of the box is tuned to where you can expect 55 ft/lbs of power and velocities around 900 fps. All FX rifles are really created and designed towards firing JSB pellets and that is our recommendation. At full power expect to get about 60 shots. If you?d like even more shots and don't need high power, turn down the power of the gun with the 2-step power adjuster on the side of the breech. This will extend the shot count even high as well as reduce the rapport of the gun, both of which are great when you're just getting in some trigger time.
The Royale 500 also features an incredible trigger. Set at just 12oz out of the box, you?ll be amazed that such a high end trigger can be found on an air rifle at this price. Normally triggers like this would only be found on high end field target and 10m air rifles.
Note: .30 caliber version of this gun is available. It's called the FX Boss.
FX Royale 500 Walnut Features
Ambidextrous walnut thumbhole stock
.25 caliber FX Smooth Twist Barrel
Internal pressure regulator
2-stage power adjuster
Sidelever cocking action
Non removable 500cc air cylinder*
Max fill pressure is 220 bar (3200 psi)
Achieve up to 45 ft/lbs of energy
Fully shrouded barrel
Adjustable recoil-pad (height)
Standard 11mm dovetail scope rail
Removable 11 shot rotary magazine
Fully adjustable match trigger
Male quick-disconnect Foster fitting for fast refills
Includes foam lined hard case
*Note ? 500cc aluminum air cylinder can be removed by loosening set screws on barrel and then 500cc tank can be replaced with the FX 480cc carbon fiber removable air cylinder (which would allow for carrying additional spares as well as lowering gun weight by approx 1 lb.)
Specs
Manufacturer

FX Airguns

Caliber

.25

Velocity

0 fps

Condition

New

Ammo Type

Pellets

Action

0

Barrel Style

Rifled

Fire Mode

0

Gun Weight

7.50

Overall Length

47.00

Barrel Length

25.50

Loudness

1-Low

Magazine Capacity

0

Mechanism

0

Rail

Yes

Safety

0

Front Sights

none

Rear Sights

none

Shots per Fill

0

Trigger Adjustability

0

Trigger Action

0

Use

0

Warranty

1-year limited warranty
Reviews
Average Customer Review
5.0
5.0
3 Reviews
5.0
By Gerry
USA
November 4, 2019
Though I didn't purchase my Royale 500 from A.D. I still wanted to leave a comment for those "on the fence" about buying this gun. I've had mine for almost 3 years. ABSOLUTELY trouble free! I lube it once in a while & run a few patches through if I notice any POI change or spiraling (about every 1,000-1500 shots). The accuracy & repeatability is phenomenal. I own only 2 airguns now, the Royale 500 & FX Boss (.30). Sold ALL my other guns. That's how satisfied & confident I am of these rifles. They ALWAYS deliver what I need & want. Straight out of the box they were amazing & that's only gotten better with time.IMHO this is the best platform FX has ever made. Quiet, accurate, repeatable, DEPENDABLE. Who could ask for more?
Pros
Everything!
Cons
Nothing!
5.0
By Kennith
USA
February 22, 2017
build quality is great supper smooth action, very accurate and quit. Great wood and the metal work is nice as is the fit and finish.
Pros
Quit accuracy and buttery smooth operation
Cons
need a little more room around the fill nipple
5.0
By JAMES G.
February 18, 2017
I have owned many high quality rifles, from saco action with a heart barrel. A custom 6ppc built by one of the world's best rifle smiths. Costing many thousands to build,they all shot good. But I have more fun shooting the FX. Im having fun again trying to figure out the point of aim and how much the wind effects the pellet. I know that I would be frustrated if it wasn't for the FX.this thing blows me away.
Pros
I shoot left handed, I wish I would have noticed that the laminated model can be used right or left. If I start saving now I should be to afford the stock in 14 years
Cons
NONE AT ALL
Q&A
Question?
Login to ask someone who bought this product.