The FX Streamline is a brand new concept that shows FX moving back to deliver a classic hunting rifle look that many airgunners desire. And with standard features like an internal regular delivering 60 shots per fill (in .22 cal), there?s a lot to be excited about with the Streamline. Giving extreme high end accuracy and function at a lower price point then has ever been found with all of these features.
The FX Streamline Laminate is the cr?me al a cr?me when it comes to stocks. This Italian made Menilli beautiful black-pepper laminate stock screams high end and is a joy to hold as much as it is to look at. The rest of the rifle is made out of high grade aluminum that has been coated with a special finger print resistant finish that we thoroughly appreciate. The barrel is completely shrouded to reduce the sound. If you desire further sound reduction, additional moderator sections can be purchased and added to your gun easily.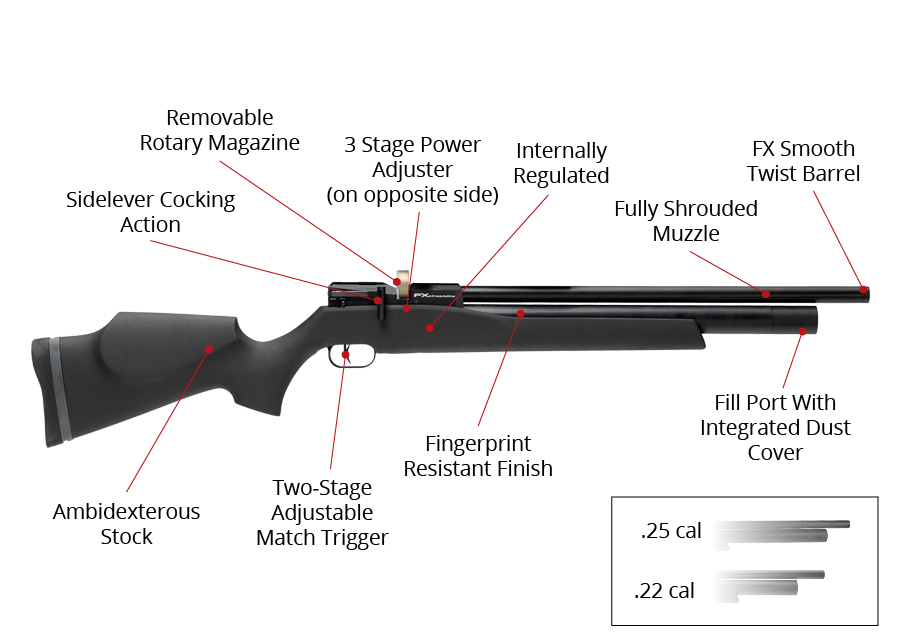 The breech of the Streamline is a completely new design by FX that integrates the air cylinder seamlessly into the breech. This one piece breech/cylinder removes connecting pieces that would have added weight as well as cost to the rifle. The side lever is a shorter more compact side lever than previous models, but is still buttery smooth and a joy to shoot. The lever cycles the included rotary mag. Note that this mag is slightly smaller than standard FX magazines that allows for the use of medium rings when mounting the scope of your choice. The trigger is as always one of the best triggers found on the market. The trigger is fully adjustable but should break right around 17oz from the factory. The FX Streamline is a straight forward rifle, full of high-end features, but at an unbelievably accessible price point that should ensure its placement on most airgunners wish list for years to come.
FX Streamline Black Pepper Laminate Features
Beautiful Italian made ambidextrous laminate stock
Sidelever cocking action
FX Smooth Twist Barrel
Rotary Magazine fed action
3-step power adapter to lower power and extend shot count per fill
Full adjustable two-stage match trigger
internally regulated
Non-removable 190cc aluminum air cylinder (250cc in .25 cal)
Max fill pressure is 230 bar (3,300 psi)
Aluminum cylinder, shroud and action features a fingerprint resistant finish
Quick fill port with integrated dust cover (uses FX fill probe)
Specs
Manufacturer

FX Airguns

Velocity

0 fps

Condition

Refurbished

Ammo Type

Pellets

Barrel Style

Rifled

Gun Weight

6.50

Loudness

1-Low

Rail

Yes

Front Sights

none

Rear Sights

none
Reviews
Average Customer Review
4.7
4.5
6 Reviews
5.0
By Eric
USA
May 16, 2019
Gorgeous stock! Plenty of adjustable power. Top it off with FX No Limit rings and some quality glass and you're in business! Very high quality overall.
Pros
Accuracy, quality, match trigger, beautiful stock and finish, etc...
Cons
Loud! You will need a secondary moderating device as the shroud doesn't dampen the noise level AT ALL! Not a big deal though, as it is threaded 1/2 UNF.
5.0
By Paul
USA
December 14, 2018
Verified Purchase
Gun arrived in perfect condition. It is very accurate and best so far with Air Arms 13.34g Diabolo field heavy pellets. I still have 14 different .177 pellets to try. Beautiful laminate stock which I'm very glad I decided to get. It seems to be shooting more accurately the more I shoot. I've only put about 150 pellets through the gun but expect it to be even better as it breaks in. Have only shot at 10 and 25 yards so far. Consistently shot less than 1/2" 13 shot groups on a bit of a breezy day (5-10 mph) at 25. I'm sure it would do better, but my 70 year old eyes make it a challenge. The gun is capable of shooting better than I will ever be. I'm very pleased.
Pros
Pretty light weight, accurate, very attractive gun.
Cons
It's so pretty that I don't want it to get scratched.
5.0
By Michelle
USA
June 10, 2018
Verified Purchase
I already own & enjoy the Streamline 22 Cal and did not think it could possibly get any better. I saved up for the .177 FX Streamline with the nice Laminate stock and was simply blown away!! I chose the Hawke Sidewinder scope, loaded her up with some JSB 10.34 grain pellets and went to work. It took about 8 shots to zero, the remaining pellets and two more consecutive magazines all went into the same zero hole in the center of the target at 40 yards!! I thought the Streamline 22 with synthetic stock was really special but I am telling you....Spend the extra money for the Laminate stock, you will not be disappointed! The build quality of these rifles is Amazing!! Even if they are back ordered, Do not worry, The folks at Airgun Depot always seem to get product to you even before the estimated stock date! I must say Thank You Airgun Depot! I am a Life Long Customer!! Chris R. Olympia, WA
Pros
FX has attention to detail, The build quality is Amazing! The shots per fill is very good on #2 Power Setting on the side wheel & Accuracy, Accuracy, Accuracy!! I would recommend buying the FX stack moderator sections... They will make a quiet rifle even more stealth, especially if you have neighbors around.
Cons
None to be found
5.0
By Walter S.
June 3, 2018
This gun is the best can't say how much I like it. AoA made sure my gun was shooting good and checked it over before shipping it to me .Site in at 40yd. 5 shot group on bench cover with a dime .Great gun for the price .Thank FX and AoA
Pros
Great gun shoots very well and designed is streamlined, and lite
Cons
Have non
3.0
By Jeremy
USA
May 15, 2018
Verified Purchase
First and foremost the shroud has no noise dampening at all. This item is advertised as having "a shroud that quiets the sound" and a 2 low-medium... Plan on getting a screw on moderator if you want any noise suppression. Next is a minor issue compared to the first (because it was not advertised as having them), but for the $300 upgrade to laminate you would think they could throw some sling studs on the stock. Also if you have small hands the reach for the trigger is a bit long. Then there is the shot count, the claim is 50 full power shots in .25. The reality is 30 shots from 230 bar to 150 bar where a loud ping starts and velocity begins to fall off. Speaking of velocity, this is where it goes beyond claims (900fps), actual chrony testing showed 915-920fps. That being said, it's got power. Now there's the pellet selection, more than one review stated that the Streamline was designed around the JSB Exact King. Well that's pretty obvious because the JSB Heavy barely fits into those $60 magazines I bought. One mag is actually jammed up right now because the Heavies like to stick in there and not let it rotate. H&N Baracudas, yeah, no, not just sticky but straight up jammed. Forget polymags. Benjamin 27 grainers worked as did H&N Hunters. Last but not least accuracy. I have a .22 Bullboss (with Hatsan regulator) that will do 0.75" 5 shot groups at 50yds all day at the indoor range with JSB 15.89gr. The reason I spent $1300 on a .25 FX is so that I could get better accuracy than that Bullboss... Same 50yd indoor range (no wind): JSB Heavies (before the mag jam): 1st 5 shot group .9" 2nd .95" Benji 27g: 1st .86", 2nd 1.02" H&N Hunter: 1st .7" 2nd .6" The "pellet that the gun was designed around" JSB Exact: 1st 5 shot .8", 2nd 5 shot .91", 3rd 5 shot 1.05", 4th was a ten shot at .92", 5th was a ten shot at .85" None of the pellets were weighed or sorted.. I'm starting to think the rave reviews on the internet used weighed and sorted (by head and skirt size) pellets...
Pros
It is a good looking rifle and the trigger is like butter (even if it's a little hard to reach)...
Cons
$1300 and you still have to get a moderator to add any sound suppression? The $60 magazine that people complained was hard to load, is also hard to unload with certain pellets.
5.0
By Robert
USA
July 28, 2017
I knew this was going to be something special, but it surpassed even the high expectations I had. The laminate stock was (to me, at least) well worth the extra cost, and even a bit of extra weight, since I will be using it mostly for target shooting, as opposed to carrying it into the field. The fit and finish are perfect, and the overall appearance of the gun is just amazing. The trigger is incredible as it comes from the factory, and I'd be surprised if I ever need to change it from where it is. The operation of the side lever and safety are as smooth as can be, and having a regulator is a huge advantage when you're trying to create small, single hole groups. With medium scope mounts I have plenty of room to load and unload the rotary mag, but it might be too tight a squeeze for shorter mounts. Speaking of the rotary mag, it's not the most enjoyable part of this gun but everything else works well enough to make up for a slight difficulty I have had (see "Cons", below.) The power dial has three settings, and they cover a wide range, with very obvious and distinct differences between them; and even on the highest setting the gun is not very loud. I've tried several different kinds of pellets, both lead and lead-free (a local indoor range is lead-free only, and H&N Field Target Trophy Greens seem to work very well), and each seems to group reasonably well (of course, some better than others) and with a different POI for each type. I have put less than 500 shots through it at this point, and I already know that the Streamline will be something that I will enjoy for a long time.
Pros
Fit and Finish are amazing Quiet, even on the highest power setting (and additional baffling is available) Incredibly accurate Extremely smooth side lever and safety A trigger to die for!
Cons
The rotary magazines aren't terribly easy to load - you have to hold the cover against a slight spring tension, and put the first pellet in skirt-first, then manage not to let that first pellet fall out while you load the rest. I expect that it will get easier, but it was really the only point of anything other than sheer enjoyment for me.
Q&A
Question?
Login to ask someone who bought this product.