FX has been able to deliver a great new entry level price point with the new FX Streamline Walnut without sacrificing any of the quality, technology or accuracy that FX Airguns are known for. The Streamline is a rifle that is a complete game changer within the realm of PCP air rifles. The walnut stock option is perhaps the perfect stock for this more traditional looking sporting rifle. The Italian made Minelli stock itself has exceptional quality; it's thin and light, and with beautiful detailing. Perfect for taking your FX Streamline into the field for hunting as much as hanging it over the mantle to show off.
The FX Streamline Walnut contains exceptional value and includes features that have made FX what it is today. The Streamline is internally regulated to ensure an optimal shot count as well as to aid accuracy. The rotary fed magazine is cycled using the smooth side lever cocking mechanism. This new rotary mag system is short enough to allow the use of medium rings. There is a manual safety located just behind the side lever, and on the other side of the breech is a 3-step power adjuster that will allow you to turn down the power of your rifle and increase the shot count. This is a perfect solution when putting in trigger time to fine tune your accuracy. And if you?ve never shot a FX rifle, be prepared to fall in love with their elite two-stage match quality trigger.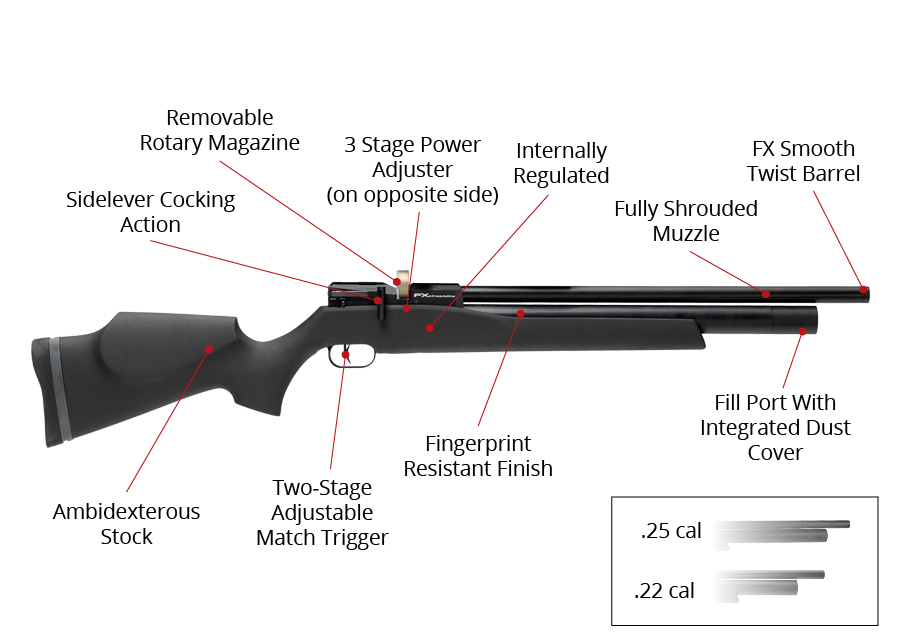 The barrel itself is the exquisite FX Smooth Twist Barrel system. A barrel that proves to be the world class leading barrel as it continues to win matches the world over. The barrel is completely shrouded, although if you?d like an even quieter gun, simple add additional moderator sections to your liking (sold separately).
The air cylinder will hold up to 230 bar (3,300 psi) of air pressure, and a full fill will result in 60 full power shots (50 in .25 cal). The 190 cc air cylinder (250cc in .25 cal) is filled via the included FX probe at the top of the cylinder just below the manometer. The opening is covered by an integrated dust cover to keep things clean. The gun itself is extremely lightweight, and even with a formidable scope attached to the dovetail rail, you should still have a rifle weighing in well under 8 lbs! The Streamline is perfectly at home both in the field as well as on a benchrest. Even though it is a much lighter rifle than other guns in its class, it feels solid and there is a high degree of quality in the workmanship, from the detailing in the walnut grip, the slim contours of the fore-end, to the smooth cycling side lever and the precision shooting this new breech system provides. The new Streamline from FX Airguns simply delivers in all aspects well above its price tag.
FX Streamline Walnut Features
Beautiful Italian made Menelli ambidextrous walnut stock
Sidelever cocking action
FX Smooth Twist Barrel
Rotary Magazine fed action
3-step power adapter to lower power and extend shot count per fill
Full adjustable two-stage match trigger
internally regulated
Non-removable 190cc aluminum air cylinder (250cc in .25 cal)
Max fill pressure is 230 bar (3,300 psi)
Aluminum cylinder, shroud and action features a fingerprint resistant finish
Quick fill port with integrated dust cover (uses FX fill probe)
Specs
Manufacturer

FX Airguns

Caliber

.177

Velocity

0 fps

Condition

New

Ammo Type

Pellets

Action

0

Barrel Style

Rifled

Fire Mode

0

Gun Weight

6.50

Loudness

1-Low

Magazine Capacity

0

Mechanism

0

Rail

Yes

Safety

0

Front Sights

none

Rear Sights

none

Shots per Fill

0

Trigger Adjustability

0

Trigger Action

0

Use

0
Reviews
Average Customer Review
4.6
4.5
10 Reviews
5.0
By wendell
USA
September 14, 2018
I am overwhelmed with the streamline, excellent finish, fit and looks. I get about 52 regulated shots on high power and over 80 shots at power level 2. These shots were with the jsb 18.13 grain pellets but the real eye opener was shooting the 16 grain air arms at power 2 at an average speed of 706. Ten shots in the same hole at 30 yards, es-7 and div-2. I am well pleased with the performance of this air rifle. Then I put five shots over the crony, air arms 16g at power 3 for average speed of 910, es-3 and div-0 all in the same hole at 30 yards.
Cons
I wish FX would include 2 mags and single shot tray.
5.0
By Joseph
USA
December 4, 2017
FX Streamline .22 Walnut, out of the box trigger breaks like glass, very crisp. My chronograph testing resulted in consistent 930-950fps (30ft/lbs) with JSB 15.89, and 880-900fps (32ft/lbs). Great balance when shouldered, benched, bipoded, or on shooting sticks. All day same hole groups at 20 to 35 yards. Half inch (or less) groups at 40 to 60 yards. 3/4 to 1" (or less) at 75 to 100 yards. Coupled with a UTG 4-16x44 Accushot 30 mounted on FX no-limit adjustable rings. I can't put this rifle down! Hunting, pesting, or target shooting it's perfect for all. Rabbits, squirrels, raccoons, opossums, and birds head shots made with no problem out to 50 yards. Backyard freindly (especially with moderator). The power adjustments are handy and repeatable. The walnut stock is attractive very sleek and ergonomic. Well designed side lever cocking. Fingerprint resistant barrel and cylinder are well done, I prefer it over blueing for practical low maintenance use and care (aluminum no rust or corrosion). Fitted my streamline with scope mounted anti-cant bubble level, sling studs, sling, bipod, and huggett moderator. 48 consisant full powershots (power level 3) from a 230bar fill shot down to 130bar. My streamline regulator is set at 130bar and begins to produce a audible ping when shot at or below 130bar which is below the regulator pressure. FX mini magazines (11 shot capacity) are great and jam free, I ordered 3 more standard FX magazines(14 shot capacity). Love the FX Streamline and will never get rid of it. Highly recommend!!!
Pros
Accurate, powerful, lightweight, high shot count, quiet, well engineered, simple, effective, excellent trigger, versatile, smooth cocking, smooth twist barrel, well designed, fair price for what you ultimately have, cosistent, regulated, easy to fill, fun to shoot
Cons
Only ships with one magazine
4.0
By Logan
USA
September 13, 2017
Can't say enough about this gun, the beauty of the stock and the unbelievable accuracy is worth the price. Topped with the hawke vantage amx scope and shooting the jsb jumbo heavy, this gun is the most accurate air rifle i have ever owned
Pros
Lightweight and accurate
Cons
None
4.0
By John
USA
August 24, 2017
This is a very beautiful rifle. The size and balance was prefect for a day of hunting in the field. The rifle has excellent finish and form, however this particular rifle did not deliver the stated velocity, shot count, nor accuracy. Returned and applied cost of rifle to a pre-ordered FX Crown. In for a penny in for a pound.
5.0
By Logan
USA
August 21, 2017
My streamline .22 has exceeded all my expectations, first the walnut stock is beautiful both in looks and fit. The action is smooth and effortless.. i teamed this rifle with the hawke airmax 3x9x40 amx and it is a tack driver with the jsb 18.1 .. thank you air gun depot, matt was very helpfull and knowledgeable...
Pros
Very light, crazy accurate and beautifully crafted
Cons
None i can find
5.0
By Daniel
USA
August 21, 2017
Rifle is unbeatable in price point for the options you get, match grade trigger that breaks like glass, walnut stock, regulator, 50 shots per fill in 25 caliber one hole groups at 50 yards,1 inch groups at 75 yards, light and shoulders very well, great gun for target shooting or the hunter. For the money spent on this rifle your getti . Alot, we all want that match grade accuracy and trigger in comes the streamline, under 1000 dollars for everything the airgunner wants. Comes in 3 stock configurations, side lever action, butter smooth, trigger that is 2nd to none in crispness and break no creep. Power adjuster 3 step for back yard plinking or long range hunting power. See for your self and get one you will not be disappointed.
Pros
Light, regulated,side lever action, low cost, accurate, power adjuster, multi shot mag, threaded for your favorite airgun LDC, shrouded barrel
Cons
I'd like to see 2 mags come with it, or a mag and a single shot tray
5.0
By Mike
August 11, 2017
Shot this gun right out of the box. I mounted the scope and after 3 initial shots at 50 yds I was able to adjust my scope to be hitting where I was aiming! The scope eye relief isn't the greatest but when you move it it moves. I am looking forward to getting it out to 100 yds and maybe hit that golf ball at 150+. Steve from AEAC said his .22 streamline got tighter after he cleaned it and seasoned the barrel. Can't wait to see that in mine
Pros
Accurate and fun to shoot.
Cons
Comes with scope not mounted and no sling studs should have adjustable scope mounts.
5.0
By Cary
USA
June 29, 2017
The FX Streamline is a very accurate, fun rifle too shoot. FX's attention to detail in engineering and artistically pleasing design makes this rifle a great value. Mated with a Votex Diamondback scope, is FX Streamline is very accurate out to 75 yards... So far.
Pros
Attention to detail. Price. Accurate.
Cons
Make sure your trigger is properly adjusted. I had a little "surprise" with shot #1... But was easily fixed.
4.0
By Louis
USA
June 15, 2017
I did an extensive search for months, before finally choosing the FX Streamline. Doug at Airgun Depot was very knowledgeable and helped me put the package together. It took about a week for it all to arrive. Nice looking gun and great scope with the bundle. First turn off, the gun was completely empty of air and I had to wait for the Airventuri tank to arrive before I could shoot it. 2nd problem. The magazine would not fit into the breach. When I called Doug they were not aware of any problems and he suggested a complete return. Instead I ordered a new magazine thinking the gun was too finely built to be the problem. When the new mag came it was worst. Doug suggested I call Air Guns of Arizona and talk to them as they were the FX Authorized repair dealer. I did and no one returned my calls. I then started analyzing the problem and searched forums and U-tube for possible fixes. First I dremeled and polished the sharp corners of the mags until they fit into the breach. Now it would only fire the first pellet and not cycle. I then loosened the center screw allowing the spring an easier rotation, but it would only rotate when removed from the breach. Upon further observation, the barrel thread that protruded into the breach seamed to be pushing too tight against the mag. I tried to find a schematic or instructions on how to back out the barrel just a little. When I couldn't I decided to carefully dremel the barrel down just a little. After 2 tries it fit perfectly and is now shooting like a charm. This gun is unbelievably accurate and quite with the bundled suppressor. The Hawke 6-24x44 scope that came with it is fantastic as a bench rest optic for 50 yards out. I changed the optic to a Hawke 2-7x32 for better field use. I put sling studs on it and a bi-pod. This is a dream rifle now. Finally a week after calling Airguns of Arizona they call me back saying if I had bought it from them I would not have had a problem because they would have test fired it and worked out any issues before shipping it to me. I have shot 500 JSB Match 15.99 gr and these shoot excellent until I tried the same but 18.13 gr and I did not think the groups could get any better but they did.
Pros
Beautiful classic look. Accurate as can be. The trigger is almost as good as the best match triggers I have pulled. Consistent shot string for 4 mags before falling off. Light weight compared to others allowing you to accessorize without making it too heavy to carry around. Once you work through any initial problems the rifle might have out the box, there is a fantastic shooter to be had for target and hunting small game.
Cons
The magazine and breech problem maybe a one off problem but I don't think so. FX needs to fix it from the factory and design level. The magazine sits reasonably high atop the rifle preventing any chance of open sights, but worst the scope does not have any room for adjustment for the ocular to be properly distanced from your eye, making you to have to adjust your head to the scope instead of adjusting the scope to you. The gauge is on the business end of the barrel. I find myself feeling uncomfortable when I have to look at it. A lifetime of shooting has made me a little more than aware of looking down the business end and there is still air in it. FX could have put swivel studs on it. This rifle deserves it.
4.0
By Jim j.
January 28, 2017
I get about 32 shots from a 220 fill. After that the gun pings and shots start falling lower. Accuracy with this 25 cal is fair, not even close to my FX wildcat. Gun is brand new so may improve. For a little more get a wildcat
Pros
Light weight even with scope. I like the ping to let me know air supply is down and needs rrfilled
Cons
Accuracy is not on par with my marauder or FX wildcat. All 25 cal guns
Q&A
Question?
Login to ask someone who bought this product.
Do you have to fill this gun to only to 230 bar which is the stamped on recomended fill pressure? Or could you fill it to the max on the gauge which is 250 bar? Without causing damage to the gun?
asked Joseph from USA
how many days pass from purchase to shipment?
asked Erides Diaz from USA
Hi there, I was wondering if I would need an adapter to fill the air reservoir using a standard Benjamin hand pump? Thanks for your help.
asked Jonathan Hollin
Can this gun be hand pumped?
asked Johnny
It looks that the FX Streamline has a moderator that is not permanently installed. Is this legal in US? Thanks,
asked Marius Raducanu
Q viene en la caja con el rifle
asked Jorge Sucre
Could this FX rifle use the 250cc for 22 caliber? Rob
asked Rob W
Have moderator
asked Jorge Sucre