FX is known to be one of the foremost makers of high-end, high-performance air rifles. The FX Streamline takes all of that performance, accuracy and quality and has for the first time put everything you love into a more affordable package for many airgunners at almost half the cost of similar FX models. Aptly named, FX have simply streamlined their top of the line world-class air rifles into this new model.
This FX Streamline Synthetic features a robust ambidextrous all-weather synthetic stock with a soft touch coating for improved grip. The gun is manufactured from high grade aluminum that features a finger-print resistant finish. The gun itself is incredibly light due to the aluminum coming in at just 5.75 lbs without a scope. So once you have the optic of your choice mounted on the Streamline, you should still have a rifle weighing well under 7 lbs. This makes it a fantastic field gun, quick to point and easy to carry for long stretches.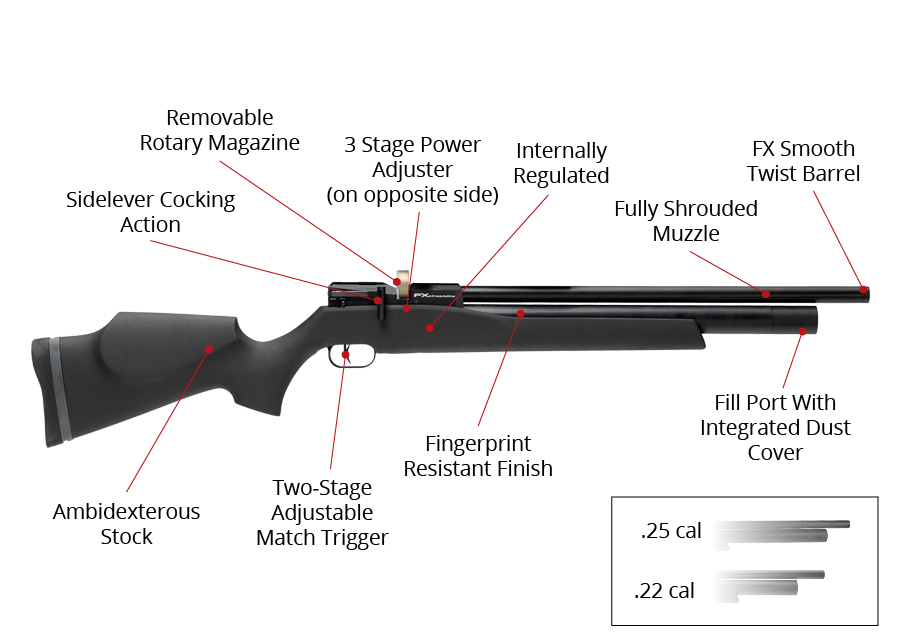 Features include a smooth side-lever cocking mechanism, manual safety located just underneath the cocking lever, the FX two-stage match trigger, an 11-shot rotary mag (10-shot in .25 cal / 13-shot in .177 cal), and a 3-step adjustable power selector. The rotoary mag is a newer shorter in length FX rotary mag that allows the use of medium rings for a nice low profile with the scope of your choice. The hammer-spring can be adjusted at the back of the breech. The barrel is fully shrouded, if you?d like further sound suppression simply pick-up additional middle standard moderator sections in your caliber. Of course the shroud is wrapped around the world class FX Smooth Twist barrel. Simply the best barrel system for pellets we?ve ever shot. Much has been written about this technique, but essentially it is a smooth bore barrel for the first 95% of the barrel, allowing the pellet to achieve maximum velocity, which is then twisted at the end with externally indented rifling (so not traditional rifling that can leave imperfections) that introduces the perfect amount of stabilizing spin to the pellet.
The air cylinder has been more fully integrated into the breach block than previous FX air rifles. This results in a more efficient design that saves weight and... yes, streamlines the design. The onboard air cylinder is a non-removable 190cc cylinder (250cc in .25 caliber) and filled via fill probe at the top of the air cylinder just below the manometer to show how much pressure is in the cylinder. Expect to obtain 60 full powered shots in .22 caliber (50 in .25 cal) with a full fill. The air port is covered by an integrated dust cover.
FX Streamline Synthetic Features
Soft touch all-weather ambidextrous synthetic stock
Sidelever cocking action
FX Smooth Twist Barrel
Rotary Magazine fed action
3-step power adapter to lower power and extend shot count per fill
Full adjustable two-stage match trigger
internally regulated
Non-removable 190cc aluminum air cylinder (250cc in .25 cal)
Max fill pressure is 230 bar (3,300 psi)
Aluminum cylinder, shroud and action features a fingerprint resistant finish
Quick fill port with integrated dust cover (uses FX fill probe)
Specs
Manufacturer

FX Airguns

Caliber

.22

Velocity

0 fps

Condition

New

Ammo Type

Pellets

Action

0

Barrel Style

Rifled

Fire Mode

0

Gun Weight

6.50

Overall Length

0.00

Barrel Length

0.00

Loudness

1-Low

Magazine Capacity

0

Mechanism

0

Rail

Yes

Safety

0

Front Sights

none

Rear Sights

none

Shots per Fill

0

Trigger Adjustability

0

Trigger Action

0

Use

0
Reviews
Average Customer Review
4.8
5.0
13 Reviews
3.0
By Justin
USA
February 12, 2019
Streamline 25 cal is the most accurate pellet rifle I have ever shot and I love my rifle but what good is it when u work on it more than u shoot it need a different filling probe like the Benjamin maraduar they got it goin on would take my Benjamin over streamline anyday
Pros
Accurate
Cons
Fillprobe
5.0
By Leslie
USA
February 4, 2019
A great shooting rifle. I have lesser quality pcp that aren't even close to this gun, I wish I had started with this, light, accurate, a pleasure to shoot
Pros
I love the shot count. Shoulders nicely. Very light and accurate
Cons
Rotatery clip takes a little getting use to
5.0
By marc s.
May 29, 2018
typical fx smooth as silk operation. deadly accuracy , what make it so versatile is the power adjustment . drop it to 1 for 10-15 yard pesting with no risk to anything beyond. this minimizes richocet risk. turn it up for longer shots. beware though! changing power levels changes poi locations. adjust it and test prior to your upcoming shoot and it will not fail.
Pros
cost variable settings accuracy
Cons
absolutely none i can see.
I read many reviews on this gun which cast doubt on my purchase so I decided to order it from Airgun Depot knowing it was on backorder with the anticipation I would receive a newly-minted weapon. Since its arrival I have not found one flaw on this gun. The synthetic stock has a wonderful grip to it and fits snugly to the metal parts. Pumping by hand is a daunting task best left to the Yong Heng compressor purchased for this purpose. My first raccoon was taked as he hid halfway up the inside barn wall waiting for me to finnish sighting in my UTG 2-16x44 Accushot scope, also purchased at Airgun Depot. One shot of an H&N Baracuda Hunter Extreme in the boiler room dispatched my Rocky which was all I had in the magazine at the time. The trick to loading the magazine is the first pellet goes in from the front and holds the spring. the rest go in from the back. The magazine fits precisely in the gun and is very easy to maneuver in and out. Scope mounts are medium height from Elvishtac out of New York with about 1/8 inch magazine clearance. English Sparrows are head shots at 40 yards; necessary now that leaf cover is abundant. A Sumo moderator offers the chance at a second shot. The latest Jim Shockey tripod ensures consistent field results. Thank you most kindly, Airgun Depot.
Pros
Light weight and accurate.
Cons
A workout on a hand pump or the cost of a compressor.
5.0
By Charles
USA
April 5, 2018
The streamline shoots as good as my 30 cal Crown for hundreds less. You don't have all the adjustability, but when you find the right pellet and it shoots like my RWS model 75 10 meter match springer.
Pros
Very accurate. I shot a .078 group at 21 yards indoors.
Cons
Not much adjustment. Have to go through a lot of different pellets the find the one or two that give you that one ragged hole accuracy.
5.0
By Ron
USA
December 18, 2017
This is one of the favorites and best shooting rifles I have, I have (4) rifles and this is by far one of the best. It is light to carry which makes it a great rifle for the Ground Squirrels that I have been taking care of here in wonderful Wyoming. In 25cal they are a done deal all the way out to 125 yards. I have even taken this gun to Sheridan WY for Prairie Dogs and it functions well. I did have one minor issue that developed. The charge lever stopped working. By luck I called the new Shop for the FX AirgunsUSA and spoke to Ernest Rowe who took me thru trouble shooting the gun right over the phone. It took about a hour to get the gun working but I saved a lot of shipping, and cost by being able to talk to them right here in the good old USA. If you ever have a problem you can reach them at 866-639-0772. This is not a promo for them Just letting you know that they have some of the best service ever and that Makes the FX Streamline one of the best.
Pros
Service, Service, Service Very adjustable trigger Light weight (synthetic)
Cons
None
5.0
By Doug
USA
December 18, 2017
I thought I would never buy a $1000 airgun, but now I wished I would have started with this FX. The quality is unequal to none. I will buy another.
Pros
none.
Cons
magazines are ridiculously expensive.
5.0
By Elliott
USA
December 11, 2017
My goodness this gun is amazing. It's all its made to be. The FX Streamline is a work of art and a shooting machine. I Have had mine for about 2 weeks now and have put over 1500 JSB's down range. I love the FX Smooth Twist barrel and the butter-smooth cocking lever. So far I have absolutely loved this gun. I pump mine up with a Benjamin hand pump with an aftermarket moisture filter on it and it takes me around 150 pumps to get the gun from 100 bar to 230 (what it shoots best at).
Pros
- Insane accuracy. 1/4 inch groups at 35 yards and under 1/2 inch on a calm day at 50. - Very nice magazine (have had no mis-loads or malfunctions) and an outstanding side cocking lever. - Great finish on the aluminum. - Has done well in the moist Pacific Northwest. - Very nice 3 stage power wheel on the side. I'm getting around 31-34 foot pounds at III power, 20ish at II power, and around 12 at low power (great for lots of shots and rural areas).
Cons
- A little loud but nothing compared to my Benjamin discovery without a moderator. - The beveling around the fill port is a little off center on mine (may be a lemon). - Also the numerals on my power wheel dont fully line up to the selector arrow on the gun.
5.0
By Shawn
USA
November 7, 2017
This thing is shooting the JSB heavies with pushpin accuracy.....literally! Many 5 shot groups at 30 yards that are one ragged hole. Fantastic rifle, pretty quiet too. At medium power you get a lot of shots. This is my first 1000.00 air rifle, but what a joy to shoot.
Pros
Accurate, cycles very easily, nice weight.
Cons
Would have bought the walnut stock, but wasn't available.
5.0
By ricky
USA
October 9, 2017
I can not describe how well this rifle is shooting, I will say it's fantastic, super light weight with scope. I will be purchasing the .22 cal version also from AirGun Depot.
Pros
Great Product,Great Pricing,and the main item is the Great Customer Service. A Winning Combination.
Cons
NONE
Q&A
Question?
Login to ask someone who bought this product.
will this gun in a 0.25 caliber kill a coyote at 50 yards?
asked Dale Baker
I TRIED TO ORDER THIS LR SNIPER COMBO, BUT WAS TOLD THAT IT CANNOT BE SHIPPED TO MY COUNTRY.. WHY? LEONARD BASILIUS PALAU
asked LEONARD BASILIUS
Looking for feedback from someone who purchased this combo in 22 cal
asked Clarence
Hey guys, does this rifle come with a case?
asked kavi
what are the restrictions maybe i can order thru with my families in the state and they will send it to me back home?
asked Leonard Basilius
why you restrict shipment to Palau?
asked Leonard Basilius
I have a Benjamin hand pump do I need to change the tip for fx streamline?
asked Eric
Is this gun in 22 caliber at about 850 per second very loud. And does the side lever stay tight over time, thanks
asked Jesse
What is the most foot pounds this rifle can get
asked John Istre
Can you use a hand pump to fill this up
asked Collin
How much foto lb of energy is iņ the 177. Cal
asked Aivis
This mite be a silly question but does the FX streamline .25 LR combo come with scope mounts ?
asked Richard from USA
Does the rifle come with one magazine and the required fill probe?
asked Chris from USA
How do you refill the air cylinder for the FX Streamline .177 Air Rifle?
asked Burton
Can I use a medium mount for the scope in fx streamline?
asked Alan Oreta
Do you have this FX Streamline combo in walnut stock?
asked Guillermo Salinas
What do you fill the cylinder with? CO2 or just normal air
asked Nicholas Wheaton
FX make a silencer for this rifle and its a legal version,is this available threw AD ?
asked Richard from USA
comes with moderator?
asked George
What is max time the air charge will hold in the rifle? If not discharged, will it damage the seals, rifle?
asked William from USA
Will this combo be available in a .177 soon
asked Hole steed
what is the diameter of its barrel and tube? i was wondering if the barrel support accessories will fit. the barrel support fits 14 mm barrel and 33 mm tube.
asked Arnel from USA
For the FX Streamline .177 what are the medium and low power level figures i.e. ft/lbs for each level ? Also how many shots do you get for the high, medium and low power levels ?
asked Paul Cormack
Is the barrel removable to change caliber?
asked Mark
How many shots per fill on low power w .25? What's the power adjuster 3 levels w the .25 cal,
asked Rich
Is this rifle capable of. Shooting 80 to 100yards in comparison to the fx wildcat
asked Seth
no muzzle velocity mentioned?"
asked Ronald Szczotka
What is the muzzle velocity for the .22 caliber?
asked Tom from USA