This Airgun Depot exclusive Hatsan BullBoss QE has all of the same features and performance of the standard versions you can find anywhere else. So the only difference being is that ours are finished in an olive drab green, extremely limited, and can only be purchased through AGD! Same performance via the 23" long Quiet Energy suppressed German steel barrel that delivers velocities as high as 1070 fps using lead pellets! (1070 fps - .22 cal / 970 fps - .25 cal), it just looks a little cooler on green stock. The Hatsan BullBoss bullpup PCP includes the Quiet Energy suppressed barrel which has been tested by us and shown to severely reduce the report of the gun. It's quiet enough to fire without disturbing your neighbors if you'd like to practice in the backyard. The BullBoss includes Quattro Trigger that is a two stage fully adjustable match trigger. You'll love the weight displacement of the bullpup design that really distributes the 8.6 lbs of the gun well to make this a joy to shoot and creates a situation where follow-up shots are incredibly easy as you can keep the gun shouldered while operating the smooth side lever of the BullBoss. A lot to love about this new bullpup from Hatsan USA. Airgun Depot's Sniper combo includes a Hawke Vantage IR 4-12x50 AO scope, a set of UTG High Profile 1" Rings, and Hatsan's collapsible bi-pod ($250 value!)
Hatsan BullBoss QE
Precharged pneumatic power with side-lever cocking action
Bullpup design
Available in .177 (4.5 mm), .22 (5.5 mm) and .25 (6.35 mm) calibers
Hardwood stock
Optics rail for both 11 mm and 22 mm (weaver/picatinny) scope mounts
Additional Picatinny rails beneath forearm and on sides of forearm
Checkering on grip and forearm for better control and feel
Elevation-adjustable Cheek Comb - Stock equipped with integrated elevation adjustment button
Ventilated rubber butt pad
Precision rifled and choked barrel for accuracy
QuietEnergy fully shrouded barrel and Integrated Sound Moderator cuts noise by 32%
Rotary magazine: .22 10-rd, .25 9-rd
Includes 2 magazines
Detachable steel air cylinder tube (230cc). (Spare cylinders are available)
Built-in pressure gauge on the air cylinder monitors cylinder pressure
Includes fill probe & air cylinder discharging cap supplied in the box
Overall blued finish, black anodized receiver
Manual & Automatic Safety
Anti-double pellet feed mechanism prevents more than one pellet loading into barrel
Patented anti-knock system to prevent gas wastage when rifle is knocked or bounced
Quattro Trigger: 2-stage full adjustable match trigger for trigger travel and trigger load
Metal trigger
Fitted sling swivels
Spare air cylinders with regulator are available
Overall length: 36.8"
Barrel length: 23"
Weight: 10.2 lbs
Muzzle energy: .22 cal=38 fpe, .25 cal=42 fpe
Optimal shots per fill: .22 cal=35, .25 cal=30
Specs
Manufacturer

Hatsan

Caliber

.22

Velocity

1070 fps

Condition

New

Ammo Type

Pellets

Action

Sidelever

Barrel Style

Rifled

Fire Mode

Repeater

Gun Weight

8.60

Overall Length

36.80

Barrel Length

23.00

Loudness

4-Medium-High

Magazine Capacity

10

Mechanism

Pre-charged pneumatic

Rail

Weaver/Picatinny

Safety

Automatic

Front Sights

none

Rear Sights

none

Shots per Fill

35

Trigger Adjustability

Two-stage adjustable

Trigger Action

0

Use

Small game hunting/target practice

Warranty

1-year limited warranty
Reviews
Average Customer Review
4.6
4.5
5 Reviews
5.0
By WIL S.
August 28, 2019
I have three hatsan guns and I don't think I would ever switch. I have the 25 cal. to this gun and it's great! I would recommend this gun and just about anything hatsan puts on the shelf over any other brand cause I find you get the most bang for your buck with hatsan. Have tried others but I prefer hatsan. The only drawback is the hatsan guns are a bit heavy
Pros
Everything! Easy to load Backyard friendly Very powerful
Cons
A bit heavy
5.0
By Heath H.
August 28, 2019
This gun is super accurate. It's just as accurate as any of my ATI Nova Liberty's .22 cal and they are super accurate and very powerful. They all are over 40+ FPE guns. This gun easily holds half inch groups at 50 yards with JSBs or H&N Grizzly slugs. Very powerful gun. Very easy to use in tight quarters due to it size in like my Liberty's which are full length rifles. This gun, for the money, in my opinion, is the best bang for the buck in a bull pup design. Is it as smooth as a FX Wildcat...no...but it will shoot with it out to 75 yards or more and for $1000+ less. Most game I take is within 50 yards or so and it hasn't missed anything I've shot at yet. Yesterday I took a pest at 113 yards with it. Stone dead one shot. Great gun. Not regulated yet and don't think I want to regulate it. I enjoy the power and distance that it allows me to shoot. Pushing 25.39 grain JSB [email protected] FPS and H&N Grizzlies 31.4 grain @860+ FPS. Only adjustments I have made to this gun is a turn or two on the hammer spring and that's it. Zero problems. Love this gun. Put a good quality scope on yours to get the full potential out of it and you will be glad you did.
Pros
Powerful, accurate, easy to shoot, low maintenance.
Cons
Little heavy but ok while shooting. Trigger could be better but it is a bull pup and there is a lot of linkage, not terrible. Very doable.
5.0
By Kendall
USA
October 24, 2018
Verified Purchase
I purchased this combo a little over a month ago, started messing around with it & was surprised @ the groups I was getting with certain pellets right out of the box, ( shooting a 18.13 gr pellet @ 1007 FPS ) I then did some tuning (Hammer Spring & Trigger) shot a wide variety of pellets to see which ones shot best with this rifle, surprised that there were a good many that shot good, but found a few that shot great, my favorite is the 18.13 gr shooting it @ 943 FPS, with about 1.75 lb trigger pull, near zero @ 25 yrds & far zero @ 43 yrds, I did take the 4x12x50 scope off & put a 8x32x50 on once I seen cld shoot out to 75 yrds easily, I did put the 4x12x50 on another rifle since it is a great scope, I'm shoot out to 75 yrds now & shooting 5 shots making 3 holes & most, now I'm planning to shot out to 100 yrds & work @ it till I'm shooting the best it will do, with the help of a Caldwell tack-driver shooting bag, ChairGun app, I'm hoping to shoot 1 1/2" or less groups, all I can say is that when I was looking @ pcp rifles to buy & was looking into a few, I'm glade that I picked the BullBoss, also AGD having the green stock rifle & only one who had it, I feel that helped me to decide I really liked the look, but know I love what this rifle can do & at a reasonable price, the ones out there that have a BullBoss & has spent a little time tuning it knows what I'm talking about, for the price & how it will drive tack after tack, it's definitely a sweet buy, u can't go wrong!!!!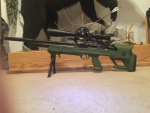 Pros
With some work, this rifle will shoot the same hole with multiple shots 40 yrds & less, definitely a shooter @ a great price
Cons
only thing I can think of is what I wish I would have done, leave it @ that,
5.0
By Kendall
USA
October 21, 2018
Verified Purchase
I was in line for a new air rifle, had a few favorites, kept reading up on all, felt it was time to pick so I chose the BullBoss, I know 100% I made the right choice, with a little time to tune (hammer spring & trigger) & shoot a lot of different pellets to find the shooters within, surprised that there were quit a few good shooting tins out there, but I found 2 that shot great, started @ 25 yrds then 50 yrds & just finished up with 75 yrds where I feel can move to 100yrds, @ 75 yrds, 3 holes 5 shots, not saying it took 5 shots to make 3 holes, putting 5 shots into 3 holes, 3/4"-1" groups,scope switch, from a Hawke Vantage 4x12x50 to Hawke AirMax 8x32x50, don't think I'll ever out shoot the AirMax but gonna try my best, hoping to keep 100yrds @ the 1"-1 1/2" group, & @ 150 yrds gonna shoot for groups 2" & less, knowing how this gun shoots, with work it can be achieved, also shooting off a Caldwell TackDriver bag.
Pros
Well made rifle, with little work & time can be tuned for optimal shooting, (hammer spring & trigger)
3.0
By Frank
USA
November 8, 2017
I got the combo, rifle, scope and bi-pod. Unfortunately I had to take the rifle apart and work on it. Shot the first 5 to 10 magazines OK, then started acting up. Occasionally would not cock. Had the same problem with a Hercules, that I returned for refund. Hatsan leaves a lot to be desired as far as workmanship. Loose parts, loose screws, etc. etc. I had to reshape the angle of the sear that catches the hammer because it fits so loose that it would not hold the hammer back.
Pros
It works if you work on it. Accurate, fun to shoot
Cons
Poorly assembled, loose parts, badly fitting parts
Q&A
Question?
Login to ask someone who bought this product.